| | | | |
| --- | --- | --- | --- |
| | | | |
スーパーメトロイド
©1994 Nintendo
Release: 1994-03-19 (¥9800)
Cartridge SHVC-RI
Action / Platform game





Released in America as
SUPER METROID
( SNS-RI-USA )
( SNS-RI-USA-1 )




Released in Europe as
SUPER METROID
( SNSP-RI-XXX )
Super Metroid is an action game and it is the third Metroid game to be released by Nintendo. In the last episodes, the bounty hunter Samus Aran defeated Mother Brain and handed the last Metroid alien alive, still a larva, to a Galactic Research Station to study and harness its energy-absorbing capabilities. Super Metroid starts on board the Ceres station, where things begin to go wrong. As it turns out, all the scientists there are dead and Ridorī (aka Ridley), Samus's arch-enemy, flies off and takes the metroid infant away. Samus must now return to Planet Zebes, the original alien world, and retrieve the creature. The blond bounty hunter and her thick body armor are back in this huge game - Zebes is a gigantic place and the game's central hub, with innumerable hidden rooms and many secrets. Samus comes equipped with a simple power-beam but, in the Metroid tradition, she can collect more weapons and abilities along the way such as missiles, charge beam, grappling hook, speed booster and the almighty morph ball. Samus's suit, boots and power-beam can be independently powered up as well. The alien world on Zebes is vast and made up of six huge areas. A map is available to help Samus find her way around the planet - it is however far from complete and only areas she has explored appear in pink, until she steps into one of the numerous map stations which give her the current area's map data. Color coded doors connect most of Zebes's rooms and corridors - although most of them can be opened with the power-beam, others require different weapons such as the missiles, the bombs and so forth. Super Metroid features three save slots and an english mode is directly available from the option menu.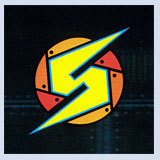 Metroid was first released for the Nintendo Famicom disk System in 1986. Although it was only available on disk in Japan, it was released in cartridge format in North American (1987) and Europe (1988). The first game was also included in the Famicom Mini series for the Game Boy Advance in 2004. The second installment, called Metroid 2 : the return of Samus, was only released for the Game Boy system in 1992. Super Metroid, released in 1994 for the Super Famicom, is in fact the third episode (version tested here). Players will then have to wait until 2003 to incarnate Samus Aran again - Metroid Prime for the Game Cube was the first full 3D version of Metroid, followed by Metroid Prime 2 : Echoes in 2004. Two Game Boy Advance games were also released at the time - Metroid Fusion (2003) which chronologically takes place after Super Metroid, and Metroid: Zero Mission (2004) which is supposed to be an enhanced version of the Famicom original. The Metroid franchise is still running to this day with games such as Metroid Prime Pinball (DS, 2006), Metroid Prime: Hunters (DS, 2006), Metroid Prime 3: Corruption (Wii, 2008), Metroid Prime Trilogy (Wii, 2009) and Metroid: Other M (Wii, 2010).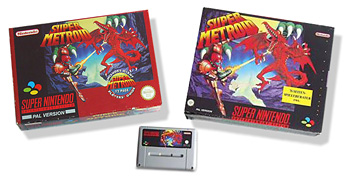 A special large bundle version of Super Metroid was released in Europe - it included a large 72 pages player's guide but no instruction manual. Two versions seem to exist (picture on the right), each featuring a different guide. Another version that only included the guide and a standard game was also available in France and wrapped in a clean plastic case.
Teaser text from the European and American versions:
Take on a legion of Space Pirates and a new Metroid force as you forge into the covert underworld of Planet Zebes! It's up to you and Samus to recapture the long-surviving Metroid hatching before evil hands unleash its energy.
An army of ominous creatures are poised for battle at every turn of Zebes twisted, threatening passageways... including the menacing Ridley and the great lizard Kraid. Knock down enemies with a killer somersault and swing on an electric beam through narrow passageways! They're no match for you and Samus... but wait! it seems the Mother Brain has returned...
Game Staff (Copied from the American version's end credits) :



SUPER METROID STAFF

Producer
Makato Kanoh

Director
Yoshio Sakamoto

Back ground designers
Hirofumi Matsuoka
Masahiko Mashimo
Hiroyuki Kimura

Object Designers
Tohru Ohsawa
Tomoyoshi Yamane

Samus Original Designer
Hiroji Kiyotake

Samus Designer
Tomomi Yamane

Sound Program and
Sound Effects
Kenji Yamamoto

Music Composers
Kenji Yamamoto
Minako Hamano

Program Director
Kenji Imai

System Coordinator
Kenji Nakajima

System Programmer
Yoshikazu Mori

Samus Programmer
Isamu Kubota

Event Programmer
Mitsuru Matsumoto

Enemy Programmer
Yasuhiko Fujii

Map Programmer
Motomu Chikaraishi

Assistant Programmer
Kouichi Abe

Coordinators
Katsuya Yamano
Tsutomu Kaneshige

Printed Art Work
Masafumi Sakashita
Yasuo Inoue
Mary Cocoma
Yusuke Nakano
Shinya Sano
Noriyuki Sato

Special Thanks To
Dan Owsen
George Sinfield
Masaru Okada
Takahiro Harada
Kohta Fukui

Keisuke Terasaki
Masaru Yamanaka
Hitoshi Yamagami
Nobuhiro Ozaki
Kenichi Nakamura
Takehiko Hosokawa
Satoshi Matsumura
Takeshi Nagareda
Masahiro Kawano
Hiro Yamada
and all of R&D1 Staffs

General Manager
Gumpei Yokoi

Produced by
DEER FORCE of
TEAM SHIKAMARU

1994 NINTENDO


G
O
O
D
I
E
S



Japanese Guidebook


Japanese Guidebook


Japanese Guidebook


Japanese Guidebook


Japanese Soundtrack


American Guidebook


American Guidebook


European Guidebook (bundle)


European Guidebook (bundle)

O
M
A
K
E



Click on picture to enlarge
LK



Add your Pov here !



P
O
V
s


The world of Zebes is an incredible place to explore and the atmosphere of Super Metroid is prefect. The unique soundtrack, the creepy sound effects, the sense of exploration - they all contribute to an unique ambiance that gives the player the feeling of being alone in an strange alien world. The game is challenging but, and this is my favorite part, it is never frustrating. Each time you play, you have this feeling of progression and accomplishment. There is so much to do and see in there, and the gameplay is incredibly deep and rewarding. The way how Samus upgrades herself also reminds me of Zelda or Super Mario Bros - new weapons or items allow you to unlock or reach new rooms or areas. Enemies are also beautifully drawn and animated, bosses are just huge and terrific. And what about the surprise of finding out that Samus is in reality a beautiful blond girl, and this during the nano-seconds of her tragic death ? Super Metroid is considered by many to be the epitome of the Metroid series and, indeed, the game is a masterpiece.