| | | | |
| --- | --- | --- | --- |
| | | | |
押忍!!空手部
©1993 Takahashi Kōji
©1994 Culture Brain
Release: 1994-08-26 (¥10800)
Cartridge SHVC-OJ
Fighting game



Osu!! Karatebu is a one-on-one fighting game by Culture Brain based on a popular Japanese manga series by Kōji Takahashi (it is apparently the first and only video game released for the franchise). The game stars the boisterous Takagi Yoshiyuki, the central character of the series and a skilled karate fighter who sits at the head of the youth gangs in Osaka. However, this enviable position of leadership comes with a lot of hate, and Takagi is frequently challenged by others would-be claimants for his title. Osu!! Karatebu consists of four play-modes - namely Story, Arcade, Versus and Team Battle. In story mode, the player takes control of Takagi and the narrative is told through elaborate anime-style cutscenes. The goal there is to fight against a variety of opponents in one-on-one battles, and for Takagi to ultimately train with the old and reputable Kō Ryūun in an attempt to reach his full potential and become the Super Takagi! Unlike other typical fighting games, Osu!! Karatebu matches last for only one round - but there is an interesting twist to this formula. Each fighter comes with Konjō energy (spirit or Chi energy, symbolized by a blue bar located right below the health bar), and this feature is a core mechanic and essential to succeed in the game. This power can be used to survive a knock-out by hammering the action buttons (up to a certain limit), or to release powerful super attacks. These attacks come in two flavors - short range attacks can be charged up by holding any attack button, and highly powerful ones can be unleashed by pressing button combinations. However, this Konjō energy isn't easy to come by - the player starts with no energy at all (this can be changed in the option menu though), and the meter can be slowly charged up by holding any shoulder button while blocking, or by receiving a direct hit. Although Osu!! Karatebu only stars Takagi Yoshiyuki in story mode, the game nevertheless features twelve selectable fighters (as well as two hidden optional characters!).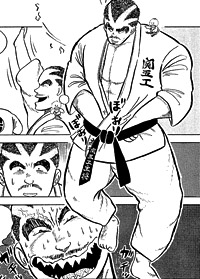 Osu!! Karatebu is based on a popular Japanese manage series by Takahashi Kōji and originally published in 1985. The series takes place in Osaka in a school famous for its delinquents. The original manga stars two Japanese students, Matsushita Tadashi and Saitō Takaki, who are both continually victimized by bullies. But one day, they finally decide that enough is enough, and they both join the Karate Club, a place known for the serious business of training the toughest teenage thugs (and gang members as they soon find out). However, the macho Takagi Yoshiyuki (Matsushita's mentor) quickly became the central protagonist of the series - his growing popularity may have been due to his rowdy Osakan attitude, his sense of humor and his irreverence (people from Osaka are regarded as more independent and pragmatic than other Japanese). The manga was immensely popular in Japan and was published in forty three volumes. It was later adapted in a four episode OVA (1990 to 1992) and even in a live action movie!
Although Culture Brain most likely received their inspiration from Street Fighter II, the small Japanese video game developer definitively wasn't a new comer to the fighting and beat'm up genres. Their most popular series is certainly Hiryū no Ken which started life in 1985 in the arcades and was later released for several home systems such as the Famicom, Super Famicom, Game Boy, Playstation and Nintendo 64. Another series is Super Chinese (fairly popular in Japan), which started as an arcade game called Chinese Hero (1984) and span over several video game systems, such as the Famicom, Super Famicom and Gameboy. Although Culture Brain has a few hits in the United States, most of their games are Japan only...
Game Staff (Copied from the end credits) :



Producer
Akademiya Yumenosuke

The Original
Takahashi Kouji

Game Design
Akademiya Yumenosuke
T.O
Tetsuo.T
Counter Pantsu
Ang_Ry No.1
Ang_Ry No.2
Ang_Ry No.3


BG Design
N.I
Numahide

OBJ Design
Takuchan
Kakusan Ver.2
Ozumaroshi
Yusabou
Kappa Jet
Kinchan
Kuni .Koba_P
Kamiza
Kamin


Program
Y. Ham
Woodcake
Konishin Kawakichi
Yasurakani Nenbutu
Ryu Shou
Catty.H
Kimu
Ma.Su
Gosen.Dai
Ji_Ko Sigu.P

Music
Miyabi Eiji

Sound Effect
Konishin Kawakichi


Publicity
Tacchan.T
Makocchan
Ayumu_Z2

Special Thanks
Psy Force
Oyazy MK2
Y.Kamen!!
T.A!!
Cafein Ok!!
White

Director
Akademiya Yumenosuke

©1993 Takahashi Kouji
©1994 Culture Brain


O
M
A
K
E



Click on picture to enlarge
S
E
C
R
E
T
S


Unlock Honda Momochiyo and Super Takagi:

On the title screen, press Left Shouder, Left, Down, B, A and Right Shouder. A sound (a scream) should confirm that the characters have been unlocked. Honda Momochiyo and Super Takagi should now be available to play in all the versus modes.
LK



Add your Pov here !



P
O
V
s


The first time I played Osu!! Karatebu, I wasn't expecting much more than a Street Fighter II clone with a popular franchise stuck onto it. But Culture Brain's fighter turned out to be much more than a mere copycat of Capcom's masterpiece. At first glance, the game looks pretty solid and I personally really dig the aesthetic (and it has a decent roster of fighters). The graphics are detailed and polished (the cutscenes are especially well rendered) and the sound and speech effects are quite good. But Osu!! Karatebu truly shines in the gameplay department - the controls are generally responsive (although a bit clunky in places), and the Konjō system adds a tremendous amount of strategy and risk-taking to the game (you can use it to unleash powerful attacks, or save it to survive the next knock-out). That being said, the first couple of times I played Osu!! Karatebu, I didn't actually know how to use the Konjō energy - and yet I managed to complete the game without it. But if you want to experience the game at its full potential, then mastering the Konjō energy is a must (and the special attacks are great eye candies!). All in all, Osu!! Karatebu is a really fun and underrated fighter. However, I feel that it is not for everyone - the game requires some strategy in how you work through the Konjō energy element, which feels more suited to advanced players.