| | | | |
| --- | --- | --- | --- |
| | | | |
エリア88
©Daipro 1989,1991
©Capcom 1989,1991
Release: 1991-07-26 (¥8800)
Cartridge SHVC-E8
Shooter/ Horizontal




Released in America as
U.N. SQUADRON
( SNS-E8-USA )


Released in Europe as
U.N. SQUADRON
( SNSP-E8-XXX )
Area 88 (aka U.N. Squadron in the rest of the world) is a side scrolling shooter by Capcom, conversion of their own arcade game originally released in 1989. An evil general and his army are taking over the world and must be stopped. A group of three highly skilled mercenary pilots who blow things up for cash, Shin Kazama, Mickey Scymon and Greg Gates, accept the mission readily. On board of their aircrafts, they're now ready to defeat the greedy dictator and to restore peace. One of the distinctive feature of the game is the ability given to the player to purchase new weapons and fighter planes. Right from the start, pilots are offered a F8E Crusader fighter and some cash. Then after each mission, the earned cash can be used to purchase new secondary weapons or a brand new fighter giving the player a sense of customization. Each pilot also comes with his own set of special skills - Shin, the young hero pilot, can level up the standard plane's Vulcan gun faster than his friends, Mickey, the hot-shot, can carry more special weapons and Greg, the veteran, has more health and can recover faster from injuries. The game is vast and offers not less than ten intense stages but it is single player only.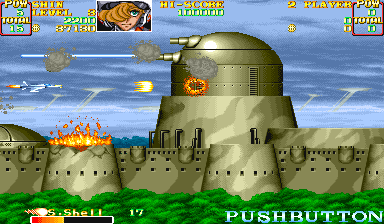 Area 88 is based on a Japanese Manga series published from 1979 to 1986. It was created by Kaoru Shintani and tells the story of Shin Kazawa, a mercenary fighter pilot training for the Area 88 air force base. The manga was very popular in Japan and was even adapted into at least three OVAs in 1985 and a twelve episode animation series in 2005. Shin Kazawa is the hero character of Capcom's arcade game released in 1989 and called Area 88 (picture on the right). Curiously, the game was renamed U.N Squadron in the rest of the world, even if the manga was actually translated and published in the US by Viz Comics under the original Area 88 name. UN Squadron also came out for the Amiga (1990), Atari ST (1990), Amstrad CPC (1990), Sinclair ZX Spectrum (1990) and Commodore 64 (1990). A sequel called US Navy (aka Carrier Air Wing in the rest of the world) followed in the arcades in 1990.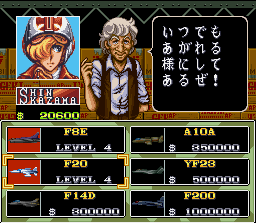 This Super Famicom version tested here features a lot of differences with the original arcade game. First of all, players can buy different planes for their pilots to fly, unlike the original arcade game where each pilot came with his own aircarft (F20 Tigershark, F14 Tomcat or A10 Thunderbolt). For that matter, each pilot starts with the same fighter plane in the Super Famicom port but there is a grand total of six planes in the game! (picture on the left). The Super Famicom port also features a wider range of secondary weapons, and some of them are only available with specific types of aircrafts. Additionally, some levels were shuffled around, some completely omitted whereas others look very different and even feature totally new bosses. Finally, the two simultaneous player mode was removed from the Super Famicom port.
Game Staff (Copied from the American version's end credits) :



SFX U.N.Squadron STAFF

Planner
Hisashi "mx5" Yamamoto

Programmer
Yoshito "LEO" Itoh
Masayuki "IMO" Akahori
Norito "COZY" Kojima
Koji "YOSHILIM" Yoshida
Harunobu "IMG" Imagawa

Object Design
Masao "SAKSAN" Sakurai
Mayumi "TUBE" Tanabe

Scroll Design
Miki "KIX" Kijima
Yukari "KAKKUN" Kakuta
MACHAKO
Shizuyo "UCCHAN" Ukai
Chiharu "SILKROAD" Akagi

Sound Programmer
SAKAGUCHI

Sound Design
BULL
MARI
IKE-BOMB

English Story
Scott "MADMAN" Maxwell

Very Special Thanks
Kiyomi "KANEKON" Kaneko
"BAMBOO"


U.N.Squadron ARCADE STAFF

SPECIAL THANKS
SUPER TOM-PON
Iriko-Chan
MINORU
HIDE
NAKED
CAPCOM STAFF
and You!!


O
M
A
K
E



Click on picture to enlarge
LK



Add your Pov here !



P
O
V
s


I wonder how many people missed this game in the west because of the atrocious cover art; as a kid, I always thought it was flying simulator along the lines of F15 Strike Eagle... how wrong I was. The original arcade game was a great shooter with an unique weapon system and a fairly solid gameplay. This Super Famicom port is a terrific conversion and has an important part of strategy depending on what pilot you choose and what special weapons and fighters you later purchase (which wasn't available in the original arcade game). The game is really intense and frantic, but that comes at a price and the experience is brutally difficult. Area 88 is the perfect example of an arcade game designed around continues; the Super Famicom gives you one chance to complete each level and a couple of hits are often enough to send you to oblivion and back to the beginning of the stage, even if you had reached a boss battle. I wonder what kind of super-powers you need to complete this one... That being said, Area 88 is still a great shooter and Capcom also changed parts of the game making it worth every penny, even if you are a hardcore fan of the original arcade game and know it inside and out.