XEVIOUS FARDRAUT DENSETSU
| | | | |
| --- | --- | --- | --- |
| | | | |
ゼビウス ファードラウト伝説
©1982 1990 Namco Ltd.,
Release : 1990-06-29 (¥5800)
Hucard (2 Mbits) NC90004
Shooter / Vertical

Here is the PC Engine conversion of the popular vertical shooter Xevious originally released by Namco in 1982. The Solvalou, a hi-tech space fighter, is on a mission to stop an enchant computer that has awaken after thousands or years of sleep - armies of enemy drones and amphibious tanks have invaded the land and must be destroyed. One of the greatest feature of Xevious is definitively its dual level attack system (we are left to wonder if Xevious wasn't the first vertical shooter to offer such feature). Although the Solvalou can shoot ahead and destroy any airborne ships that happen to face it, it can also drop bombs on the ground and blow holes in enemy's facilities and other tanks and canon towers. Any Xevious fan should also notice that this game is not a straight conversion of the original game - in addition to the original arcade mode, which lets the player enjoy the original arcade game's layout, a completely new Fardraut mode offers a totally different game with an extensive new story line, exclusive music tracks, new enemies, different Solvalou ships and (and foremost) power ups. These power ups are somewhat limited but include Rapid-Fire, Wide-Lasers, Shields and destructive super-bombs.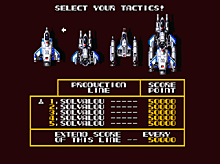 Xevious Fardraut Saga (MSX)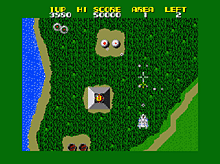 This PC Engine version is actually related to another Xevious game released for the MSX2 in 1988. Xevious : Fardraut Saga came packed with four new ships (picture on the left). The classic Solvalou, the Zeodalley, the Solgrado and the monstrous Gampmission, sort of combination of the first three. These ships are sadly not present in the PC Engine version tested here, and were replaced by other types (only Solvalou is available after the second stage). Some of the game staff worked on both titles, such as Supervisor Kazuo Imanari, Game Designer Zash Sueyoshi, Sound Programer Jemini Hirono and Director Masamitsu Niitani. It is interesting to notice that Masamitsu (Moo) Niitani was the founder of Compile and there is little doubt that both the MSX2 and PC Engine versions were developed by the popular company responsible for Aleste, Puyo Puyo, Zanac and Gunhed. Some of Zanac's difficulty system seems to also be included in this PC Engine version, the game apparently becoming more difficult as the player acquires better weapons and equipment.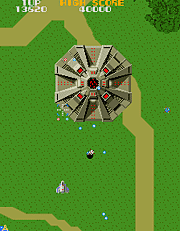 The original Xevious game came out in the arcades in 1982 (picture on the right) and was distributed in the United States by Atari. The game became instantly popular and was ported to many home consoles and computers - Famicom (1984), Apple II (1984), Commodore 64 (1986), Atari 7800 (1987), Atari ST (1987), Sharp X68000 (1988), Master System (1990) and so forth. (As a side note, two unreleased prototype versions also exist for the Atari 2600 and Atari 5200). A sequel then followed in 1984 and was simply called Super Xevious - but it was just a beefed-up version of the original game. The real 'true' sequel of Xevious was exclusively released for the Famicom system in 1986 and named Super Xevious: Gamp no Nazo. The game follows a more traditional 'shooting' formula with structured levels and power-ups. However, the game is not a straight-forward shooter, and it asks the player to fulfil a number of actions and riddles in each stage in order to complete them. Another hidden treasure is the excellent Xevious : Fardraut Saga released in 1988 for the MSX2, and the PC Engine version tested here, Xevious : Fardraut Densetsu, is a sort of spiritual sequel to the MSX2 title (see above). Interestingly, the next Xevious game was exclusively released in Japan in 1991, and simply called Solvalou. The arcade game was a first-person 3D shooter (the first polygonal 3D installment of the series) and featured most of the Xevious enemies and classic scenery. The next Xevious game was Xevious Arrangement, included with the Namco Classic Collection Vol.1 arcade game originally released in 1995 (along with Galaga Arrangement and Mappy Arrangement). Finally, the last (so far) installment in the Xevious series was Xevious 3D/G released in the arcades in 1995 and featured 3D polygonal graphics. It was later ported to the Playstation and renamed Xevious 3D/G+ (it also included the original Xevious, Super Xevious and Xevious Arrangement)
Game Staff (Copied from Fardraut Mode's end credits) :



STAFF

Game Planner
Akabay Yukinori T.
Okera No P-Suke
Zash 68000

Programmer
Akabay Yukinori T.

Programmer Aid
Norie Tsukiji

Designer
Zash 68000

Sound Director
Myamo

Sound Effector
Pippicke Mats
Mrs. Sakoda

Sound Programmer
Jemini Hirono

Game Advisor
Mizutan

Director
Moo Niitani

Supervisor
Kazuo Imanari

FARDRAUT SAGA.
THE STORY OF
XEVIOUS.

NAMCOT

THANK YOU FOR PLAYING
I HOPE I CAN SEE YOU
SOME DAY.

GAME CREATOR
NAMCO


O
M
A
K
E



Click on picture to enlarge
LK



Add your Pov here !



P
O
V
s


I have always been a big fan of Xevious and nostalgia certainly plays a part in my final score. Xevious was originally released in 1982 and it shows its age in its simplicity. The arcade mode feels like playing the first level of the same shooter over and over (it actually loops and never ends). However, this conversion comes with an original Fardraut mode which brings a breath of fresh air to the game. However, this mode is dramatically shorter than the original MSX2 version and features, as far as I can tell, only four stages. All in all, this conversion is for hardcore fans of Xevious, which, I am not ashamed to say, I belong. Other players will certainly find the arcade mode as boring as playing tennis with a chicken. Graphics also look dated and we would have probably hoped for something better, but I personnaly think they are close to identical to the arcade game.