サンダーブレード
©Sega 1988
Reprogrammed Game
©NEC Avenue Ltd. 1990
Release: 1990-12-07 (¥7200)
HuCard (4 Mbits) NAPH-1015
Shooter / 3D

Thunder Blade is a 3D shooter and conversion of Sega's arcade game originally released in 1987. The player takes control of an army gunship helicopter and fights his way through enemy territory. Each zone in Thunder Blade alternates three different gameplay modes. The first one has the player fighting in an top-down mode. During the second phase, the view changes to a 3D over-the-shoulder perspective. Finally, each zone ends with a boss fight usually in the shape of a large enemy ship and switches back to an overhead view. The helicopter comes equipped with a standard vulcan gun and air-ground missiles. Thunder Blade consists of four large stages and is single player only.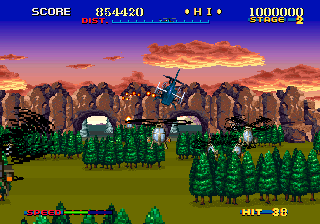 Thunder Blade was originally released as an arcade game by Sega in 1987 (picture on the right). The game is surprisingly one of the least popular super-scaler Sega X Board arcade games - it is difficult to know why as the game was fairly impressive for the time. Thunder Blade was converted to countless home systems at the time, such as the Sega Master System (1988), Atari ST (1988), Commodore Amiga (1988), Amstrad CPC (1988), MSX (1988), and ZX Spectrum (1988), Commodore 64 (1989) and Sharp X68000 (1990). Two other ports are worth mentioning - Super Thunder Blader was released for the Sega Megadrive in 1989 (although there was nothing really 'super' about it and the overhead levels were omitted and replaced with over-the-shoulder stages with additional mid-bosses) and 3D Thunder Blade which was released for the Nintendo 3DS in 2015.
This PC Engine is surprisingly quite faithful to the original arcade game. The stages' layout has been drastically simplified but most of the elements are there. The only major difference is that players can't zoom in and out in the overhead stages - however, it was replaced with the ability to move up and down on the screen.

O
M
A
K
E



Click on picture to enlarge
LK



Add your Pov here !



P
O
V
s


I wonder why Thunder Blade has such a low praise among gamers, the arcade game was really impressive and fun to play overall. Maybe most players experienced in at home and none of the conversions, except for the brilliant Sharp X68000 port, managed to do the game proper justice. So what about this PC Engine version? Well, although NEC avenue did pull off some outstanding work with other Sega ports, such as Out Run or Space Harrier, I feel that they bit off more that they could chew with Thunder Blade. The original arcade game featured incredible sprite-scaling effects and the PC Engine just wasn't powerful enough to nail it. And they nailed their own coffin instead. Thunder Blade is overall slow, sluggish and, worst of all, the controls are atrocious. The helicopter is really 'floaty' and hard to maneuvre. All in all, Thunder Blade was a really ambitious conversion and although this port is one of the finest and best home conversion, it just doesn't really deliver the goods.