沙羅曼蛇
©Konami 1986,1991
Release : 1991-12-6 (¥6000)
HuCard (2 Mbits) KM91002
Shooter / Horizontal / Vertical

Salamander is a shooter by Konami and conversion of their own arcade game originally released in 1986. The players takes control of an highly advanced space-fighter called the Vic Viper and fights his way through relentless hordes of aliens and globulous brains. Power-up icons are scattered throughout the game and upgrade the ship in various ways - speed up, missiles, lasers, ripple lasers and force fields. The game features a unique stage layout and alternates horizontal and vertical levels. Each area is specifically engineered to create an immersive gameplay from deadly organic tentacles to hostile fire snakes. Finally, Salamander features a two simultaneous player option and a second player can join the party and pilot the Lord British space fighter. Interestingly, the two ships can even be controlled in single-player mode.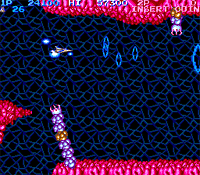 Interestingly, Salamander is clearly set in the same universe than Gradius with similar space fighters and power-ups. The weapon system is completely different though and features traditional power-up icons and no power meter (see Gradius for more information). Salamander is a really confusing series to follow. The original arcade game version was released in Japan in 1986 (picture on the left). However, the American version (called Life Force) features a different story and is set inside a giant alien life form. Many stages and enemies were modified and gained a more organic appearance. But most importantly, the power-up system was changed and featured Gradius's power meter. This version was later re-released in Japan as Life Force and with even more 'organic' content (Picture on the right). The same applies to home ports of Salamander -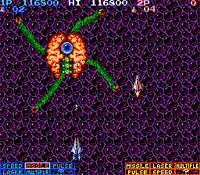 the Famicom version (1987) is a remix of both the original arcade game and Life Force topped with exclusive content. The MSX version (1987) is another conversion that shares little in common with the original game - different ships and different stage layouts. Salamander was also ported to the Sharp X68000 (1988), Commodore 64 (1988) and CPC (1988). Salamander was also included in Salamander Deluxe Pack Plus for the Sega Saturn and Playstation (1997) and was part of Salamander Portable for the Playstation Portable (2007). The MSX version of the game was featured in Konami Antiques MSX Collection Vol.3 for the Playstation and in Konami Antiques MSX Collection Ultra Pack for the Saturn (1998). Players will have to wait nearly ten years before they could play another installment of the Salamander series. Salamander 2 was released in the arcades in 1995 and ported to the Playstation (Salamander Deluxe Pack Plus, 1997), Saturn (Salamander Deluxe Pack Plus, 1997) and Playstation Portable (Salamander Portable, 2007)
Game Staff (Copied from the end credits) :



Programmer
K. Hashimoto
T. Tokuda
T.Kou

Graphic Designer
R. Shogaki
T. Miyoshi
H. Morii
M. Suenaga

Sound Designer
H. Muraoka

Producer
A. Nagata

Special Thanks To
M. Fukunaga
And
AC Salamander Team

Presented
By
Konami


O
M
A
K
E



Click on picture to enlarge
LK



Add your Pov here !



P
O
V
s


Salamander is a blast to play. Both Gradius and Salamander share a lot in common - ships, power ups and so forth - and this is probably why I also rank Salamander so high in my list of top shooters. I personally prefer Gradius's power system which allows me to 'customize' my weapons a lot more. This conversion is astonishingly faithful to the original arcade game. Stages layout, enemies, bosses, everything is here - only the soundtrack and sound effects have lost their beautiful tints. The only real problem with Salamander would have to be the slight slowdown and minor flicker which appears in various stages but in any case this is far from a deal breaker. All in all, here is another wonderful conversion from Konami and an enduring classic.