パズニック
©Taito Corp. 1990
Release : 1990-06-29 (¥5900)
HuCard (2 Mbits) TP02011
Puzzle game

Puzznic is a really simple tile-matching puzzle game by Taito and Section Wan-P Team. The goal of the game is to clean up all of the tiles in each level. They come in the shape of coins, jewels and other random objects. Tiles with the same symbol disappear when placed next to one another. If a single tile is left behind, then the level can't be completed and it is game over. As expected each level must be completed within a time limit. Puzznic consists of one hundred levels and a girl awards the player with passwords as he progresses through the game.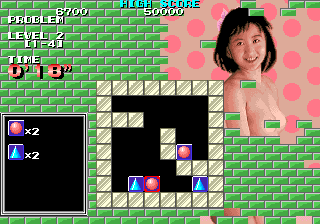 Puzznic was originally released as an arcade game in 1989 and was apparently a success! It was however an adult game and featured explicit adult content (picture on the right). It was nevertheless ported to countless home systems such as the Game Boy (1990), Sharp X68000 (1990), NEC PC98 (1990), FM Towns (1990), Atari ST (1990), Amiga (1990), Amstrad CPC (1990), Commodore 64 (1990), MSX (1990), ZX Spectrum (1990), Famicom (1991), MS DOS (1990) and Playstation (2001). Interestingly, only the original arcade game and the FM Towns versions apparently featured explicit adult content (where digitized pictures of naked women were displayed at the end of each level) - all the other ports were toned down to varying degrees (including this PC Engine version).

O
M
A
K
E



Click on picture to enlarge
LK



Add your Pov here !



P
O
V
s


Puzznic is not a bad game. Graphics are arguably really simple but they do the job (even if I would have expected something a bit better from Taito, maybe something closer to the excellent Puzzle Bubble for instance). The gameplay is really inspired by Tetris and, well, that's about it, to be honest.... Although the game can be somewhat addictive, I feel that it ultimately doesn't deliver the goods.... still a nice puzzle game, but not much more....