| | | | |
| --- | --- | --- | --- |
| | | | |
忍者龍剣伝
©1992 Hudson Soft
©1922 Tecmo
Vol.47
Release : 1992-01-24 (¥6500)
HuCard (4 Mbits) HC92052
Action / Platform game


Ninja Ryūkenden is a side scrolling action game by Hudson Soft and based on the arcade game of the same name released by Tecmo in 1988 (it is rather a port of the Famicom game, see the info section). The player controls Ryu Hayabusa, a fearless ninja on a quest of revenge. His father was killed by a mysterious ninja during a fierce duel. After reading a note left by his father, Ryu travels to the United States to meet Dr. Walter Smith, one of his father's friend. But he soon gets head to head with a young girl who hands him a weird looking statue before disappearing. The complex plot of the game unfolds over no less than six acts (with a total of nearly twenty stages) and Ryu will finally find out what happened to his father and who hides behind his disappearance. Ryu Hayabusa is equipped with a sword which he can use at lightning-speed to slash his enemies to bits. He also has the incredible ability to wall-jump and to climb vertical surfaces. Finally, Ryu can use his spiritual energy to augment his powers and trigger powerful special attacks such as mystic shurikens or the ability to shoot flames. Various energy forms scattered around some of the levels reward Ryu with spiritual energy. They are often in the shape of burning flames but they also come in various forms such as insects or small animals.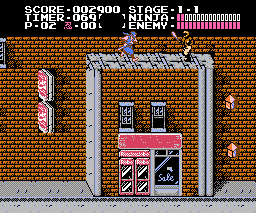 The PC Engine version tested here is a port of Ninja Ryūkenden originally released for the Famicom in 1988 (picture on the right). The conversion features enhanced graphics, a (surprisingly choppy) parallax scrolling and a totally different soundtrack. Enemy placements are also slightly different and although the levels layout is fairly similar, most of the backgrounds were redesigned. Curiously, some of the character names were also changed - for instance, Ken Hayabusa was surprisingly renamed Joe Hayabusa. Interestingly, an option in the game's menu allows the player to change the cut scenes from Japanese (default) to English and Chinese (see the Secrets section). As a side note, a Super Famicom version of the game was released in 1995 (which included all three Famicom games) as part of a Ninja Ryūkenden Trilogy called Ninja Ryūkenden Tomoe - however, it featured the same graphics than the Famicom version with an extended color palette.
The original arcade game Ninja Ryūkenden (aka Ninja Gaiden in the US and Shadow Warriors in Europe) was released by Tecmo in 1988 (picture on the left). However, the original game shares little in common with home console conversions and was more a two-player beat'em up featuring large sprites on screen. As mentioned earlier, the PC Engine version tested here is in fact a conversion of Ninja Ryūkenden originally released in 1989 for the Famicom. Two sequels followed, Ninja Ryūkenden II: Ankoku no Jashinken (Famicom, 1990) and Ninja Ryuukenden III: Yomi no Hakobune (Famicom, 1991). Ninja Gaiden was also released for various systems and sequels are still produced to this day. Here is a non exhaustive list : Ninja Gaiden (Sega Master System, 1988), Ninja Gaiden (Sega Game Gear, 1991), Ninja Gaiden (Atari Lynx, 1991), Ninja Gaiden III (Atari Lynx, 1991), Ninja Ryūkenden GB Matenrou Kessen (Game Boy, 1991), Ninja Ryūkenden Tomoe (Super Famicom, 1995), Ninja Gaiden Episodes (Mobile Phone, 2004), Ninja Gaiden (Xbox, 2004), Ninja Gaiden Black (Xbox, 2005), Ninja Gaiden Sigma (Playstation 3, 2007), Ninja Gaiden: Dragon Sword (DS, 2008), Ninja Gaiden II (Xbox360, 2008), Ninja Gaiden Sigma II (Playstation 3, 2009).
Game Staff (Copied from the end credits) :



Ninja Ryūkenden
Staff

Producer
Eiji Aiyama

Director
Yoshiyuki Kawaguchi

Program Design
Ricky Sun
Sammy Hau

Graphic Design
Matthew Yau
David Tang
Carlton Wong
Siu Wai

Message
Geshu Cho
K.L.Sutherland
Loretta Hieh
Wendy Liu

Special Thanks
Masanori Wake
Koji Matsuura
Toshiaki Takimoto
Yasuhiro Ichizawa

AUDIO VISUAL
COPYRIGHT MCMLXXXVIII
TECMO LT

THE END
HUDSON SOFT CO.,LTD.
1992


O
M
A
K
E



Click on picture to enlarge
S
E
C
R
E
T
S

Change cutscene language:
Go to the title screen, hold I and II, then press Select to cycle through the available languages (the title should change to the desired language). Three are available - Japanese (Default), English and Chinese.



LK



Add your Pov here !



P
O
V
s


Ninja Ryūkenden has an extremely well laid out story with long animated cut scenes and rich, deep characters. The storyline is what makes Ninja Ryūkenden really stand out of the crowd. Levels are relatively large and varied with incredibly detailed environments and locations. However, sprites are on the tiny side of small and the control system can be tricky to master. It is both the bravest and the most flawed innovation I'm afraid - the ability to stick on walls is great but can be a real pain at times and often results in countless cheap deaths. Enemies also respawn at an irritating rate - for instance, the same eagles will reappear from the same spawn points and this is a major flaw which quickly becomes really frustrating. Then Ninja Ryūkenden is hard, nasty hard, and worst of all, unfair. Some boss encounters are just games of luck - in some cases, you just need to get there with a full bar of energy and slap them hard while taking full-on damages to defeat them. All in all, Ninja Ryūkenden is a hard and frustrating action platformer but, difficulty aside, its enduring popularity is due, no doubt, to moments of pure brilliance and creativity sadly sprinkled with irritating gameplay paradoxes.