JACKIE CHAN
( Jackie Chan's Action Kung Fu )
| | | | |
| --- | --- | --- | --- |
| | | | |
ジャッキーチェン 成龍
©1991 Hudson Soft / Vol.36
Release : 1991-01-18 (¥6500)
HuCard (4 Mbits) HC90032
Action / Platform game




Released in America as
JACKIE CHAN'S ACTION KUNGFU
( TGX040079 )
Jackie Chan is a side scrolling platform/action game by Hudson Soft and features the martial arts legend Jackie Chan (hence the name). The game tells the story of Jackie, a kung fu expert, and his girlfriend Josephine. One day, an evil sorcerer comes to China in an attempt to rule the country - he knows that he is no match for the two fighters, and he decides to kidnap Josephine in an effort to weaken Jackie. As expected, he hurries to her rescue, and thus begins an incredible adventure in which Jackie will fight legions of foes and eventually teach the evil sorcerer a very valuable lesson. Naturally, Jackie can punch, kick or jump - but he can also use four different special moves. They come in limited quantities and range from Tornado Attacks, Sky Attacks to devastating Spin Kicks. However, these attacks (as well as special items) must be collected along the way by kicking or punching item frogs, which also release energy bowls (extra life), bonus bells (access bonus stages) or psycho waves. The latter is another of Jackie's secret weapon - he can charge up (by holding the second action button) and release a limited amount of fireballs to inflict significant damages to surrounding enemies. Finally, enemies leave behind purple orbs that can be collected for extra lives. Jackie Chan consists of five large areas made up of several sub-stages each.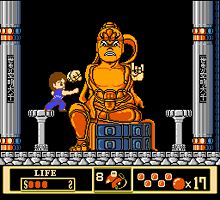 Jackie Chan was also released for the Famicom system in 1990 (picture on the right). Both PC Engine and Famicom versions have a lot of differences though - the stage layout is substantially different, some enemies look different and the PC Engine game features a couple of exclusive mini bosses. The purple orb system is also slightly different - because defeated enemies from the Famicom version don't drop as many orbs as the PC Engine port, then the player needs to collect a lot more of them (100 instead of 30) in order to gain an extra life. Finally, the PC Engine version is a lot more difficult overall.
Teaser text from the American version:
It's a beautiful afternoon. Jackie Chan and his girlfriend Josephine are out ON their first date. Jackie is a bit nervous--but little does he know that an evil power that has just awoken from a forced 3,000 year sleep will turn up to abduct Josephine. Jackie's girlfriend is none other than the descendant of the ancient warrior who had TRAPPED the evil power in the earth millennia ago. To acquire the power he needs to defeat the evil being and rescue Josephine, Jackie returns to his master for further training.
Game Staff (Copied from the end credits) :



Game Design
Dionysus.Hal

Program Design
Papa.Tomohide

Character Design
Hiropon.Ozaki

Sound Design
Sinkon.Kiyoshi

Visual Design
Oni.TaiJi

Produce
Ura.Desu

Presented by
Hudson Soft




O
M
A
K
E



Click on picture to enlarge
S
E
C
R
E
T
S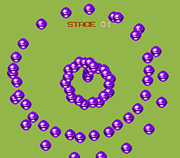 Level select/Level demo screen:
At the title screen, quickly press Up, Down, Left, Right and II. A chime sound should confirm that the code is active. Hold Select and press Run to access the level select screen (picture on the right). Press Up and Down to select a stage, then press Run to start. Although this code allows players to access any stage in the American Turbografx 16 version of the game, it seems to only activate a level demo in the Japanese version...

Bonus Bells:
Bonus bell jingles can be heard throughout the game. Punching and kicking around that area will reveal a bonus bell. Collecting it warps the player to one of four bonus stages.

LK



Add your Pov here !



P
O
V
s


Video games tied to movie/celebrity franchises don't usually tick all the right boxes for me. Well, whereas most of them are rehashed garbage, some rare gems are actually surprisingly good - and Jackie Chan is definitively one of them. Although the game only features five areas, they are sufficiently large and diverse, with a wide range of enemies and obstacles. The controls are also flawless - well, other than the slow charging fireball (you'll often end up killed before you really get a chance to use it), and the difficulty level which rapidly cranks up and makes later stages really challenging. Finally, the soundtrack is nothing short of phenomenal for a HuCard game. All in all, Jackie Chan is an excellent and utterly fun platform/action game.