CHŌZETSU RINJIN BERABŌ MAN
( Bravoman )
| | | | |
| --- | --- | --- | --- |
| | | | |
超絶倫人ベラボーマン
©1988 1990 Namco Ltd.
Release : 1990-07-13 (¥6800)
HuCard (4 Mbits) NC90005
Action / Platform game




Released in America as
BRAVOMAN
( TGX040047 )
Chōzetsu Rinjin Berabō Man is a platform/action game by Namco, conversion the arcade game of the same name originally released in 1988. Dr Bomb, a mad scientist with hair shaped like a purple nuclear mushroom cloud, plans for world domination and an alien from the planet Alpha decides to stop this sinister scheme from becoming a reality. To do so, he transforms an ordinary man called Nakamura (aka Arnold) into the most powerful (and unique) super hero the Earth has ever seen - thus is born Berabō Man! The player takes control of the weird and hilarious super-hero whose main power lays in his mind boggling distance attacks. He has the incredible ability to stretch his limbs to impossible lengths, and attack by either extending his arms, legs and neck. The reach of Berabō Man's attacks is determined by how long the player holds the action button, and this technique also applies to jumps. Foes come in various shapes and sizes, from odd looking robots to large aquatic monsters. Some of them drop red icons when defeated, and these bonuses can be collected in order to call Fukubiki Man (aka Lottery Man), Berabō Man's friend - a weird looking robot that gives aways power-ups enclosed in floating bubbles (such as Extra Energy, Energy Bolts, Extra Life, Invincibility and so forth). Berabō Man has another supernatural power - he can turn into a small robot-fish and some stages feature this rather unique and advanced aquatic ability. Chōzetsu Rinjin Berabō Man consists of twenty two levels and is single-player only.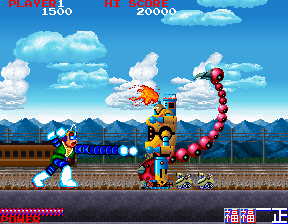 The original arcade game was released by Namco in 1988 (picture on the left). The PC Engine conversion tested here is quite faithful to the original game. Controls are different though and the arcade game had three different power levels (low, medium and high) for attacks and jumps, whereas the PC Engine version uses a system where action buttons need to be hold down to increase the range of the attacks. The stage layout is also slightly different - for instance the wooden house from the third stage was omitted and the arcade game features more enemies such as a black and evil Berabō Man who battles our hero at the beginning of the game. As a side note, Berabō Man did a cameo appearance in Namco × Capcom released for Sony's Playstation 2 in 2005.
Teaser text from the American version:
Dr. Bomb is a mad scientist with an attitude. He just activated his End the World Weapon and only you, BRAVOMAN, can find hil lab and save us all! About a zillian of his deadly creatures are out to stop you. Spring your killer kicks, mega wallops and head butts agains the scissor-tentacled Twin Squarain. Defeat Zartan's attacks from the sky! Then face the nuclear-haired madman himself! Will it be defeat for Dr.Bomb or doomsdays for us? Tick... tick... tick...

G
O
O
D
I
E
S



Japanese Guidebook

O
M
A
K
E



Click on picture to enlarge
LK



Add your Pov here !



P
O
V
s


Chōzetsu Rinjin Berabō Man is such an odd game... The stretching attack technique is a nice feature and, even if awkward at first, becomes easy to use after some practice. The game is also hilarious in places and you can even beat up Fukubiki Man (your robot friend) and watch him complain... The main character is surprisingly quite large on screen, but this comes at a price and he is really hard to control. The scrolling (despite being a technical achievement) is a real pain at times and suffers from a sort of lag that makes it incredibly frustrating, and often fatal. Additionally, the graphics are really average and the game is incredibly repetitive and the same few backgrounds are used throughout the levels. But, worst of all, Berabō Man is way too difficult. Controls are clunky and the game has you to start a stage all over again if you lose a life, even during a boss fight! All in all, Chōzetsu Rinjin Berabō Man is average and tedious. It can be however hilarious and entertaining, especially the American version with its weird and funny translation errors...