| | | | |
| --- | --- | --- | --- |
| | | | |
地獄めぐり
©Taito Corp. 1990
Release : 1990-08-03 (¥6600)
HuCard (4 Mbits) TP02013
Action / Platform game


Jikogu Meguri is a platform/action game by Taito and is the conversion of an arcade game released by the same company in 1988 (also known in the west as 'Bonze Adventure'). The player takes control of a small and completely bald Buddhist monk, the high priest bonze Kackremboh, who is on a perilous journey through the depths of Hell. Emma, the king of the underworld, has gone mad and our hero's mission is to stop him and his minions. The monk can use his magical powers and shoot bouncing marbles which curiously look like large Malas (traditional Hindu and Buddhist prayer beads). They start rather small but power-ups get them to grow larger and larger, and they eventually become as big as our hero. They also come in different colors, each of which represents a specific power - red for fire, purple for lightening and so forth... These powers can be unleashed by the bonze if he crouches when firing, but this technique dramatically lowers his overall attack power. Other special items are scattered throughout the game and can help the monk in his quest - such as invincibility mirrors and extra lives.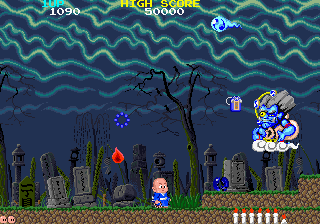 Jikogu Meguri was first released in the arcades by Taito in 1988 (picture on the right) and is known in the west as 'Bonze Adventure' or 'Prisoner of Hell'. The PC Engine conversion tested here is fairly close to the original arcade game and only a handful of enemies were omitted. The original arcade game was included in Taito Legends 2 released for the Playstation 2 and Xbox in 2006. Additionally, Bandai released several self-contained plug & play devices called the Let's! TV play classic series, and containing Namco and Taito arcade games - Taito Nostalgia 2, released in 2006, included KiKi KaiKai Kackremboh, a version of the original arcade game Kiki KaiKai and featuring Bonze Kackremboh as a playable character.
Game Staff (Copied from the end credits) :



STAFF

M.Fukazawa
H.Kato
H.Takahashi
Y.Suguhara
H.Ichisumi

Y.Takasu
K.Asakura
T.Kasuya
T.Kuniyosi
K.Hisa
K.Sasaki
H.Yamamoto

S.Nakada
K.Kusatu

THE END
©Taito Corporation 1990


O
M
A
K
E



Click on picture to enlarge
S
E
C
R
E
T
S

The last room
The last stage gets you in a large room with three stones... then nothing. You actually have to destroy the two dark stones on the side first (they take quite a few hits to take down), then the center one.




LK



Add your Pov here !



P
O
V
s


Jikogu Meguri is an odd little game. It is overall quite difficult and the graphic quality is uneven, from correct to plain ugly in some places. The game is however quite long and fun to play, the levels are varied and although Jikogu Meguri doesn't do anything really innovative, it definitively oozes character and charm. Well, that's until you reach those really annoying moments when your movements have to be pixel perfect... these missteps can be especially frustrating. All in all, Jikoku Meguri is a fun (yet average) title and a fine conversion of the arcade game.