| | | | |
| --- | --- | --- | --- |
| | | | |
ボンバーマン'93
©1992 Hudson Soft / vol.56
Release : 1992-12-11 (¥6500)
HuCard (4 Mbits) HC92061
Backup Ram
Action game




Released in America as
BOMBERMAN'93
( TGX040093 )
The Bombermen are back in this wacky sequel to the first Bomberman smash hit originally released in 1990 by Hudson Soft. In this episode, the evil Kurobon, the black Bomberman, has stolen vital components from the Galaxy's power station and has scattered them throughout seven different and hostile planets across the universe. The courageous white Bomberman embarks on a mission to retrieve the stolen components and to finally capture the culprit. As expected, the gameplay uses the same ingredients that made the series so popular - players have to complete a myriad of levels by strategically dropping time-bombs and blasting away every single critters that haunt them, before exiting through a warp door to the next level. Special items are hidden inside destructible blocks and grant players with additional powers, such as speed-ups, extra bombs, greater blast range, bomb kick, remote bombs and so forth. Of course, Bomberman'93 adds several new gameplay twists not found in previous episodes, as well as tons of new traps and odd devices, such as warps, rotating-tiles and conveyor belts to only name a few. Boss battles have also been revamped and the various creatures the player encounters are now larger and unquestionably meaner. Finally, and in the Bomberman tradition, the game also includes an intense multi-player battle mode where up to five player can blast each other up at the same time!

Interestingly, Bomberman'93 was also included in the Bomberman Collection Vol.1 released for PC computers by Hudson Soft and Konami in 2003 (along with the PC Engine version of Bomberman and Bomberman World).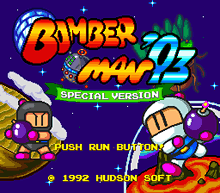 A non-commercial and very limited edition of Bomberman'93 exists - 'Bomberman'93 Special Version' comes as a single HuCard and only features the multi-player mode (no com players though) and eight different maze themes to choose from. It is difficult to know for sure how this promotional game was officially distributed. Some sources indicate that it was released through the Hudson Soft Fan Club to commemorate the release of Bomberman'93 for the PC Engine. This card is, of course, really sought-after by collectors and rumored to have been produced in no more than a couple of thousand units (See the Omake section).
Teaser text from the American version:
Tension, strategy, action, excitement - Bomberman's back!
You can bow battle against up to four computer-controlled maniacs by yourself for the ultimate five bomberman mode. Choose from seven exciting new stages with loads of new power-up items like warps, conveyer belts, revolving doors and even kicking bombs ! Or for portable thrills, go head-to-head against a friend using TurboExpress for non-stop action. The best competitive game is back, and it's more intense than ever !
Game Staff (Copied from the end credits) :



BOMBERMAN'93 STAFF

Game Designer
Tsukasa Kuwahara

Programmer
Tetsuya Wakabatashi

Graphic Designer
Fumie Takaoka
MC Col Iwata
Misuzu Kaboyashi
(Eyecatch Voice)

Music Composer
Jun Chiki Chikuma

Sound Programmer
Keita Hoshi
Akihiro Sat
Makiko Tanifuji
Kaso-Re Honma

Sound Director
Toshiaki Takimoto

Special Thanks
Kōji Matsuura
Satoshi Mikami
Kenji Kikuchi
Atsuo Nagata
Hikaru Aoyama
Koji Arai
Rururira Hidebo

Game Director
Shigeki Fujiwara

Basic Game Design
Shinichi Nakamoto

BOMBERMAN'93 Idea Staff
Tokio Shimada
Akira Ono
Satoshi Aoki
Akinobu Yuneyama
Akitaka Tōry
Ayumu Yamaguchi
Daisaku Noda
Hajime Takeda
Haruki Ōkawa
Hayato Kasahara
Kenji Fukui
Houji Tamura
Makoto Nihira
Manabu Nakakita
Masafumi Kawazoe
Nasanori Kawaguchi
Masaru Ōkouchi
Masashi Nomoto
Masaya Sugimoto

Minato Takahashi
Naoki Kat
Nabuo Kuraki
Shinji Tokuda
Syōji Nagamiya
Syōji Sumida
Tadahiro Takimoto
Takajiraten
Takanori Ayabe
Takashi Tsuzuki
Tomohisa Nakayasu
Tomoya Yanashita
Tomoyuki End
Tomoyuki Ide
Tōru Nishida
Toshihiro Watanabe
Yukihiro Hanada
Yūsuke Shibahara
Yasutaka Akazawa
Yasuyuki Nakajy
Yūki Kondate

Presented by
HUDSON SOFT


G
O
O
D
I
E
S



Japanese Pencil Case

O
M
A
K
E






Click on picture to enlarge
LK



Add your Pov here !



P
O
V
s


I personally think that Bomberman'93 is the second best Bomberman game available for the PC Engine system, after the bombastic Bomberman'94. Hudson Soft has added here several wicked improvements to the original recipe, and, I have to admit, the single-player story mode is now way better than its predecessor and utterly fun. It features better structured levels and extremely fun boss battles. Each world also ends with funny bonus images depicting our hero messing around with the various defeated bosses (this great idea was also used in games such as Star parodia or Konami's Detana!! Twin Bee, it is anyone's guess as to who ultimately came up with the idea). But, once again, Bomberman'93 really shines with its frantic multi-player battle mode where up to five Bombermen can vaporize each other with unbridled joy. All in all, Bomberman'93 is a blast *cough* sorry, couldn't resist making that pun.