MOERO TWINBEE : CINNAMON HAKASEI WO SUKUE!
| | | | |
| --- | --- | --- | --- |
| | | | |
もえろツインビー シナモン博士を救え!
©Konami 1986
Release: 1986-11-21 (¥3100)
DiskCard KDS-TIN
Shooter / Horizontal+Vertical




Released in Japan (Cartridge) as
MOERO TWINBEE : CINNAMON HAKASEI WO SUKUE!
( RC813 )


Released in America (Cartridge) as STINGER
( NES-SR-USA )
Moero Twinbee: Cinnamon Hakasei wo Sukue! is a cute vertical shooter by Konami and is the Famicom exclusive sequel to the arcade game Twinbee originally released in 1985. The game takes place in 2901 on the peaceful Donburi island as Dr. Cinnamon wakes up from a hundred years long hibernation. His son has passed away but the doctor's great-grandchildren are alive and ready to take on any challenge! Cinnamon is an accomplished scientist and he decides to build three incredible flying machines for them, in case of unforeseen emergency - Twinbee, Winbee and Gwinbee. It was a wise decision indeed, and when the evil Gatlantis attacks the doctor's laboratory and kidnaps him, the young pilots are ready to launch a rescue mission! All the traditional Twinbee gameplay elements are reunited here. Players can shoot airborne enemies with their main weapon or drop bombs to reach enemies on the ground. Jingle bells can also be released from floating clouds to enhance the ships - by continuously shooting at them, players can change their colors and activate various power ups and abilities such as yellow (points), blue (speed up), white (double-shot), pink (laser), flashing red (option) and flashing blue (shield). Various items can also be collected from ground enemies, such as L (left beam), R (right beam), crescent moon (three-way shot) and star (five-way shot). Although Moero Twinbee follows the Twinbee tradition, it departs from it by alternating horizontal and vertical stages which is fairly unique for the series. Moero Twinbee consists of seven stages and also features a whooping three simultaneous player mode!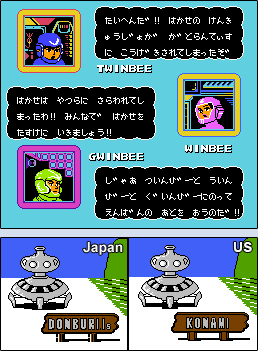 Moero Twinbee is really interesting because it is considered to be the furthest game in the Twinbee's timeline. Additionally, although the three great-grandchildren and pilots were unnamed in the original released version, Konami later introduced them as Sukasshu (Squash), Hoippu (Whip) and Merō (Mellow). As a side note Moero Twinbee was also re-released in 1993 in cartridge format in Japan and this version is a lot harder to find (and therefore more expensive) than the Famicom Disk version tested here.

Moero Twinbee was later released in the US and renamed 'Stinger'. It was probably one of the only Twinbee game to be ever released in the US (the other exception is the arcade game Detana!! Twinbee which was apparently also released in the US in 1991 under the name 'Bells & Whistles'). The american port of Moero Twinbee shows one major difference - the three simultaneous player-mode was omitted and the introduction screen portraying the three heroes was entirely removed (as well as the ending screen). The game's story was also altered and Gatlantis and his minions were replaced by 'dreaded alien bandits from the planet Attackon'. Dr Cinnamon was also renamed Professor Einstein J. Cinnamon and, in the introduction sequence, the sign mentioning Donburi island (where the Doctor lives) was curiously changed into 'Konami'.
Teaser text from the American version:
Save The Earth From An Alien Snack Attack!
Man your battle stations! Dreaded alien bandits from the planet Attackon have kidnapped Professor Einstein J. Cinnamon - Super Genius. The Attackons are scheming to zap the professor's brain, retrieving his secret bio-nuclear sweetener formula. A formula these evil-doers will use to transform Earth into an inter-galactic ball of cotton candy - a favorite munchie for Attackon sweet tooths. To save the world from his sticky fate, you'll soar into action in your highly advanced Stinger jet fighter, with its awesome array of wacky weapons. But beware. From the beginning you'll be locked in dog-eat-dog dogfights, battling tooth and nail past Attackon defenses, from the South Seas to the Arctic Circle. Then prepare for the ultimate challenge - the Attackon fortress and the edge of space, where the professor is held hostage, and where Earth's survival rests on your shoulders.
Game Staff (Copied from the Japanese version's end credits) :



STAFF

Program by
Kazuhiro Shinamon
Muuchan


Charactor by
Madam Yanyan
Mari Daibutsu

Music by
Charley Sada


Special Thanks
Mitsuhiro Shimon
Rusher Shinya
Brilliant Satoe
Giant Ken
Tamako
Shimoneta Kenji

Copyright by
KONAMI


G
O
O
D
I
E
S



Japanese GuideBook


Japanese GuideBook

O
M
A
K
E



Click on picture to enlarge
LK



Add your Pov here !



P
O
V
s


Moero Twinbee was a really nice surprise. I personally love Konami's Twinbee series and it is very interesting to see how it evolved over the years. This game stays true to the series despite moving into genuinely new (and wacky) territories in places - I'm fine with fighting flying candies and ice cream popsicles in the first stages, but enemies in later levels are a little too weird to my taste and feature teapots, phones, televisions and coat hangers... The horizontal stages are also a great addition and Moero Twinbee is the only game in the series to feature such a treat (all other instalments use vertical scrolling levels). However, and probably because of the game's mechanics, I find the bells really hard to collect in these stages... well Konami added an odd heart-shot that fires vertically and which somehow helps collecting them, so the developers were probably aware of this problem. Despite these mild (and very subjective) issues, Moero Twinbee is a polished and really fun shooter with extremely responsive controls and a satisfying difficulty curve. All in all, a game that fans of Konami's Twinbee cute'm up series shouldn't miss!