| | | | |
| --- | --- | --- | --- |
| | | | |
沙羅曼蛇 サラマンダ
©Konami 1987
Release: 1987-09-25 (¥4900)
Cartdridge RC821
Shooter




Released in America as
LIFE FORCE
( NES-LF-USA )


Released in Europe as
LIFE FORCE SALAMANDER
( NES-LF-XXX )
Salamander (aka Life Force in the west) is an horizontal shooter by Konami and conversion of their own arcade game originally released in 1986. The galactic entity Zelos is dangerously approaching planet Latis. The space monster's appetite is growing and he is devouring everything on its path. The player on board the Vic Viper and a partner on board the Lord British star fighter fly to Zelos's lair in an attempts to destroy the invader. This port of Salamander borrows its weapon system from Gradius - unlike the original arcade game which featured a more traditional and straightforward power-up system. A power-bar at the bottom of the screen displays available weapons and power capsules must be collected to activate them. There are six type of upgrades - speed up, missiles, ripple lasers, plutonic laser, options and shield. Options are at the core of the gameplay and mimic the ship's motion and attacks - they are also invulnerable and can withstand enemy bullets. However, losing a life also means losing all the painfully accumulated upgrades. The game features six zones and alternates between horizontal and vertical scrolling levels - they also all end with intense boss battles in the most venerable shooting traditions.

This Famicom port of Salamander is different than the original arcade game. It is a mix of both the Japanese Salamander and the American Life Force topped with exclusive content. See Salamander (PC Engine) for more information.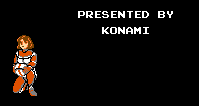 Interestingly, the NES and Famicom versions of the game have different endings! The American version ends on a simple Konami trademark logo whereas the Japanese version has a game credit roll and reveals that the Vic Viper's pilot is in reality a brown-haired girl! (picture on the right)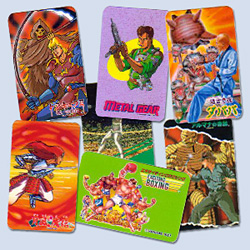 Like several other early Konami games released in the 1980s/1990s, Salamander included a numbered collector card also known in Japan as コナミ キャラカード (aka 'Konami Chara Cards' or 'Konami Character Cards'). Each card featured an illustration or a snapshot from the game (picture on the right), and the back of each card showed a serial number as well as the game's title. They were randomly included with the games and Konami produced several variations of each card. That's it, each game included a card from a series related to the game, it is however not known how many different card variations were made for each game. Apparently six cards (on average) were produced for each game, except for Doremikko (1 card), Exciting Boxing (1 card) and Meikyujin Dababa (which, curiously, only seem to feature five cards). The list of Konami games to include such cards are believed to be : Ai Senshi Nicol (FDS), Dracula II Noroi no Fuin (FDS), Arumana no Kiseki (FDS), Contra (FC), Doremikko (FDS), Dragon Scroll (FC), Exciting Baseball (FDS), Exciting Basketball (FDS), Exciting Billard (FDS), Exciting Boxing (FDS), Exciting Soccer (FDS), Falsion (FDS), Getsu Fūma Den (FC), Majō Densetsu II Daimashikyō Galious(FC), Meikyū Jiin Dababa (FDS), Metal Gear (FC), Salamander (FC), Tetsuwan Atom (FC), Top Gun (FC) and Wai Wai World (FC).
Teaser text from the American version:
Calling all Viper Pilots - the galaxy's on the edge of doom again! You've saved the innocent people of Gradius from the vile Bacterions. But now an even deadlier plague has slimed into the neighborhood. It's Zelos, an all-engulfing, planet-eating alien who's hungering to take a bite out of you! Only this time you don't have to rescue the millions of Gradians alone. You can call on a starfighter friend from the planet Latis, who'll fight beside you in his RoadBritish space destroyer. You'll both be gunning for max power-ups, with ripple lasers, plutonic missiles and impregnable force fields. But you better be on target. For this isn't your ordinary space scum. And to crush him you've gotta soar through his guts, blast past his death traps and ultimately blow out his heart. Good luck, Commander. The Galaxy's counting on you!
Game Staff (Copied from the end credits) :



STAFF

Programmed By
S. Umezaki
T. Danjyo
H. Hori
H. Yanagisawa

Character Design
S. Muraki
Y. Yoshimoto
C. Ozawa
J. maruo

Music by
S. Sakamoto
S. Terashima
H. Maezawa
A. Fujito

Visual Design
K. Shimoide
N. Satoh

Special Thanks
H. Machiguchi

Directed by
S. Umechan
and
Osetsusan

Presented by
Konami


G
O
O
D
I
E
S



Japanese Guidebook


Japanese Guidebook

O
M
A
K
E



Click on picture to enlarge
LK



Add your Pov here !



P
O
V
s


Salamander is magnificent in so many ways. The game's cartridge and its transparent shell casing (sorry, this delightful treat only applies to the Famicom release) makes you realize that you are about to experience something special. The first thing that blew me away are the graphics - the level of detail is incredibly impressive and the enemy sprite animations are simply superb. It's actually hard to believe that the game is running on the trusty old Famicom hardware. However, the experience is unnecessarily hard in a way that exceeds my patience endowment. I feel that the only way to master Salamander is through weeks/months of steady practice. Despite the frustration and repeated failures, Salamander is a game I revisit frequently. An excellent and dazzling shooter.