| | | | |
| --- | --- | --- | --- |
| | | | |
デビルワールド
©Nintendo 1984
Release: 1984-10-05 (¥4500)
Cartdridge HVC-DD
Action/Puzzle game



Released in Europe as
DEVIL WORLD
( NES-DD-XXX )
Devil World is a maze game developed and published by Nintendo. The player takes control of a little green dragon called 'Tamagon' who is on a remarkable journey into the Demon World (his name is a pun that could be translated as "Egg-Dragon"). But things are always not so simple and our hero is the target of the Devil himself (who unsurprisingly runs the Devil World) and his demonic cohorts. Interestingly, Tamagon starts each round inside an egg - in this form, he is invulnerable to enemy attacks and he must hatch from it in order to take on his mission. Each round is broken up into three phases. The object of the first one is to collect all the pellets (called Bowa-Bowa dots) scattered around the maze, in a way very similar to Pacman. However, Tamagon must first find a cross in order to collect the pullets, and the cross also allows him to breath fire at his enemies (he however can only shoot one fireball at the time). Enemies hit by Tamagon's fire turns into Fried Eggs that the green dragon can gobble up for points. Once all the pullets have been collected, the game moves to a different phase where the player has to pick up four Bibles and seal them into a special red stone localized at the center of the maze. Bibles give Tamagon the same abilities than the crosses, however, unlike them, their magic powers don't wear out. But Devil World has another unique twist - Tamagon doesn't control where the screen scrolls, instead Devil (symbolized by a blue winged character at the top of the screen) automatically steers the player in one direction or another, thus creating situation where Tamagon can easily become trapped or crushed by the screen's boundaries. Finally, each round is followed by a short bonus stage where Tamagon controls the direction in which the screen scrolls (by stepping on special tiles in the maze) in order to collect as many bonus items as possible within a time limit. A two simultaneous player mode is available and features a second red Tamagon.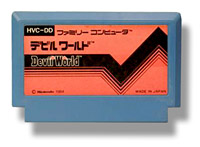 Two prints of Devil World seem to exist. The first version was available in the Cassette line series (popularly known as the "pulse line" series) and Devil World was the 14th and last Famicom game released with a pulse line (picture on the right). It was released again later with an illustrated cartridge label (version tested here). Interestingly, it seems that the pulse line version was originally sold at retail for ¥3800, whereas the illustrated version was sold for ¥4500.
The game was never released in North America, but was released in Europe (only in Scandinavia it seems). The European version is hard to find and can fetch upwards of $150 on auction sites.
Although Devil World slipped through the cracks of many people's minds, Nintendo recently tried to pay homage to this long forgotten game. Tamagon the dragon later appeared as a trophy in the Japanese release of Super Smash Bros. Melee (GameCube, 2001). Interestingly, Devil also appears as an assist trophy in Super Smash Bros. Brawl (Wii, 2008) and makes a cameo appearance in Captain Rainbow (Wii, 2008).
Two names are easily recognizable from Devil World's staff - the game designers Shigeru Miyamoto and Takashi Tezuka. Both men worked on some of the most universally acclaimed and influential Nintendo series, namely Super Mario Bros and The Legend of Zelda. Although Takashi Tezuka started as a part-time employee at Nintendo and initially worked on the arcade game Super Punch-Out!!, Devil World was technically his first project as a full-time employee at the company.
Teaser text from the European version:
Lost in the maze of Devil World, Tamagon the Dragon has to steer clear of the Devil, his nasty Co-Devils, and his treacherous helpers, Madaman the Fried-Eggman and Bon-Bon, and ward off their attacks by breathing fire. After each round, the maze scrolls up, down right or left. The Devil decides the direction and points with his finger. As you guide Tamagon through the maze, you also have to avoid being sandwiched between the walls.

G
O
O
D
I
E
S



Japanese Guidebook

O
M
A
K
E



Click on picture to enlarge
LK



Add your Pov here !



P
O
V
s


Devil World is a game full of charms and personality. There is little doubt that Devil World derives its inspiration from Pacman, but Nintendo managed to squeeze in unique gameplay ideas of their own. The gameplay mechanics work surprisingly well - I was a bit skeptical at first about the 'automatic scrolling' (and it definitively takes some practice to get the hang of it), but it certainly adds an incredible amount of strategy and tactic to the dot-munching Pacman formula. I also love the graphics, and although they are simple (mind you, the game was made in 1984), they are full of personality and character. The only downfall of the game is definitively the lack of variation. Each round just loops (is the game endless ?) with a slightly increased difficulty level and higher gameplay speed - but it is overall rather repetitive. Also, I wonder why the game wasn't released in North America - many people mention the obvious religious references featured in the game (devil, crucifixes, bibles) but a simple sprite swap/change would have certainly sweeten the deal. Anyway, all in all, Devil World is a fun game, don't expect to spend hours on this one though, but it is a good time killer every once in a while.