DRAGON BUSTER II YAMI NO FŪIN
| | | | |
| --- | --- | --- | --- |
| | | | |
ドラゴンバスターII 闇の封印
©1984 1989 Namco Ltd.
Release: 1986-04-27 (¥5200)
Cartdridge (n/a)
Adventure/Action


Dragon Buster II Yami no Fūin is a Famicon exclusive action/adventure game by Namcot and sequel of Dragon Buster originally released in 1984. Centuries before the events of the first game, Dragons and Demons already roamed the country and brought terror into the lives of all people. However, a local legend states that the Sword of Thruth can restore peace to the land. It turns out that the almighty weapon is kept by the most ferocious dragon who ever lived but this doesn't stop the young Carl from willing to take on the challenge. He is small but the best archer the land has ever seen. Our dragon slayer travels the country in search of the elusive dragon and frees six other provinces along the way. The goal in each region is to reach the Dragon's den and to kill the beast within its walls. However, many dungeons and creepy locations have to be explored first - each province is made of small sub-stages dotted around a map and each sub-stage features a maze with a particular theme (Forest, Cave, Graveyard, Tower and Dragon's Den). They are filled of wandering monsters and one of them carry the precious key needed to unlock the exit door. Carl's main weapon is his trusty bow and his arrows have the incredible ability to bounce off walls. This technique is incredibly handy to hit enemies hiding around corners or obstacles... but it turns out it can also hurt Carl in the process. Arrows come in limited quantities and quivers have to be collected to refill the ammo bag. A couple of other special items are also dropped by some monsters, such as fairies (extra health), shields (temporary invincibility), flame arrows and sometimes even doors! Interestingly, health is not displayed on screen, instead Carl's tunic slowly turns from blue (healthy) to red (dying). Finally, a list of special locations is provided to Carl at the beginning of each province - these contain super items such as the Axe (to cut through forests), the Hammer (to break fences), the rope ladder (to climb small hills) and so forth. A five digits password system allows the player to save the game at the end of each province.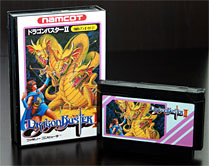 Like many games released by Namco for the Famicom System, Dragon Buster II Yami no Fūin comes in a hard and more durable plastic case (picture on the left). Like many other Namco games, it doesn't seem to have any serial number...

G
O
O
D
I
E
S



Japanese Guidebook


Japanese Guidebook

O
M
A
K
E



Click on picture to enlarge
LK



Add your Pov here !



P
O
V
s


Dragon Buster 2 is an odd game to quantify... I definitely like it over the Famicom port of its prequel, Dragon Buster. The game is bit of a let down though dominated by odd implementations of its otherwise perfectly good intentions. First off, there is no 'in game' background music and you're condemned to only hear your footsteps and approaching monsters (there's music on rare occasions though). This definitively gives a sense of being alone in a secluded place, but I just wish there was more to it. But my biggest grip is the maze layouts - the rooms actually loop which forces you to get lost more often than necessary. Complicating things is the fact that most of the rooms and corridors look alike and you won't be able to refer back to a map because there isn't one. And yet despite all of this, the game has something special going for it. It never feels unfair and I often go back to it to this day. Although I recognize that Dragon Buster 2 is not a game for everyone, I encourage you to give it a try.