YOSHI NO COOKIE
(Yoshi's Cookie)
| | | | |
| --- | --- | --- | --- |
| | | | |
ヨッシーのクッキー
©1993 BPS
©1992,1993 Nintendo
Original design by Home Data Corp.
Release: 1993-07-09 (¥6600)
Cartridge SHVC-YC
Puzzle Game



Released in America as
YOSHI'S COOKIE
( SNS-YC-USA )


Released in Europe as
YOSHI's COOKIE
( SNSP-YC-XXX )
Yoshi no Cookie is a fast-paced puzzle game based upon the massively popular Tetris game. The object of Yoshi Cookie is to align cookies (rows or columns) of the same type and clear off the screen. Unlike other games in the genre, cookies appear from the top and side of the screen, and the player controls a cursor that can slide entire rows and columns of the yummy biscuits. The game comes in three flavors - the Action Mode is a straight on 'time-limit' game where every single cookie must disappear. The Puzzle Mode is about solving puzzle-stages within a limited number of moves and features no less than hundred levels (ten rounds made of ten stages) - A password is kindly offered at the end of each stage so the player can always return where he left off. Finally, the frantic VS Mode gets two players to 'puzzle-fight' head-to-head (or against a computer opponent) and features popular Mario characters such as Princess or Bowser. Each character comes with his own strengths and abilities, and they all balance each other out. Interestingly more characters can be optionally unlocked later in the game.

Yoshi no Cookie (aka Yoshi's Cookie) was originally developed by BulletProof Software and was first released for Nintendo's Famicom and Game Boy systems in 1992. Interestingly Alexey Pajitnov (creator of Tetris) and Shigeru Miyamoto are credited among the main staff. Yoshi no Cookie for the Super Famicom followed a year later (1993). The first game was made available to the Wii's Virtual Console library in 2008.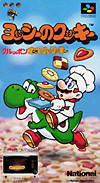 A special version 'not for sale' of Yoshi No Cookie called Yoshi no Cookie - Kuruppon Oven de Cookie was distributed in limited quantities (picture on the left).

Only 500 copies are rumored to exist and the game is sought after as a collector's item and can fetch high prices ($2000/$5000). Yoshi No Cookie - Kuruppon Oven de Cookie was developed by National Human Electronics and features the original game and a 'Kuruppon de oven' adventure mode where Yoshi travels around a map and discovers cookie recipes (picture on the right).
Teaser text from the American version:
Cookie Chaos for Mario and Yoshi!
Mario and Yoshi filling in at the Cookie Factory, and the snacks are piling high! As fresh-baked cookies roll out of the ovens, it's up to Mario to sort and stack'em before they pile too high! Line up a row of the same kind of cookies either vertically or horizontally, and they vanish! Clear the screen to move on to a new level of cookie chaos. Yoshi appears from time to time to stir things up. Play for high score or go head-to-head against a friend or the computer. The mouth-watering madness doesn't let up!

O
M
A
K
E



Click on picture to enlarge
LK



Add your Pov here !



P
O
V
s


Yoshi no Cookie is a fun puzzle game and certainly stands out from the regular crowd of Tetris wannabes. But after clearing the first ten stages or so, you'll have this strange feeling of 'Deja Vu', the game repeats itself and goes on and on, levels only getting harder and harder. That's just not very satisfying and, unfortunately, Yoshi no Cookie becomes quickly tedious. This version has a couple of nice improvements but they get consumed by a the repetitiveness of the whole game. Only the excellent multi-player mode saves this game from running out of steam...