| | | | |
| --- | --- | --- | --- |
| | | | |
海腹川背
©1994 TNN/NHK SC
Release: 1994-12-23 (¥9800)
Cartridge SHVC-P-ATAJ
Action/Platform


Umihara Kawase is an unique side-scrolling platform game by TNN (which stands for 'Think about Needs of Notice for human being') and published by the Japan's public broadcasting organization NHK. It is the first episode of a game series that put players in the shoes of a cute schoolgirl named Umihara Kawase, and equipped with a fishing rod and a pink backpack. The goal of the game is fairly simple - in each stage (called 'Fields'), the objective for the young heroine is to reach one of the exit doors before running out of time. However, sea creatures ranging from fish, squids and other sea-snails roam each level and attack the little girl on sight. This is where the fishing rod steps in. Umihara can cast her fishing line out, stunt enemies with it and tuck them away in her bottomless backpack. But the fishing line has another incredible ability that lies at the heart of the gameplay - it can also hook onto platforms and help Umihara swing around and reach higher ground. The length of the line is also fully adjustable allowing for incredible acrobatic stunts. The game's structure is strictly non-linear and Umihara's journey quickly branch out - various levels have different exit doors that lead to alternate routes and deadly bosses.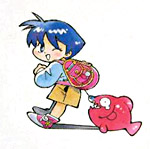 Although relatively obscure in the rest of the world, Umihara Kawase has seen a lot of success in Japan and it has now developed into something of a cult game. The first episode was released for the Super Famicom in 1994 (version tested here). It was followed by Umihara Kawase Shun for the Playstation in 1997 which featured an unique Replay Mode allowing players to record gameplay clips of their greatest in-game exploits. A second edition was released for the Playstation in 2000 and features more artwork from Toshinobu Kondo, the designer of the game. Finally, a Playstation Portable version called Umihara Kawase Portable was released in 2008.

G
O
O
D
I
E
S



Japanese guidebook


Japanese comic


Japanese phonecard

O
M
A
K
E



Click on picture to enlarge
LK



Add your Pov here !



P
O
V
s


Umihara Kawase is now considered a cult game and it truly deserves the title. It is without a doubt a terrific and unique feat. The character design is superb with fantastic and wacky sea creatures - most of the fish in the game have tinny little legs and can walk around, completely at ease (It is kinda funny when you think about it). But the gameplay is what sets Umihara Kawase apart from other platform games. The fishing line is really tricky to use at first but it quickly becomes second-nature and you'll eventually fly through the air like a tiny Spiderman. Umihara Kawase is brilliant and is the perfect example of a game that's more that the sum of its parts. I really recommended it - It may not look that sophisticated at first glance but you will get hooked to it (sorry for the pun, I couldn't pass this one up).