TINY TOON ADVENTURES
( Tiny Toon Adventures Buster Busts Loose! )
| | | | |
| --- | --- | --- | --- |
| | | | |
タイニートゥーンアドベンチャーズ TM & ©1992 Warned Bros
©1992 Konami
Release: 1992-12-18 (¥8000)
Cartridge SHVC-TA
Platform/Action game




Released in America as
TINY TOON ADVENTURES BUSTER BUSTS LOOSE!
( SNS-TA-USA )


Released in America as
TINY TOON ADVENTURES BUSTER BUSTS LOOSE!
( SNSP-TA-XXX )
Tiny Toon Adventures is an action/platform game by Konami based on Warner Bros's wacky animated television series of the same name originally broadcasted in 1990. The blue rabbit Buster Bunny is going on a big adventure through several action-packed and humorously-themed levels, from the ACME Looniversity's hallway and library to the dangers of the American old West, the intense thrill of a football game or deep inside a giant Star Wars-inspired space station. Interestingly the game doesn't have an outright unique goal. Instead, each level acts as a discrete episode and features its own individual mission - such as stopping Dizzy Devil from causing mayhem in the school's kitchen or rescuing the cute Babs Bunny from the clutches of the evil Darth Plucky Duck. Buster Bunny doesn't come with any weapons or accessories though, and instead uses his bare feet! While one action button makes him jump, another makes him kick jump - or, more accurately, drop-kick in mid-air - damaging enemies below him. Being a rabbit, Buster Bunny also has another trick up his sleeve - he can dash at full speed, knocking down all enemies on his path and climbing along vertical walls as if gravity was suspended. But this power comes with a price and the player must charge-up a dash bar located at the top of the screen in order to effectively use it. As expected, various items are found scattered throughout the game, such as Gogo Dodo trophies (instantly refill Buster Bunny's dash power), Carrot trophies (restore health) or cute Buster Bunny figurines (extra lives). Finally, each level is punctuated by a Wheels o' Game mini game - there is a total of five different mini-games (such as a traditional Bingo, a Weight Challenge or a simple Slide Puzzle) and they all provide the player with a chance to earn extra lives before the next level. Tiny Toon Adventures consists of six levels and features a password system to save the player's progress (apparently only available in the easiest difficulty mode though). The game is also single-player only...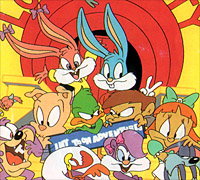 Konami actually released a plethora of Tiny Toon Adventures games, and the Super Famicom/SNES version tested here is far from the first one to ever hit the shelves. The first Tiny Toon Adventures was released for the Famicom/NES in 1991, followed by Tiny Toon Adventures (aka Babs' Big Break) (Game Boy, 1992), Tiny Toon Adventures Cartoon Workshop (NES, US Only, 1992), Tiny Toon Adventures 2 Montana Land e Yōkoso (aka Tiny Toon Adventures 2 Trouble in Wackyland) (Famicom/NES, 1992), Tiny Toon Adventures 2 Montana's Movie Madness (Game Boy, 1993), Tiny Toon Adventures Buster Busts Loose! (Super Famicom/SNES, 1992), Tiny Toon Adventures Buster's Hidden Treasure (Genesis/Megadrive, US & Europe Only, 1993), Tiny Toon Adventures Dotabata Daiundōkai (aka Tiny Toon Adventures Wacky Sports Challenge) (Super Famicom/SNES, 1994), Tiny Toon Adventures 3 Doki Doki Sports Festival (aka Tiny Toon Adventures Wacky Sports) (Game Boy, 1994) and Tiny Toon Adventures ACME All-Stars (Genesis/Megadrive, no Japanese release, 1994). Although Konami held the Tiny Toon video game license from 1991 to 1994, they apparently lost it (or didn't renew it) after that. All the game released from 1996 onward were developed and published by other game companies, such as Terraglyph Interactive Studios, NewKidCo, Warthog, Conspiracy Games and Treasure to only name a few. But, in my opinion, Konami created what are arguably the best games in the series.
Teaser text from the American version:
It's just like a real cartoon, except you're the main character! But be warned. Accept the role of Buster Bunny, and your tail will be on the line against Calamity Coyote, Elmyra, Dizzy Devil, Dr Gene Splicer, Montana Max and gazillons of other 49 bit bullies craving a pot of Hasenpfeffer stew. Gulp! Only you can stop those pesky pranksters from getting the jump on your pal Buster Bunny. But it won't be cake, Jake! You'll have to use Buster's all new Spin Kick and Mad Dash to burst through ACME Looniversity's toughest classes. If you pass that test, you'll hop aboard a Wild West Train Ride. Then explore a spooky Monster Mansion. Play in a far-out Football Game. Bounce through an aerial Sky Jinx in search of stratospheric treasures. And blast-off on a on a Babs Bunny (no relation!) rescue mission that's totally spaced-out. Ready to fork over the bucks, Buster? Well hang on to your ears - there's more! Between each level are five subgames, including Furrball's Championship Squash, Hungry Boy Hampton and Plucky Duck's Go-Go Bingo. SO ACTUALLY IT'S LIKE ELEVEN GAMES IN ONE! And we haven't even mentioned the Pinball Wizardry, Acme Anvils and Icky Tricky Sticky Traps that'll make you feel like you're in an actual cartoon. Wow! To make it through all that Buster better have a lucky bunny's foot. Or else you'll be the one getting stewed!
Game Staff (Copied from the end credits) :



STAFF

Planning by
S. Murata
T. Yakushiji
K. Horie
T. Okutani
M. Hashimoto
S. Muraki

Programmed by
S. Murata
T. Okutani
S. Umezaki
K. Aoyama
K. Ozawa
Y. Okuda
E. Nakagawa


Graphics and Animations by
T. Yakushiji
K. Horie
M. Hashimoto
S. Muraki
K. Kawaminami
K. Ogawa


Sound and Music by
K. Uehara
Y. Morimoto

Package Designed by
H. Sumida


Produced by
Team The
Okutani Project

Special Thanks to
I. Ueda
M. Toyoda
S. Sagoi
Staff of Konami Inc.
And You

Presented by
KONAMI


G
O
O
D
I
E
S



Japanese Guidebook

O
M
A
K
E



Click on picture to enlarge
LK



Add your Pov here !



P
O
V
s


I have mixed feelings about Tiny Toon Adventures... Let me explain my position - Konami is generally synonymous with quality and Tiny Toon Adventures looks great. The game is visually stunning with a great level design and adorable cartoonish sprites with equally fluid and precise animations. It is also technically solid, everything runs smooth and without noticeable slowdowns. Konami has undeniably poured their heart into this one. So where's the catch? Well, I can see why Konami voted for the 'drop-kick' attack instead of Mario's standard 'smack-on-the-head' formula - they wanted to be different. But in practice, it doesn't really work out all that well and the drop-kick is awkward to use. The dash is also a fun gameplay mechanic, but some levels heavily rely on it (such as the unforgiving auto-scrolling train chase from the second level) which leads to countless very unfair deaths. Actually, do you know what actually bugs me the most about this game? Its intended audience target. At times, the game feels very 'on rails' and childish (like if targeted towards a really young audience), but other times, it destroys you with a tsunami of difficulty. The end result is a game that I feel is a bit of a mixed bag, and the overall experience is very fragmented... But don't get me wrong - Tiny Toon Adventures is a fun game and it is definitively one of the best in the series (especially for a game tied-in with a popular animated cartoon franchise).