| | | | |
| --- | --- | --- | --- |
| | | | |
スーパーマリオカート ©1992 Nintendo
Release: 1992-08-27 (¥8900)
Cartridge SHVC-MK
Racing game





Released in America as
SUPER MARIO KART
( SNS-MK-USA & SNS-MK-USA-1)




Released in Europe as
SUPER MARIO KART
( SNSP-MK-XXX )
Super Mario Kart is a kart racing game developed by Nintendo and the first episode of a long and popular series still acclaimed today. The player is at the wheel of a go-kart and must race through a series of multi-race cups. The game features a cast of eight drivers borrowed from the entire Mario universe - Mario himself, Luigi, Princess Peach, Yoshi, Browser, Koopa Troopa, Toad and Donkey Kong Jr. Each cup features five tracks and finishing in the top four awards the player points, which are later totted up to decide of the final winner. There are also two kart classes available from the start (50cc and 100cc) and a 150cc can be later unlocked by the player. Each racer features his or her own set of abilities, but also weight - light karts have a better acceleration rate and easier turning compared to the heavy weights and their higher top speed, but poor handling. The latter, however, can easily knock other karts off the road. Beside, players must always keep an eye on their stock of coins - running out and the karts will spin out of control when hit by another opponent and, consequently, lose valuable time. In the Mario tradition, countless power-ups can be collected throughout the game - special 'question mark' tiles give players special items that they can use to either power-up their karts, or slow down their opponents. They range from banana skins, green shells, red 'homing' shells, speed boost mushrooms, feather jumps, invulnerability stars and the all time favorite Thunderbolts shrinking down everyone on the track in the blink of an eye. Tracks also feature numerous hazards such as slippery oil sticks, hard pipes and other unusual obstacles such as Piranha Flowers or the annoying and furry Gophers who stick onto the players' karts and slow them down. Finally, the game also includes a Match race mode where two players can race against each other, and an intense Battle Mode where two players duel each other inside small arenas.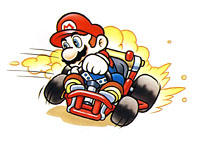 The first Super Mario Kart (version tested here) was released for the Super Famicom in 1992. Thereafter, each generation of Nintendo console was blessed with the popular franchise - Mario Kart 64 (Nintendo 64, 1996), Mario Kart Advance (aka Mario Kart Super Circuit in the west) (GameBoyAdvance, 2001), Mario Kart: Double Dash!! (GameCube, 2003), Mario Kart DS (DS, 2005) and Mario Kart Wii (Wii, 2008). Interestingly, two arcade games also exist - Mario Kart Arcade GP (2005) and Mario Kart Arcade GP 2 (2007).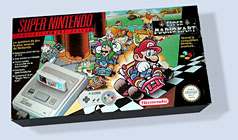 Two Special Nintendo special bundles were available in Europe. The first one (picture on the left) was black whereas the second was blue and called the "Grand Prix Pack". It seems that they both came with only one controller and a single game cartridge. A third set, called the Mario paint pack, was released in France and also included a Super Mario Kart game cartridge.
Teaser text from the American version:
Players have dropped the checkered flag and Super Mario Kart has crossed the finish line as one of the best Super NES games of all time! Better yet, the Super Mario GoKart Park is still open for tons of racing fun! Hit the track with Mario, Luigi, Yoshi and the Princess. Get tough and lock fenders with Donkey Kong Jr. and Bowser. Even Toad and Koopa Troopa will mix it up in an all-out quest for the Gold Cup! Race head-to-head with a friend or challenge the computer in great, split-screen, Mode 7(TM) graphics. Feel like a bit less speed and a lot more strategy? Take a crack at the Battle Mode! In four different maze-like courses you'll use Koopa Shells, Banana Peels, Super Stars and other wacky weapons to burst your opponents' target balloons and triumph!
Game Staff (Copied from the American version's end credits) :



Executive Producer
Hiroshi Yamauchi

Producer
Shigeru Miyamoti

Programmers
Masato Kimura
Hajime Yajima
Kenji Yamamoto

CG Designers
Tadashi Sugiyama
Naoki Mori

Sound Composers
Soyo Oka
Taro Bando

Illustrators
Yoichi Kotabe
Mie Yoshimura
Yoshiaki Koizumi

Manual Editor
Atsushi Tejima

Directors
Tadashi Sugiyama
Hidequi Konno


G
O
O
D
I
E
S



Japanese Guide Book


Japanese Guide Book


Japanese Guide Book


Japanese Guide Book


Japanese Guide Book


Japanese Guide Book


Japanese comic book


Japanese comic book


Japanese Super Famicom case


Japanese Phonecard


Japanese comic book

O
M
A
K
E






Click on picture to enlarge
LK



Add your Pov here !



P
O
V
s


Super Mario Kart is a blast! My opinion is maybe biased by my fond childhood memories, and the countless hours spent with my friends around a TV set and Super Mario Kart. It's easy to get carried away when taking about Super Mario Kart - the flawless controls, the unique and addictive gameplay, the charismatic graphics, the upbeat soundtrack etc... They all contribute to the game's greatness. Like in most of Nintendo games, Super Mario Kart starts off with a simple formula but soon, you get pleasantly surprised and delighted by all the clever gameplay features that become apparent as you scratch the surface. A definite masterpiece and a timeless classic.