| | | | |
| --- | --- | --- | --- |
| | | | |
すーぱーぐっすんおよよ
©1993 Irem Corp.
©Banpresto 1995
Release: 1995-08-11 (¥9980)
Cartridge SHVC-AP7J
Action / Puzzle game


Super Gussun Oyoyo is an extremely cute action/puzzle game by Banpresto, and conversion of Irem's arcade game of the same name originally released in 1993. The game is an interesting and unique crossover between the 'puzzly' side of Tetris and the 'save all the rodents' side of Lemmings. The goal of the game is to guide a bald and fun looking creature, who also happens to be a treasure hunter called Gussun (and his friend Oyoyo in two players mode), to the level's exit. This character just keeps walking around and gets scared at the silliest things. While he aimlessly wanders around the playfield, Tetris like pieces fall from the top of the screen, and the player must rotate and position them in the scene. Once in place, these blocks can be used by Gussun to climb on to reach new areas, and eventually lead him through the exit door. Tons of other features are also packed with the game, such as bombs or little buddies who follow Gussun to the exit (collect 10 of them for an extra life!). Time is of course limited and water starts filling up the stage if players stay in one levels for too long. Additionally, traps and monsters soon appear and things get quickly tricky and will squeeze the juice out of the player's brain in no time. An intense two-player versus mode and a level editor are also available.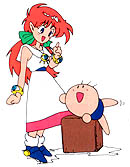 The original arcade game Gussun Oyoyo (known as Risky Challenge in the US) was release by Irem in 1993. The Super Famicom conversion (version tested here) was the first, as far as I know, home conversion to be released. A sequel, called Super Gussun Oyoyo 2 came out in 1996 and offered a brand new selection of stages and extra features. Xing also later released a couple of Gussun Oyoyo titles such as Gussun Oyoyo (Playstation, 1995) and Gussun Oyoyo S (Sega Saturn, 1997) In 1997, Banpresto also released Zoku Gussun Oyoyo for the Sega Saturn. As a side note, Irem released Gussun Paradise in 1996 (aka Yoyo's Paradise in the US) for Sony's Playstation - this game is however closer to an action plaftormer such as Bubble Bobble than the original Gussun Oyoyo series of games.

G
O
O
D
I
E
S



Japanese Guidebook

O
M
A
K
E



Click on picture to enlarge
LK



Add your Pov here !



P
O
V
s


Super Gussun Oyoyo is a lovely and cute puzzle game, and probably one of the least known of the bunch that flourished back in the 1990s. Once again, a Japanese game company borrows existing game concepts and mixes them up into a completely new, entertaining and addictive title. I have never been a big fan of Tetris, I find the concept interesting but it is just too cold for my taste, and I just feel bored with it after a couple of stages. However, I can just play Super Gussun Oyoyo for hours and hours, the game never feels boring or stale. And, most of all, it is pure fun every way you slice it, that special kind of fun that not only a young audience can enjoy (I'm mainly talking here about the cute graphics that some people may find childish) - all of this to say that the child and adult in me both highly recommend this game!