CHŌMAKAIMURA
( Super Ghouls 'n Ghosts )
| | | | |
| --- | --- | --- | --- |
| | | | |
超魔界村
©Capcom Co.,Ltd. 1991
Release: 1991-10-04 (¥8500)
Cartridge SHVC-CM
Action / Platform game




Released in America as
SUPER GHOULS 'N GHOSTS
( SNS-CM-USA )

Released in Europe as
SUPER GHOULS 'N GHOSTS
( SNSP-CM-XXX )
Chōmakaimura is a platform game by Capcom and is a Super Famicom exclusive episode of the popular Makaimura series. Fearless King Arthur is back and proves why he's the best at doing what he does! The beautiful princess Prin Prin (aka Guinevere) has once again been captured by grim demons. Arthur's journey takes him deep into the demon realm where bloodthirsty monsters, ghastly ghouls and their lord, Emperor Samael (aka Sardius), are all waiting to rip him to shreds. Arthur unsurprisingly starts his adventures in a dark and haunted cemetery but stages rapidly take him to magnificent and unique locations - from a dismounted sea throwing huge waves at him to evil ghost ships infested with ephemeral spirits. New weapons can be collected by cracking chests open and each one of them upgrades Arthur in different ways. The game features a lengthy list of weapons such as the Lance, daggers, the Crossbow, the Axe and so forth... Arthur's only defense is his armor and it only offers a thin protection. However, new ones can be collected such as the copper armor (green) or the gold armor allowing him to charge up and unleash devastating magic attacks. Another interesting feature introduced here by Capcom is the double jump - Yes, King Arthur can jump twice in mid-air. This may sounds weird and unusual at first but it quickly becomes a unique move that lies at the core of the gameplay.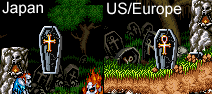 The Super Famicom and Super Nintendo versions of the game show some minor differences. For instance, in the first stage, the crosses on the coffins were changed into Egyptian crosses (Picture on the left).
Chōmakaimura was also included in Capcom Generations 2 (Playstation, Saturn, 1998), Capcom Classics Collection (Playstation 2, Xbox, 2005) and in Classics Collection Reloaded (Playstation Portable, 2006). The game was also dusted off and released for the Game Boy Advance in 2002 as an arranged version called Chōmakaimura R.
Teaser text from the American version:
You are Arthur, the boldest bladesman alive. You are cought in a dangerous quest. Fiendish foes and grim demons are about to hurl disaster your way! You must save the wondrous Princess Guinevere. But beware! The reeking rules of the forbidden land can call forth evil and destruction. Who knows what creeping, leaping terrors haunt this dripping realm! You may lose your armor and your strength. You may be hexed. You may become a baby, a duck, or a skeleton! But you are never without a weapon. And Magic awaits to help you. Destroy the withches, ogres and ghosts. Escape the snapping skulls and ghostly ghouls. And save Guinevere from the mysterious depths of the Phantom Zone in Super Ghouls 'N Ghosts!
Game Staff (Copied from the American version end credits) :



STAFF

Planner
Hyper Mickey Patriot Yamazou

Actor Designer
Patriot Yamazou
Tall Nob
Hyper Bengie

Background Designer
Junchan
Natsuchan
Chiechan
Ryutaro's Mama
Katsukun

Programmer
M30
Machan
Yamadacchi

Music Composer
Mari

Sound Composer
Bull
Ike-Bomb

Special Thanks
Cho-Suke
Yake-Pon
And Capcom All Staff

Producer
Professor F
Thank You For Playing!

Presented By Capcom


G
O
O
D
I
E
S



Japanese Guidebook


Japanese Phonecard


Japanese Puzzle


Japanese Boardgame

O
M
A
K
E



Click on picture to enlarge
LK



Add your Pov here !



P
O
V
s


This game is nothing short of genius. Everything in Chōmakaimura nears perfection - detailed and amazing graphics, excellent and atmospheric soundtrack and awesome gameplay. Capcom at its best and finest. However, the difficulty level follows the Makaimura tradition - it bears the unpleasant aroma of thousands of cheap and frustrating deaths. But isn't it what Makaimura has always been all about ? Isn't it why we always get back to it with the eyes filled with hope ? I missed the fact that Arthur can't shoot up or down anymore - it has been replaced by a handy double-jump... Chōmakaimura is a brilliantly atmospheric game and it delivers exactly what fans of the Makaimura series wished for. One of my favorite platform game for the Super Famicom system.