ARAIGUMA RASCAL - RACCOON RASCAL
| | | | |
| --- | --- | --- | --- |
| | | | |
あらいぐまラスカル ©Nippon Animation Co.Ltd.
©1994 NCS
Release: 1994-06-25 (¥8900)
Cartridge SHVC-R9
Puzzle game


Araiguma Rascal (aka Raccoon Rascal) is a cute puzzle game published by Masaya, and based on a Japanese anime series originaly aired in 1977. The player takes control of Rascal, a brown and cute raccoon, and must rearrange jars filled with all kind of items (apples, candies, melons, jam) that two squirrels constantly push away from their tree house. The raccoon can carry jars around, throw them in the air, jump, drop them right beneath him and even push them. If he matches three or more jars of the same kind, then they disappear and increase a green bar located at the bottom of the screen - once the bar is full, Rascal completes the stage and jumps to the next one (although players are free to pick a stage at the beginning of the game). In addition to the one-player mode, Araiguma Rascal offers three two-player options that feature the young boy Sterling North (see the info section bellow). In the first one, two players must race as fast as possible along a course while avoiding or moving obstacles and jars strategically placed in the way. Then the two other modes are more traditional and feature a cooperative and versus gameplay based around the one-player puzzle formula.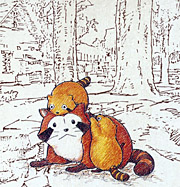 Araiguma Rascal (aka Rascal the Raccoon) was a Japanese anime series originally aired in 1977, and based on the book "Rascal A memoir of a better era" written by Sterling North in 1963. The book takes place at the turn of the century and tells the autobiographical story of Sterling himself, and his experiences (and adventures) in adopting a baby raccoon (the writter lived in Edgerton, Wisconsin, and his house can still be visited today). The story became immensely popular and Disney released the movie Rascal in 1969 based on Sterling's book. In 1977, the story was turned into an animation series in Japan by Nippon Animation Company - and the cute raccoon remains an incredibly popular character in Japan today. Interestingly, although the original story has emerged from the United States, the popular Japanese anime series was never aired there (probably due to Disney who owns the rights to the movie and therefore doesn't allow Nippon Animation to promote the series in the United States)

O
M
A
K
E



Click on picture to enlarge
LK



Add your Pov here !



P
O
V
s


Although Araiguma Rascal features extremely cute graphics and animations, I'm not really sure if it works that well as a puzzle game. No doubt that the game gets better as you get the hang of it (which applies to most of the puzzle games out there based on the Tetris formula). But, unlike other gems such as Puyo Puyo or Panel de Pon, Araiguma Rascal's gameplay never really gelled for me. Levels take forever to complete and chain reactions are extremely hard to pull off - but most of all, moving Rascal around is not as quick as moving blocks or a cursor around (as in Tetris and its countless clones), and this really hurts the gameplay in my opinion. All in all, Araiguma Rascal is a charming and cute puzzle game, and the two-player modes are a nice extra touch - but there is nothing groundbreaking here and I feel that its gameplay mechanics raise blood pressure rather than adrenalite levels. In addition, the game is somewhat hard to come by and generally more expensive than it is worth...