PUZZLE BOBBLE
( Bust-A-Move )
| | | | |
| --- | --- | --- | --- |
| | | | |
パズルボブル
©Taito Corporation 1995
Release: 1995-01-13 (¥6800)
Cartridge SHVC-AYKJ
Puzzle game




Released in America as
BUST-A-MOVE
( SNS-AYKE-USA )



Released in Europe as
PUZZLE BOBBLE
-BUST A MOVE-
( SNSP-AYKP-XXX )
Puzzle Bobble is a cute puzzle game by Taito. Who would have guessed that two of the most popular video game dinosaurs (or bubble dragons) from Taito's 1986 arcade hit Bubble Bobble would also be the heroes of one of the most addictive puzzle game ever created ? In Puzzle Bobble, bubbles are still at the core of the gameplay - however, they now come in a variety of colors, occupy most of the upper-screen and are all stacked up in an ordered and crossed pattern. Each player controls a dinosaur standing at the bottom of the screen ready to fire his bubble-blower gun. The game concept is inspired by the famous Tetris and three of more bubbles of the same color pop to oblivion on contact. But Puzzle Bobble features a few twists to the standard Tetris formula - bubbles are somehow connected and removing upper bubbles cause the lowers ones to fall down. The bubble-gun can also rotate and fire in any direction and bubbles can bounce off walls. Time is of course limited and the screen of bubbles slowly moves down, getting dangerously close to our hero dinosaurs and if it ever reaches them, then the game is over. Some bubbles also have special powers (most of them inspired by the original Bubble Bobble game) such as lightning, bombs, water tanks and so forth... The game offers several single player modes and an intense two-player-versus-battle mode.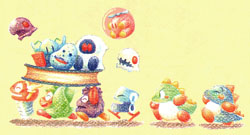 Puzzle Bobble first came out in the arcades in 1994, eight years after the original arcade game Bubble Bobble which also featured Bubblun (aka Bubby or Bub) and Bobblun (aka Bobby or Bob), the two cute and bubble thrower dinosaurs. The game was inexplicably called Bust-A-Move in the United States (and in some cases in Europe) and is also known as Bubble Buster. The game was an instant success and was converted to most of the home systems of the time: Super Famicom (1995), Neo Geo (1995), Game Gear (1996) and so forth... Many sequels followed in the arcades such as Puzzle Bobble 2 (1996), Puzzle Bobble 3 (1996), Puzzle Bobble 4 (1998), Super Puzzle Bobble (2000). But the franchise stretches out way beyond the arcade realm and Puzzle Bubble games are still being released today. Here is a non exhaustive list: Puzzle Bobble 3 (Sega Saturn, 1997), Puzzle Bobble GB (GameBoy, 1998), Puzzle Bobble 3 DX (Playstation, 1998), Puzzle Bobble 4 (playstation, 1998), Puzzle Bobble 64 (Nintendo64, 1999), Puzzle Bobble 2 (NeoGeo, 1999), Super Puzzle Bobble (Playstation 2, 2000), Super Puzzle Bobble Advance (GameBoy Advance, 2001), Super Puzzle Bobble All-Stars (GameCube, 2003), Puzzle Bobble Pocket (PSP, 2004), Hippatte! Puzzle Bobble (Nintendo DS, 2006), Space Puzzle Bobble (Nintendo DS, 2008).
Game Staff (Copied from the American version end credits) :



Director
Shoji Takahashi

Planner
Yuji Koga

Assistant Planners
Shige Sakaki
Kazuhiro Ohhara

Programmers
Kazuhiko Sugiyama
Satoru tanabe

Graphic Designers
Midori Tokutomi
Tokuhisa Tazima

Map Designers
Yukari Sakabe
Tetsuya Ueda
Mikiyo Yoshida

Sound by
Karu. (ZTT)

Tester
Yuichi Kanno

Manual Designer
kazuo Nakagawa

Special Thanks to
Seiichi Nakakuki
TKHC 02 5
VG-NOB
Kazuhiro Kinoshita

Producers
Seizo Matsutaka
Takeo Shirasaka

Executive Producer
Koichi Nakamura

©Taito 1995
Licensed by Nintendo


O
M
A
K
E



Click on picture to enlarge
LK



Add your Pov here !



P
O
V
s


Puzzle Bobble is (by far) my all time favorite puzzle game - in fact, it would not be an overstatement to say that it is the most addictive game ever created (Bomberman being not far behind). Although this Super Famicom port is not as complex and elaborated as some of the latest episodes of the series, it is nevertheless an excellent title with a fun and balanced gameplay, brilliant graphics and an awesome soundtrack. Definitively a must have. I sometimes wonder why the US version was inexplicably renamed 'Bust-A-Move', which sounds more like a dancing game to me... Ironically, Enix released a dancing game in Japan in 1998 called "Bust-A-Move" and it had to be renamed "Bust-A-Groove" in the United States so it wouldn't conflict with Puzzle Bobble. Anyway, back to the game at hand - Puzzle Bobble is a fantastic and addictive puzzle game and I personally can't get enough of it.