PHALANX
THE ENFORCE FIGHTER A-144
| | | | |
| --- | --- | --- | --- |
| | | | |
ファランクス
©1991 Zoom Inc.
©1992 Kemco
Release: 1992-08-07 (¥8900)
Cartridge SHVC-PH
Shooter/Horizontal




Released in America as
PHALANX
( SNS-PH-USA )


Released in Europe as
PHALANX
( SNSP-PH-XXX )
Phalanx is a horizontal shooter by Kemco and conversion of a game originally released in 1991 by Zoom for the X68000 Japanese computer. The player is put in the shoes of a genetically enhanced pilot who fights his way through eight hostile areas on board the Phalanx A-144 prototype strike fighter. A race of alien organisms has invaded the human world - spaceships and human facilities have now turned into hideous monsters and the Phalanx A-144 and his pilot are humanity's last bastion of hope. The ship can use a host of deadly weapons hidden inside capsules scattered throughout the game - they include large lasers, homing balls of energy, energy blasts and a more traditional Vulcan gun. Three weapons can be stored at once and be accessed by the press of a button. Each weapon can also be upgraded (up to three times it seems) by collection power icons and getting hit simply downgrade them - however if the ship happens to be destroyed the valuable active weapon vanishes with it. Finally, these weapons can also be charged up (and ultimately consumed) to unleash a destructive power shot. Stages are vast and are often divided into several sub-stages featuring a mini-boss. The game also features a couple of hidden bonus stages.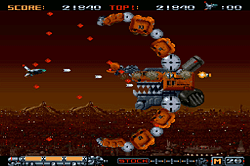 Phalanx A-144 was first released for the X68000 Japanese computer by Zoom and featured hi-res graphics (at the time) and midi music tracks (picture on the left - see Omake section as well). The game was later converted for the Super Famicom (version tested here). Interestingly, the American version is famous for its cover art featuring an old dude with a banjo (see Omake section)... hidden marketing strategy here ?... beside, the European version of the game used the same art than the original Japanese version. Who knows what the American marketing department had in mind ? Later on, in 1995, Zero Divide was released for Sony's Playstation and Phalanx was added as an extra hidden bonus game (also known as Tiny Phalanx). Phalanx was then re-released for the Gameboy Advance in 2001.
Teaser text from the American version:
Get fired up! This is the fastest phase-fight in the galaxy! Put your finger on the trigger! We're about to blast you into the next dimension of special effects - in the fastest star-fighter ever created. You're flying into the zone of fire. Through the deadly bio-cave. Down to the very core of the planet. Firing your missiles a mile a minute at thousands of beastly bio-weapons that are trying to eat you alive. We're making certain doom - in 3D! And no matter how many big buggers attack you, the action never slows down. So buckle up, and blast off !

O
M
A
K
E






Click on picture to enlarge
LK



Add your Pov here !



P
O
V
s


What strike the observer at first glance are the sharp graphics and the unusual, yet excellent, level design of the game. The endless waves of alien ships, the impressive special effects (such as the second stage and its waterfall suspended in no-gravity) - Phalanx is a sumptuous visual feast full of sophisticated effects and amazing arrays of ingenious creativity. However, what will also strike the player are the somehow monotonous and colossally long stages - and if you happen to lose your last credit at the boss fight, you'll have to painfully go through the whole stage again. Phalanx certainly has a difficulty level based more on memory than light-speed reflexes which certainly reminds the likes of Irem's R*Type. I also wished enemy bullets were a bit more visible - they are dark red and quite hard to see against the background and this certainly doesn't help a game already moderately difficult. All in all, Phalanx is a nice shooter and is one of the best of its kind for a system relatively shy in this field - but it's definitively not for everyone.