MIRACLE GIRLS
TOMONI TO MIKAGE NO FUSHIGI SEKAI NO DAIBŌKEN
| | | | |
| --- | --- | --- | --- |
| | | | |
ミラクルガールズ
ともみとみかげの不思議世界の大冒険
©A/K.N.J.N
©Takara Co.Ltd. 1993
Release: 1993-10-22 (¥8800)
Cartridge SHVC-QP
Platform/Action game


Miracle Girls is a side scrolling action game published by Takara and based on a Japanese manga and animated series originally created in 1991. The game follows the adventures of two fifteen years old twin sisters, Mikage and Tomomi Matsunaga, who are not exactly your ordinary junior high school students. The two girls have a well kept secret - they are the 'Miracle Girls', and they both share extraordinary powers allowing them to communicate telepathically or to vanish into thin air and teleport themselves at will. The game begins in a school campus, just as the girls and four of their friends are about to start their lunch break. Suddenly, a glowing ball of light appears and teleport them into a distant and strange world. Furthermore, her friends have now mysteriously disappeared and the two girls embark on a long journey to find out who is behind all these strange events... The player can either play as Mikage or her twin sister Tomomi, and they both come equipped with the most unusual weapon - candies. In Miracle Girls, one can't simply damage or hit enemies; but must instead feed them candies. Foes lose all sense of aggression once they start nibbling on the sweet confections and become as docile as sheep for a few seconds. Interestingly, when in this harmless state, they can also be used as platforms in order to reach higher grounds. There are also a few items to collect in the game (such as fruits (heal the player), Golden Hearts (points), Invincibility Stars or extra lives). Additionally, three special items are carefully hidden throughout the game - the B icon that can be stored and used to kill all the enemies on the screen, the magic book that gives the player hints and clues about the game and finally the pink magic door that leads to a 'slot machine' bonus stage. As mentioned previously, the two sisters can also communicate telepathically and they do, from time to time, use this incredible ability to overcome obstacles - for instance, at the beginning of the game, one of the twin sister tells the player which colored flower to jump onto, and which one to carefully avoid ('shiroi' for white and 'takai' for red). Finally, boss battles also steer away from the norm and come in the shape of mini-games, such as Water Battles (where the player and an opponent fight with a water gun and an umbrella), Whack-a-Mole fights or Cloud Catch Contests (where each opponent try to collect as many colored clouds as possible within a time limit). Miracle Girls consists of five levels and also features a versus mode where up to two players can battle each other in one of the mini-games.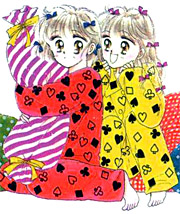 Miracle Girls was a Shōjo manga originally created in 1991 by Nami Akimoto (picture on the left). It told the story of Mikage and Tomomi Matsunaga, two twin sisters, who seem to have developed supernatural powers. The 'Miracle Girls', as they call themselves, can communicate telepathically with each other and can teleport when they are together (or when they hold hands). However, the two sisters are very different, Tomomi (aka Toni) is outgoing and athletic ("she's just a jock, attending girls' school on an athletic scholarship"), and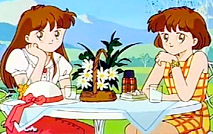 Mikage (aka Mika) is generally shy and academic ("She is the resident genius at her prep school, or she says"). Although they do their best to keep the secret to themselves, their science teacher soon finds out about their magic powers and he knows how to turn a situation around to his advantage... The manga became very popular and was adapted into an anime in 1993 (picture on the right).
An English patch was released for Miracle Girls in 2004 by RPGone (Hacking by Jonny, translation by Eien Ni Hen and English voices by RPGMania-No1). As a side note, the translation team even translated the speech found in the game (the sisters say Red/White instead of Takai/Shiroi).
Game Staff (Copied from the end credits) :



MIRACLE GIRLS
Executive Producer
N. Okude

Director
T. Kaga

Marketing Planner
T. Morioka

Supporter
M. Nakamura

A.D.
H. Kobayashi

Chief Development Executive
Silky

Chief Development &
Main Programmd by
Pori2!


Sab Programmd by
Otake San

Characters Designed by
Yoshiro-!
Mrs.Masumi

Map Designed by
Yossy Turbo

Graphics Designed by
Ginchan
Tera

Music Programmd by
Kiyoshida

Music by
Eiko

Game Designed by
Yoshiro-!

Package Illustration
Nami Akimoto

Supervisor
Nakayoshi Editorial Staff

Special Thanks to
Wakky
Sunasan!
Sammy
Oja
Yoshi-Maho2
Naka
Moumou Rairu!
Fukuda Kun
Pon Poko Pie
Pon Poko Naa
Chyokyumei
Chyousuke San
And You

Presented by Takara


O
M
A
K
E



Click on picture to enlarge
LK



Add your Pov here !



P
O
V
s


Miracle Girls is a game that appears to nicely tick all the appropriate boxes when it comes to fun and cute platformers - the graphics are incredibly cute, vibrant and clear, the soundtrack is equally enjoyable and the gameplay is extremely solid. And how many games give you the ability to toss candies at your enemies so you can use them at temporary platforms? Having said that, although the game makes a genuine attempt at stepping out of the crowd, there are a couple of things about it that bother me... levels are a bit long and feel somewhat monotonous, and the way how you toss candies around could have been better handled (they shoot in an arc and are difficult to aim). This weapon is at the core of the gameplay, and I wish the developers had spent a bit more time polishing this aspect of the game. Then the boss battles (aka mini-games) disrupt the flow of the game and stand out as unique elements for me (and some are rather tricky to complete). All in all, Miracle Girls is a fun and solid platform game that really does nothing wrong, but doesn't do anything spectacular or revolutionary either. However, I highly recommend everyone to try it out, well, as long as you can cope with the extreme levels of cuteness involved.