MARIO TO WARIO
( Mario & Wario )
| | | | |
| --- | --- | --- | --- |
| | | | |
マリオとワリオ
©1993 Nintendo
Release: 1993-08-27 (¥6600)
Cartridge SHVC-WE
Action / Puzzle game


Mario And Wario is an action/puzzle game by Nintendo inspired by games such as the rodent-saving Lemmings. The evil Wario is plotting a new evil plan. Once again, he has decided to take his revenge on our favorite digital plumber Mario and his friends. But this time, he has planned to trap our heroes under various objects that he keeps throwing at them. These objects, varying from buckets, jellyfishes or pipes get stuck on their heads and prevent them to see where they're heading. For this very reason, the player doesn't directly control our heroes. Instead, he is in control of a cute and little fairy named Wanda. Her task is to guide Mario (or one of his friend) to the end of each stage within a time limit. There, Luigi is waiting and will remove the undesired object. Each character moves at his own pace and Wanda must influence their actions with her magic wand and make them walk, stop, change direction, move blocks and so forth... Things are of course not that easy and they have to overcome countless obstacles in their paths such as enemies, mines, ladders, trampolines or spikes. Blocks also play an important part in the game and can be affected by Wanda - some can be walked on, some are breakable, some disappear and so on. Like with any Mario game, tons of special items are hidden within every stage are just there for the grabbing such as Coins, mushrooms and Stars. Mario And Wario can only be played with the Super Famicom Mouse.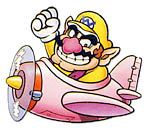 Wario was created as the ultimate Mario's antagonist, the Anti-Mario, his evil twin. His name was probably created by flipping the M from Mario, making him the direct opposite of our plumber friend : mean, evil and self-centric. It is also interesting to notice that Warui in Japanese means literally "Bad", or "evil". Wario was first introduced in Super Mario Land 2: 6 Tsu no Kinka for the Game Boy (1992). Mario, who was too busy saving his land in Super Mario Land, gave Wario a golden opportunity to take over the country. The third game of the series, Super Mario Land 3: Wario Land (GameBoy, 1994), also featured Wario, but this time the player would directly control him rather than Mario. Wario's own series spinned off at that point with games such as Wario Land 2 (GameBoy, 1998), Wario Land 3 (GameBoyColor, 2000) and Wario Land Advance (GameBoyAdvance, 2001). Nintendo created in 2003 WarioWare, Inc., a series of games featuring Wario and his mini 'micro-games'. Interestingly, Wario replaced Koopa (aka King Bowser) for a short time, but his increasing popularity landed him as another Mario character, rather than an enemy.
Mario To Wario was also released as a special edition. This version came in a large box and included a Nintendo Mouse and was sold for ¥9500.

G
O
O
D
I
E
S



Japanese Guidebook
LK



Add your Pov here !



P
O
V
s


In Mario And Wario, the thing that strikes at first sight are the bright and colorful graphics. They burn your retina back into your eye, making the child in you come out and play. No need to say that they fit the game in a traditional Nintendo style and are hugely effective. All in all, Mario And Wario is a fun game with its own charm, full of fresh and new ideas, and it is definitively one the best Mario Puzzle game out there.