| | | | |
| --- | --- | --- | --- |
| | | | |
マジックソード
©Capcom 1990,1992
Release: 1992-05-09 (¥8500)
Cartridge SHVC-MD
Action / Platform game




Released in America as
MAGIC SWORD
( SNS-MD-USA )


Released in Europe as
MAGIC SWORD
( SNSP-MD-XXX )
Magic Sword is a side-scrolling action game by Capcom and is the conversion of their own arcade originally released in 1990. The player takes control of a barbarian-looking warrior armed with a sword on a journey to defeat the evil lord Drokmar. Things wouldn't be that difficult if he wasn't located at the very top of a huge tower counting no less than fifty floors! Thankfully, an option at the beginning of the game allows the player to start on a higher storey if he wishes to. Keys are scattered along the way and can be used to open a plethora of doors - some lead to the next floor staircase, others release a companion who will help the barbarian on his quest, whereas others, for the unlucky ones, release all kind of traps and surprise ambushes. As mentioned, one originality of Magic Sword is the ability to rescue other fighters who then follow the player around and shoot all kind of projectiles at the enemies. Only one additional fighter can be active at once though, but there is a grand total of eight of them, each with their own set of skills and weapons (Big Man, Knight, Ninja, Priest, Amazon, Wizard, Lizard Man and the Thief). A special attack can also be unleashed at any time and damage all enemies on screen in exchange of some health. The game is called Magic Sword and indeed, the barbarian's sword comes with magic powers - it automatically charges up during the game and can fire deadly fireballs at the enemy. Also, after completing a few floors, the player has to defeat an obligatory boss and, if victorious, is rewarded with a new and more powerful sword - as long as he doesn't drop it by accident... Magic Sword consists of fifty floors and is single player only.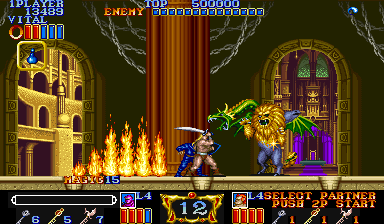 The original arcade game was released by Capcom in 1990 (picture on the right). It featured more enemies and hazards that the Super Famicom version tested here, as well as a two simultaneous player mode. The Super Famicom port was curiously the only home conversion of the game and players will have to wait more than fifteen years for the original arcade game to be eventually included in compilations such as the Capcom Classics Collection vol.2 (Playstation 2 & XBox, 2006) and the Capcom Classics Collection Remixed (PSP, 2006). Surprisingly, none of these compilations were released in Japan.
Game Staff (Copied from the American version's end credits) :



Consumer Staff

Planning
Bamboo

Character
Yamazou
Zizii
Hyper Bengie

Title Design
Ikki
Soft
Imo
Yoshilim
Kanekon

Arcade Staff

Game Design
Y. Ohnishi
T. Sadamoto
Y. Okamoto

Character Design
Kurisan
K. Kitayama
E. Nishihara
T. Saramoto

Art
Y. Fukumoto
M. Kawamura
Y. Maruyama

Title Design
S. Yamashita

English Story
S. Maxwell

Sound
M.Goton

Program
Y. Egawa
S. Okada
Y. Tsunazaki
Y. Oronishi

Special Thanks
Poo
A. Yasuka
Nin Nin
K. Yokota
H. Minobe
Y. Ohji
T. Kuhara
Y. Matsunaga

Produced by ©Capcom


G
O
O
D
I
E
S



Japanese Phonecard


Japanese Phonecard


Japanese Phonecard

O
M
A
K
E



Click on picture to enlarge
S
E
C
R
E
T
S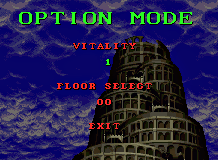 Extra lives and floor select:
At the Title screen, enter the Options menu and move all the way down in order to highlight the Exit option. When done, on the second controller, press and hold Left Shoulder, Right Shoulder and Start. Then finally press exit on the Option screen with the first controller. This will activate an additional Option Mode (picture on the right) where you can increase the player's amount of lives (up to nine) and select a floor. However, there is a huge catch - you can only select a floor that you've already played... so it is more a continue option than a true level selection option.
LK



Add your Pov here !



P
O
V
s


Magic Sword is a really good looking game, no doubt about it, with detailed graphics and really smooth animation cycles - it definitively displays Capcom's commitment to quality and excellence. I also quite like how the game is structured, it somewhat reminds me of classic Japanese heroic fantasy games such as the Tower of Druaga or Dragon Buster; and Magic Sword features fifty floors with treasure chests to loot and literally tons of items and monsters. But this comes at a price and although floors show some variation, the same designs are reused throughout the game with simple palette shifts. And yet, enough details were added here and there to somehow blur the feeling of repetitiveness and keep the game fun to play overall. Controls are correct and work well, but the game sadly suffers from terrible slowdowns in places, especially when those nasty flying snakes, each made out of segmented parts, show up and try to knock you down. All in all, Magic Sword is not breathtaking or awe-inspiring, but it is a game I often go back to, just to waste half an hour slashing and slicing up crippled mummies or multiple-headed dragons.