| | | | |
| --- | --- | --- | --- |
| | | | |
ザ・キングオブドラゴンズ
©Capcom co.,Ltd. 1991, 1994
Release: 1994-03-04 (¥9800)
Cartridge SHVC-EI
Beat'em up




Released in America as
KING OF DRAGONS
( SNS-EI-USA )


Released in Europe as
KING OF DRAGONS
( SNSP-KOD-EUR
SNSP-EI-NOE )
The King of Dragons is a side scrolling Beat'm up by Capcom and conversion of their original arcade game originally released in 1991. The kingdom of Malus is ravaged by a red dragon called Gildiss and five warriors embark on a long journey to slay the beast. Five playable characters are available from the start of the game; Ravel is a fast and agile Elf archer, Leger is a strong wizard equipped with a magic staff, Derek is an average fighter with a short sword, Aldo is a strong cleric knight with weak magic and Vargas is a quick and powerful dwarf with a short attack range. As expected, each fighter has its own strengths and weaknesses and they can receive various upgrades throughout the game in the shape of new weapons, shields or new staffs. They can also level-up and consequently increase their life bars and overall strength. Heroic fantasy games wouldn't be complete without magic, and magic there is - simple magic attacks can be triggered by any player and can damage several enemies at once in exchange of some health. The game is vast and consists of sixteen stages and features a two-simultaneous player mode.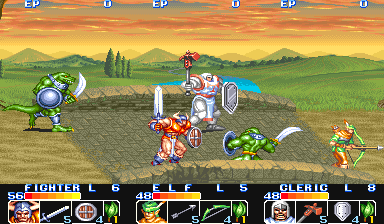 The arcade game King of Dragons was originally released by Capcom in 1991 (picture on the right). It was curiously only ported for the Super Famicom in 1994 and players will have to wait until 2006 for the original game to be finally included in Capcom Classics Collection Vol.2 (Playstation 2, XBox) and Capcom Classics Collection Reloaded (Playstation Portable). Here is an interesting nugget of information; all warriors from King of Dragons do cameo appearances in the really obscure Adventure Quiz Capcom World 2 arcade game released by Capcom in 1992!
There are a plethora of differences between this Super Famicom port and the arcade game, although the conversion is fairly faithful to the original game. The developers had to cut a lot of the small details that made the arcade game so fresh and unique, such as the small animals that wander around the levels (such as little rabbits or ravens in later stages). One character who also didn't make the cut is the thief who would steal items and money from you. One major difference is the way how you could change character during the game in the original arcade game, this option was completely removed from the Super Famicom port where you have to play with the same hero throughout the whole game. Finally, the arcade game allowed up to three players to play at the same time, this was limited to two in the Super Famicom port.

O
M
A
K
E



Click on picture to enlarge
LK



Add your Pov here !



P
O
V
s


I have great memories from the original arcade game and The King Of Dragons has definitively aged and looks a little dated. This doesn't mean the game is bad, far from it. Graphics are fairly good and although sprites have been reduced in size, they are still highly detailed and look good overall. The only part I especially hate is the flashing text that appears at the end of each stage, epileptic seizure alert! But this was also the case with the original arcade game, so I guess Capcom has to keep this insane effect and call it a feature. All in all, there is really nothing groundbreaking here but Capcom's seal of quality is definitively present throughout the game and the adventure is incredibly vast and spreads over sixteen stages! The difficulty level is also really well balanced and you can definitively complete The King Of Dragons with practice. So here you have it, I feel there's something missing in the mix but this conversion is fairly solid and faithful to the original arcade game. A fun hack'n slash overall and the two-simultaneous player mode is a remarkable achievement (Capcom had to cut this feature in many of their early arcade conversions).