| | | | |
| --- | --- | --- | --- |
| | | | |
エフゼロ
©1990 Nintendo
Release: 1990-11-21 (¥7000)
Cartridge SHVC-FZ
Racing game





Released in America as
F ZERO
( SNSP-FZ-USA )
( SNS-FZ-USA-1 )


Released in Europe as
F ZERO
( SNSP-FX-XXX )
F-Zero is a fast and futuristic hover-craft racing game by Nintendo and was one of the launch title for the American Super Nintendo system. The game takes place in the 26th century, humans and aliens now share the universe and seek for new kind of entertainments. The high-speed race called F-Zero was created for that matter and became increasingly popular. Four pilots and their respective hover-crafts are available from the start, each one of them balancing out Power, Speed and acceleration. The game features not less than fifteen tracks all scattered around nine areas such as Myūto Shiti (Mute City), Biggu Burū (Big Blue), Sando Ōshan (Sand Ocean), Desu Uindo (Death Wind), Sairensu (Silence), Howato Rando (White Land) and Pōto Taun (Port Town). Tracks are also grouped into three leagues (Knight, Queen and King) with various difficulty levels. More than racing their vehicles in an effort to cross the finish line, players also have to take care of land mines scattered around the tracks, holes or powerful magnets that dramatically affect their driving. Thankfully, turbo-boosts are available and can be used to avoid some of those hazards. A power shield bar is constantly displayed on the screen and decreases as the vehicle gets hit or goes out of the track. The only way to refill it is to drive over special pit-stop areas on the track which will slowly regenerate the precious magnetic field. The game features many surprises, such at the strong wind blowing on Death Wind, split ways or the super-start trick that unleashes a special speed-boost at the start of each race.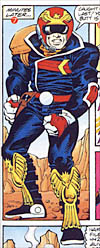 F-Zero was one of the first game to use the excellent Mode 7, native hardware feature included with the Super Famicom and allowing incredible real-time sprite deformation effects. The game came out in 1990 in Japan and was produced by Shigeru Miyamoto and directed by Kazunobu Shimizu. Interestingly, a sequel was actually released for the Satellaview in 1997 and called BS F-Zero 2 and no cartridge version of this game exists for that matter. The same applies to later editions called BS F-Zero Ace League, BS F-Zero Knight League, BS F-Zero King League and BS F-Zero Queen League. The game also introduced Captain Falcon (pictured on the left). The Super Famicom game even comes with a eight pages comic book story included at the end of the game's manual (see the Omake section on this page). The style of the drawing is really unusual for a Japanese game and looks more like an American comic book (and it is surprisingly all in English, even in the Japanese manual!). I wonder if Nintendo didn't do that on purpose to catch a wider audience and make the game a bit more US and Europe 'friendly'. A sequel of F Zero came out in 1998 for the Nintendo 64 and called F-Zero X. Then F-Zero: Maximum Velocity (GameBoyAdvance, 2001) and F-Zero: GP Legend (GameBoyAdvance, 2003) followed.

G
O
O
D
I
E
S



Japanese Guide Book


Japanese Guide Book

O
M
A
K
E



Click on picture to enlarge
LK



Add your Pov here !



P
O
V
s


F-Zero is simply amazing. It displays great graphics and a fast and flawless animation without any slowdowns. The game certainly offers some of the most amazing Mode 7 action ever made. F-Zero has incredible and flawless controls and makes great use of the shoulder buttons. Like with Mario Karts, F-Zero is easy to get into and beginners as well as novices can enjoy every single race equally. The game also has a lot of replay values with tons of secrets to discover. F-Zero is, once again, Nintendo at its finest. I only wished Captain Falcon didn't look that goofy... The game looks a bit aged compared to today's racers (especially the bad aliasing going on in the distance) but it has kept its incredible feeling of speed and offers an amazing gameplay. A great title.