| | | | |
| --- | --- | --- | --- |
| | | | |
ファイナルファイト
©1989,1990 Capcom Co.,Ltd.
Release: 1990-12-21 (¥8500)
Cartridge SHVC-FT
Beat'em up




Released in America as
FINAL FIGHT
( SNS-FT-USA )


Released in Europe as
FINAL FIGHT
( SNSP-FT-XXX )
Final Fight is a side scrolling beat'm up and is the conversion by Capcom of their own arcade game originally released in 1989. The game features two playable characters - the heavy built but slow former champion wrestler Mike Haggar and the more agile and fast martial art expert Joe Cody. Here is the first difference that would strike players used to the arcade game - the third character from the original game, Guy, is nowhere to be seen. The Mad Gears gang has taken over Metro city and has kidnapped the daughter of the newly elected mayor, Mike Haggar. Jessica also happens to be Cody's girlfriend and our two heroes must fight their way through the city, beat-up dozens and dozens of vile gang members and finally take down the evil Belger, their murderous leader. Levels are built around locked-in sections, in which all opponents must be defeated to continue. The game also includes several bonus stages such as a fun car-breaking exercise with an iron pipe. Each fighter can use simple fighting moves such as punches, jumps and pressing punch rapidly triggers powerful combos. They can also grab and throw, or hold on and hit their enemies. Finally, each fighter comes with a special attack when punch and jump are pressed simultaneously - this move drains some of their health energy but allows them to safely escape desperate situations. This Super Famicom port is a cut-down version of the original arcade game, the two players mode is gone as well as the fourth factory/Industrial stage.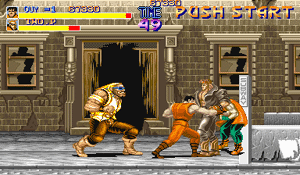 Final Fight, released in the arcades in 1989 (picture on the left), is a milestone of side-scrolling beat'em up history and inspired countless other fighting games. The mind behind the title is the producer Yoshiki Okamoto, who later produced the another milestone Street Fighter 2. The two games share a lot in common, especially this nice learning curve where both beginners and experts can excel. Final Fight also introduced some of the back story for the Street Figher games. It is connected as well to others Capcom titles such as the wrestling game Muscle Bomber : The Body Explosion (aka Saturday Night Slam Masters ) released in 1993 where Mike "Macho" Haggar is a playable character. The original game was obviously ported to countless home consoles and computers: Super Famicom (1990), Amiga (1991), C64 (1991), Sharp X68000 (1992), Sega CD (1993). It is interesting to notice that a Famicom port exists and was released in 1993 - Mighty Final Fight is however very different and features more cartoony 'Super Deformed' characters. Many sequels followed including two Super Famicom exclusives : Final Fight 2 (Super Famicom, 1993) and Final Fight 3 (Super Famicom, 1995). Another version came out for the Super Famicom - it was called Final Fight Guy and featured Guy instead of Cody. More recently, a conversion of the original arcade game was released as Final Fight One (GameBoy Advance, 2001). Final Fight entered the 3D realm in 1999 with the arcade game Final Fight Revenge which was a sort of 3D one-on-one fighting game that borrowed many elements from the original game. It was later converted for the Sega Saturn (2001) and is considered as one of the last Saturn game ever released. More recently, a new opus called Final Fight: Streetwise (Xbox & Playstation2, 2006) was released by Capcom and was developed by Studio 8, the team behind Capcom's Maximo.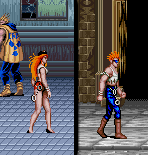 It is something players do not notice at first, but the Super Nintendo versions of Final Fight (American, and I believe, European) were heavily censored and modified. The biggest change is probably the omission of all female fighters who just happen to be males. For instance, the cute and red haired Poison becomes an odd looking guy called Sid (pictured on the right). Curiously, bosses' names are also completely different. For instance, Damnd became Thrasher and Sodom became Katana. Other differences are small details such as the removal of any 'alcohol' related items. The funiest change of all can be seen at the end of the first bonus stage - once the car is destroyed, his owner appears and screams "Oh! my god" in the Japanese version, this was changed to "Oh! my car" in the American port.
Teaser text from the American version:
Mayor Mike Haggar vows to snatch the streets of Metro City back from the crooks with his bare knuckles! But the Mad Gear gang snatches his daughter Jessica. Now there's gonna be some bone-crunching dues to pay ! Jessica's boyfriend Cody hits the street hard with Haggar, denting heads downtown and slugging it out in the slums. He's a one man army! His weapon are anything he can find - swords, knives, or pipes. Now you're Haggar or Cody, each with his own fighting style. Demolish gangland henchmen, samurai swordsmen and musclebound crime bosses in a fist-to-nose frenzy !
Game Staff (Copied from the end credits) :



Planner
Mickey

Music Sound
Bull

Programmer
Kanekon
IMO
Yoshilim
Leo
IMG

Object Design
Lexus.M
Fish Man
Maguro
Lamson
Shoji.K


Background Design
Manashi
Ucchan
Nonnon
Miki Vai
Kakkun

Special Thanks
T.Arthur
Makichan

< Arcade >

Planner
Nin
Akiman

Music Sound
Youkichan's Papa

Programmer
Kanekon
Shin
Tomiyan
Yokoyan

Object Design
S.Y
Tessue
Prinoe

Background Design
Mikiman
Okachan
Fukumary
Nissui

Special Thanks
CBX
POO
Chin
Yamachan
Kicchan


G
O
O
D
I
E
S



Japanese guidebook

O
M
A
K
E





Click on picture to enlarge
LK



Add your Pov here !



P
O
V
s


Final Fight differs from its original model in many ways - two playable characters instead of three, no two-player mode and difficulty leans on the easy side of the spectrum. Sprites are fairly large on screen and are really detailed, animation is also more than correct and faithful to the original game. It wouldn't be fair to do a straight comparison with the arcade game, and Capcom preferred to sacrifice the two-player mode rather than the size of the sprites on screen. This was a good trade-off in my book, especially when you know that Final Fight was one of the launch title for the Super Famicom system. Anyway, despite this, Final Fight is plain fun from beginning till end - the action is wonderfully responsive and the arcade game's essence remains very much intact. All in all, a great port despite some unfortunate drawbacks.