| | | | |
| --- | --- | --- | --- |
| | | | |
ダンジョンマスター
©1991 Software Heaven, inc./FTL Games
©1991 Victor Musical Industries, inc.
Release: 1991-12-20 (¥9800)
Cartridge (Backup Ram) SHVC-V2
Role Playing game




Released in America as
DUNGEON MASTER
( SNS-V2-USA )


Released in Europe as
DUNGEON MASTER
( SNSP-V2-XXX )
Dungeon Master is a real time 3D dungeon crawler originally released for home computers in 1987. The immensely popular game tells the story of an apprentice wizard named Theron. His master, Grey Lord, has turned evil in his quest of power, and his demon side, the Dark Lord (or Chaos), now haunts the depths of his treacherous dungeon. Moreover, Theron was separated from his body during a transportation spell accident. In this ghastly form, he must now resurrect up to four deceased heroes from the Hall of Champions, and lead them through the dreadful lair to find the Firestaff, only weapon capable of defeating the Dark Lord. Dungeon Master is viewed through Theron's eyes, and most of the actions are in real time and based on point-and-click interactions. If an item is on the floor, the player can just click on it, pick it up and drop it in one of the character's inventory. Each champion has different sets of skills and abilities described as 'classes' (Warrior, Ninja, Magician and Priest) - Dungeon Master doesn't feature traditional experience points, and training is at the core of the gameplay. Fighting and magic both require practice, and the more an ability is used, the more it improves. The magic system is also one of the features that differs from other games of the time - spells are cast by using runes, and these powerful magic symbols need to be combined into words to trigger the desired incantation, such as fireballs, magic potions or armful gas clouds. Finally, fighting is completely integrated and done, like the rest of the game, in real time. Monsters wander around the dungeon as the player moves about, and only attack the team when in range (or in sight). Enemies can attack from any direction, and the party can run away, as long as the player has planned an escape route.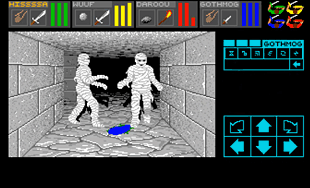 The original Dungeon Master was first released in 1987 for the Atari ST (picture on the right). It was developed and published by FTL (Faster Than Light). The game became instantly popular and started an entire genre on its own. It was ported for virtually every systems of the time : Amiga (1988), PC (1989), X68000, FM Towns, Super Famicom (1991) and so forth... A sequel called Chaos Strikes Back came out in 1989, However, it was more an expansion to the original game and featured small graphic variations and an incredibly tougher dungeon to explore. The real sequel to the game was released much later (maybe too late) back in 1993 - Dungeon Master II: The Legend of Skullkeep was available for PC-9801 (1993), PC (1995), Sega CD (1994), Amiga (1995) and the FM-Town. Other Dungeon Master games were released for other systems though, Dungeon Master : Theron's Quest (PC Engine SCDRom², 1992) was a sort of a "remixed" version of the original game and offered several small dungeons instead of one. Dungeon Master Nexus (Sega Saturn, 1998) was a sequel to the original game and was only released in Japan - it was also the only official game to use real 3D-polygonal graphics.
This Super Famicom version slightly differs from the original game in three regards - first, musics and sound effects are now played during the exploration, some monsters also look slightly different and, finally, controls have been redesigned to accommodate the use of a D-Pad controller instead of a mouse.
Teaser text from the American version:
Chaos lives in your master's dungeon
Are you clever enough to solve an evil wizard's twisted puzzles ? Do you possess the concentration needed to explore a labyrinth of mystery ? Should you resist the tempting treasures, defeat the hideous monsters, and escape the devious traps that are hidden throughout the Grey Lord's dreadful dungeon ? Yes ? Then perhaps you'll be the one to enter the caves of the sacred mountain and retrieve the Firestaff from the evil Lord Chaos. To succeed, you must assemble a band of four champions and lead them in fierce battles against the terrible Dark Lord who now rules you master's dungeon. And if you fail ? At best, you'll meet your ghastly end in the dungeon's wretched catacombs, like hundred of brave adventurers who went before you. Far worse, you might become a captive "trophy" of the evil Lord Chaos, suspended forever in the haunting mirrors of the Hall of Champions.
Game Staff (Copied from the game's instruction manual) :



STAFF

Executive Producer
Satoshi Honda

Producer
Harunobu Komori

Director
Toshiyuki Nagai
Hisaki Yokoi

Assistant Director
Kazuya Tominaga

Chief Programmer
Tenuhito yamaki

Programmer
Yoshiaki Iwasawa
Hiroshi Nakajima
Kensuke Kobayashi/NCS

Music
Tsukasa Tawada
Hiroski Hashimoto

Sound Effects
Tsukasa Tawada

Graphics
Akatsuki Honda

Manual
Etsuko Matsuoka

Package and manual design
Comix Brand

Test Player
Takayuki Ando
Nobuaki Horie
Teruyuki Yoneyama
Kenji Kikuchi

Original Staff

Producer
Wayne Holder

Director
Doug Bell

Assistant Director
Dennis Walker

Graphics
Andy Jaros

Sound Unit Director
Mike Newton

Original game produced by

©1991 Software Heaven Inc./FTL Games
©1991 Victor Musical Industries, Inc.


G
O
O
D
I
E
S



Japanese Fan Book


Japanese Guidebook


Japanese Guidebook


Japanese Encyclopedia

O
M
A
K
E



Click on picture to enlarge
LK



Add your Pov here !



P
O
V
s


Dungeon Master for the Super Famicom came out more than three years after its original release, and the game looks and feels as good as its older brother (ahhh... sweet memories... I clearly remember wasting my 1988 summer vacation on Dungeon Master and my Atari ST). However the control system here is awkward and cumbersome, which is often the case with games ported from the 'mouse heaven' computer world. Here players have to move a cursor around with the D-pad and despite shortcuts, this way of interaction is quite painful. Then, 'Select' is used to switch to a "moving mode" where the D-pad moves the team around the maze. It is a shame that the Super Famicom's mouse was only released in 1992, Dungeon Master would have been the perfect game to use it. The addition of music is rather overdone in my opinion, silence has always been golden in Dungeon Master, and the soundtrack sometimes ruins the otherwise perfect atmosphere of the game. All in all, this conversion is rather correct but I wish more time was spent on the control system and the sluggish and annoying cursor...