MARCHEN ADVENTURE COTTON 100%
| | | | |
| --- | --- | --- | --- |
| | | | |
コットン100%
©1994 Datam Polystar
©1994 Success
Release: 1992-04-22 (¥9300)
Cartridge SHVC-C9
Shooter / Horizontal


Marchen Adventure Cotton 100% is a side scrolling shooter by Success and Datam Polystar, and likely sequel to the arcade game Cotton originally released in 1989. The cute witch and her flying broom are back in this exclusive adventure for the Super Famicom system. Cotton, the sweet-addicted witch, sets off on a long journey to save the country. Well, when the fairies plead with her for help, she genuinely misunderstood her real mission. As a result of her uncontrollable obsession with sugary candies, she now believes that she is in search of the Willow Candy. Cotton is accompanied by Silk, a cute fairy who helps her along the way and guides her through seven colorful stages. The witch can defend herself with magic powers - she can shoot blasts of energy from her magic wand, as well as drop bombs on the ground below. Unlike traditional shooters, the leveling and power-up system is based on experience points - several crystals must be collected for one level of power-up, and this number increases as Cotton becomes more powerful. She also comes equipped with several kinds of offensive magic spells (Fire Dragon, Thunder, Barrior, Bubbles and so forth). Their types can be changed at the beginning of the game (in packs of three), and they can be switched out during the game by pressing the shoulder buttons. These attacks come in limited quantities and special icons released by certain enemies can replenish them. Finally, up to three fairies can be rescued and join the fight, and holding the bomb button for a few seconds can send them hurling towards the enemy. In the Cotton tradition, each stage ends with the tea time bonus section where the player tries to collect as many falling teacups as possible within a time limit.

Marchen Adventure Cotton 100% was also released by Success for the Playstation in 2003 and was part of the SuperLite 1500 Series budget series (it looks like the game was also re-issued in 2003). As a side note, unlike Cotton Original released for the Playstation in 1999, Marchen Adventure Cotton 100% was only available in the SuperLite 1500 Series. The Playstation version is virtually identical to the Super Famicom game tested here, except for a CD-quality arranged soundtrack.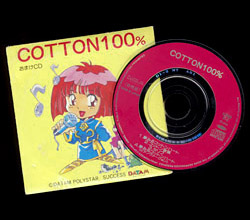 A mini audio CD composed by DataM Polystar Music Team is included with Marchen Adventure Cotton 100% (picture on the right, see the 'omake' section). It features four tracks :

1. 夢みるコットンハート
Yumeriku Cotton Hāto - Dreaming Cotton Heart, Song

2. コットン音頭
Cotton Ondo, Song

3. セリフ
Serifu, Drama

4. 夢みるコトンハート (ピアノヴァージョン)
Yumeriku Cotton Hāto (Piano version)

Game Staff (Copied from the end credits) :



STAFF

Executive Produce
Yukio Kakehi

Produce
Takato Yoshinari

Direction
Kazutoshi yashiki (Success -Q.bit-)
Motoi Saito (Success -Q.bit-)
Kanayama 68000 (Giga Wave)

Character Design
Motoi Saito (Success -Q.bit-)
Shinobu Itoh (Success -Q.bit-)

Visual Character Design
Hideki Tamura

Program
Mizuho Sasa (Success -Q.bit-)
Tomohiro Chuuman (Success -Q.bit-)
Hiroki Yanagisawa (Success -Q.bit-)
Akihiko Noguchi (Success -Q.bit-)
Makoto Namai (Success -Q.bit-)

Graphic
Kazutoshi Yashiki (Success -Q.bit-)
Motoi Saito (Success -Q.bit-)
Shinabu Itoh (Success -Q.bit-)
Masahiro Fukuda (Success -Q.bit-)
Shinichi Matsuoka (Success -Q.bit-)

Visual CGDesign
Kotaro (Giga Wave)
Kyoko Yoshinaga (Giga Wave)

Sound Compose
Kenichi Hirata

Sound Effect
Satoshi Ohta (Opus)

Radio Actress
Takae Yoriguchi

Assist
Ano Shimizu
Nomii Kusakabe

Special Thanks
Nice Guy (Giga Wave)
Hiroshi Takahashi (Giga Wave)
Akihiro Nagashima
Akiko Tomikawa
Miyuki Takada
Kenichi Terada
Kazue Ohta
Yanagisawa Family
Ichinohe Kouji
Masako Sasa
Mika Yamaki
Samenosuke
Naruchan

1994
SUCCESS ALL
STAFF
(c)1994
Datam Polystar
(c)1994
Success

Presented
by
Datam Polystar

FIN

G
O
O
D
I
E
S



Japanese Soundtrack


Japanese Single CD

O
M
A
K
E



Click on picture to enlarge
S
E
C
R
E
T
S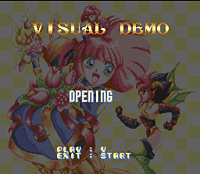 Visual Demo:
At the title screen, press Up, X, Down, B, Left, Y, Right, A, L and R. This will open the cinemas selection screen. Press up and down to pick a sequence, and press Y to play it (picture on the right).

Tea Time secret bonus:
In the Cotton tradition, the Tea Time bonus stages hide a little surprise. If you manage to avoid all the falling teacups, then the game awards you with a secret bonus.
LK



Add your Pov here !



P
O
V
s


Marchen Adventure Cotton 100% is a charming game filled with cute sprites, colorful backgrounds, an incredibly catchy soundtrack and a refreshing splash of humor. This version can be regarded as a 'reboot' of the first game, and nearly everything about the gameplay remains the same from the first Cotton. But that doesn't mean there was no room for improvement! Among other things, Success added a nifty auto-fire and the magic attacks are now a lot easier to use. However, although levels are really well balanced and fun overall, some of the first stages are pretty yawn-inducing... not much happens on the screen to be honest, and some bosses can be wiped out in seconds by only using attack spells. And that's my only gripe with the game - although the original Cotton was nasty hard, this Super Famicom version doesn't offer any real challenge and is overall really easy (I nearly finished it the first time I played!). But all in all, Marchen Adventure Cotton 100% is an excellent and gorgeous looking shooter, a great addition to the Cotton series and a well-improved sequel/reboot of the first game.