| | | | |
| --- | --- | --- | --- |
| | | | |
クロックワークス
©1995 Takuma Shoten
©1995 Callisto Corp., Spectrum Holobyte,Inc.
Release: 1995-12-08 (¥7800)
Cartridge SHVC-AQWJ-JPN
Puzzle game



ClockWorks (aka Clockwerx) is a puzzle game by Callisto and Takuma Shoten. Interestingly, Alexey Pajitnov, the creator of the immensely popular Tetris, is mentioned on the title screen but it is hard to know how involved he was with the game (see the Info section). The game field is composed of gray dots and the player's avatar is a small walking character going clockwise around one of them, like the hands of a clock. The goal of the game is to maneuver our spinning hero and reach the level's exit, symbolized by a small flashing dot, the 'goal dot'. Our character is however 'glued' to the starting dot and never stops moving, or rotating, around it. Pressing one of the action button changes the rotation direction, and one button gets our character to jump to the nearest dot. Obstacles, such as colored rotating arrows and other hazards, are scattered around every stage and some can instantly kill the player.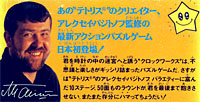 Clock Works was initially released in 1992 under the name Spin Doctor and was available for PC and Mac computers. In 1995, the game was enhanced and published by Spectrum Holobyte. It was renamed Clockwerx and was endorsed by Alexey Pajitnov, creator of Tetris. It is however difficult to say how involved he was with the creation of the game though... but he's definitively credited for this 1995 edition of the game. In Japan, Clockwerks was released by Takuma Shoten for the Super Famicom (1995), Sega's Saturn (1996) and Sony's Playstation (1996). It is however hard to tell, from the Japanese Katakana characters, if the game should be called Clockworks or, as the original, Clockwerx.

O
M
A
K
E



Click on picture to enlarge
LK



Add your Pov here !



P
O
V
s


ClockWorks has an interesting concept that could have made an excellent puzzle game. Sadly, nearly everything about ClockWorks is a game design flaw - The control system is appalling, why pick such an unintuitive interface ? Why not simply use the directional buttons to control the character rather than the X and B buttons ? Also, the game is frustratingly difficult - ClockWorks doesn't have any leaning curve unlike many worthy puzzle games. Finally, graphics are incredibly simple and the music tracks... wait... now that I think about it, I didn't hear any music... So here you have it, a dull and frustrating game... shame as the old Mac version was correct and could have been converted with more care.