CHŌ ANIKI BAKURETSU RANTŌDEN
| | | | |
| --- | --- | --- | --- |
| | | | |
超兄貴 爆烈乱闘篇
©NCS 1995
Release : 1995-09-22 (¥11800)
Cartridge SHVC-AANJ-JPN
Fighting game


Chō Aniki Bakuretsu Rantōden is a fighting game by Masaya and is the third episode in the unique Chō Aniki series. All the main characters from the first two games battle here on one-on-one fights, from the bald and muscly Samson and Adon, to Idaten, Benten and even the emperor Botei Bill himself. All the classic Chō Aniki ingredients are reunited here - men showing off their prominent and well-developed muscles with little clothing on, and odd but truly unique mechanical designs. A grand total of eigth characters from the original game are playable here. Each character naturally comes with their own sets of moves and each one of them can fire a large laser-blast to momentarily stun their opponents. Yet, Chō Aniki Bakuretsu Rantōden is not your typical fighting game - the game actually stands out from its peers by the way how the fighters fly around the arena and are completely airborne.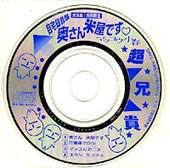 The original Super Famicom game comes with a mini CD with remixes of the game soundtrack by Koji Hayama (Picture on the right). See Chō Aniki (Pce-SCDRom²) for more information about the Chō Aniki game series by Masaya.

G
O
O
D
I
E
S



Japanese guide book


Japanese guide book


Japanese sticker

O
M
A
K
E



Click on picture to enlarge
LK



Add your Pov here !



P
O
V
s


Here we go again! Chō Aniki is back but this episode is a refreshing departure from the classic formula - the original shooting recipe has been replaced here by a straight on one-on-one fighting game. Graphics, as expected, are magnificent and highly detailed. The game's theme also follows the Chō Aniki series and features oiled muscled men, butt shaking and weird stuff creeping around every corner. It is a shame to see so many reviewers freaking out over the game's odd content without knowing anything about its origins - Samson and Adon are the two flying options from the first Chō Aniki and most of the other fighters are bosses from the same game. The theme is indeed weird but far from "pornographic" and "taboo" as some people describe it. Anyway, back to the game at hand. If the original PC Engine game were competent shooters, this fighting game lacks some really important components. It is repetitive and the overall action, despite being smooth, ends up being incredibly slow. It is a shame as Chō Aniki Bakuretsu Rantōden features some mind-blowing levels and unique character design.