CARAVAN SHOOTING COLLECTION

キャラバン シューティングコレクション
©1985,1995 Hudson Soft
©Tecmo Ltd., 1984
Release: 1995-07-07 (¥6800)
Cartridge SHVC-AS8J-JPN
Shooter horizontal/vertical


Caravan Shooting Collection is a compilation of the first three shooters played during Hudson Soft's national Caravan tournaments held in Japan from 1985 to 1997 (see Star Soldier's review for the Famicom system for more information about the contests). This game cartridge contains the 8-bit Famicom versions of Star Force, Star Soldier and Hector'87, games respectively featured at the contests in 1985, 1986 and 1987. This compilation was released in 1995, ten years after the first tournament and Hudson Soft most certainly released this collection for the tournament's 10th anniversary. It is interesting to notice that these tournaments were held in Japan until 1997 so they were still going on when this collection was released.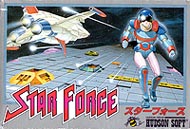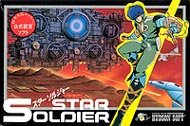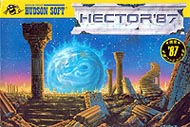 Here are, for your only pleasure, all three original Famicom games reunited. What a nice family picture this is.
LK



Add your Pov here !



P
O
V
s


Caravan Shooting Collection is certainly a nice piece of Hudson Soft's history. This collection features perfect Famicom ports.. which is somewhat of a shame. It would have been awesome to play enhanced versions of these all time classics, with better graphics and soundtracks. Only the selection menu features graphics up to the Super Famicom standards with higher resolution and color palettes. Nevertheless, I personally love these games, especially Hector'87 and its unusual mix of vertical and horizontal stages. But do not expect anything amazing here. If you already own the original Famicom cartridges, then it doesn't really make much sense to purchase this collection - except maybe if you want to enjoy them on your Super Famicom...