| | | | |
| --- | --- | --- | --- |
| | | | |
ブレイゾン ©1992 Altlus Ltd.
©AI
Release: 1992-07-24 (¥8500)
Cartridge SHVC-BL
Shooter/Horizontal




Released in America as
BLAZEON
( SNS-BL-USA )
Blazeon is a horizontal scrolling shooter by Atlus and conversion of an arcade game originally released in 1992. The Imperial Earth Army has cast a dark shadow over the universe, and its bio-cyborg machines keep any rebel movement under control. In a last attempt to wipe out the evil empire, a group of resistance sends the Garland TFF-01 spaceship to battle the bio-cyborgs, and restore peace to the universe. The ship comes equipped with a basic Vulcan Beam - however, it can also fire Tranqui-Lander torpedoes that allow the player to freeze any bio-cyborg, and to take possession of it. This particular technique is at the core of the gameplay, and each captured bio-cyborg enemy has drastically different weapons and combat behavior - some shoot in three directions whereas others fire laser-beams, homing-missiles or drop bombs. Most bio-cyborgs come with extra special attacks (or fighting techniques), some in limited quantities (such as the powerful fire shield) whereas others are unlimited and can be used at will (homing missiles or bombs). However, bio-cyborgs are vulnerable to enemy fire and they progressively lose firing capabilities as they get hit, and eventually revert back to the Garland ship. Blazeon consists of five long stages (it often features end of level bosses as well as mid-bosses) and is single player only.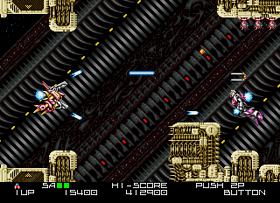 The arcade game Blazeon was originally released in 1992 (picture on the right). It was converted to the Super Famicom the same year (version tested here). However, this port shows several noticeable differences - the original arcade game featured an incredible introduction sequence which was completely removed from the Super Famicom port. A couple of stages were also cut down in size - for instance, the large spaceship (second stage) features less segments and doesn't release the end of level boss, then the third level was heavily edited and was curiously switched around with the fourth stage. Finally, the Super Famicom port includes an autofire option, but the two-simultaneous player mode from the arcade was completely omitted.
Game Staff (Copied from the instruction manual) :



The Staff of BLAZEON

Game Designer
Harumagedon, In
Programmer
Hacyan
A!! Kumada
Ogacyan

Graphic Designer
Harumagedon, Nori
Janet Hattage
Music Composer
Macco

Special Thanks
Annen
Ma. Lika Sueyoshi
Aino
S. Fujiki
Angila
Oh! Kubo
Tom
Juncyan
Babala

Directer
Harumagedon, In
Original Writer
Ethiopan Taro
Assistant Writer
Matu
Original Graphic
Ta~Go
Hakase


O
M
A
K
E



Click on picture to enlarge
LK



Add your Pov here !



P
O
V
s


Blazeon looks like a fun and fairly engaging game - well, that's until you grab the controller and actually play the thing. The Tranqui-Lander and the ability to control enemy ship is definitively an interesting feature and gives the game its unconventional flair (in essence, they act as power-ups). However, the game has a couple of fatal flaws - the ship is agonizingly slow (captured ships are a tad faster but still not quite fast enough, except for the crazy-fast and uncontrollable Shadow Blade!). The animation is overall choppy and the pace of the game is ponderous. Each level has a few dead zones where nothing happens on screen for exceptionally long periods of time. The arcade game was definitively better paced... unfortunately, all of this makes Blazeon brutally difficult to play, and boss fights are especially unforgiving (later levels feature several bosses, and losing a credit sends you back to the very beginning of the level. That's nasty). All in all, I can't really stress how a massive missed opportunity Blazeon is - the original arcade game was correct (yet average), but this conversion badly fails in the gameplay/control department. It is a real shame because the rest of the game (graphics and soundtrack) are pretty decent...