| | | | |
| --- | --- | --- | --- |
| | | | |
バットマン リターンズ
Source Code ©1993 Konami
Batman and all related characters, slogans, logos and indicia
are trademarks of
DC comics inc. ©1993.
Release: 1993-02-26 (¥8800)
Cartridge SHVC-BJ
Fighting game




Released in America as
BATMAN RETURNS
( SNS-BJ-USA )


Released in Europe as
BATMAN RETURNS
( SNSP-BJ-XXX )
Batman Returns is a side-scrolling beat'em up developed and published by Konami, and based on Warner Bros's motion picture of the same name originally released in 1992. Gotham City faces its greatest threat yet - the Penguin and his minions from the Red Triangle Circus Gang (teamed up with Cat-woman) plan to take over the dark city, and, of course, only Batman can put a stop to all this madness. In the best beat-em-up tradition, Batman can perform punches and kicks against his opponents, as well as jumps and guarding moves. He also makes great use of powerful combos to quickly dispatch nearby foes, or lift them up by their necks and throw their beaten bodies against walls or other enemies. Additionally, Batman can use his Bat-Boomerang to hit his enemies from afar, or, in desperate situations, unleash a powerful melee attack where he swings his cape and deals damage to all enemies around him, albeit at the cost of some life. However, and unlike other beat'em ups, the game mixes up 'battle scenes' and 'action scenes' - although most of the game plays like a traditional side-scrolling brawler (the 'battle sections'), some levels are more oriented towards platforming action where Batman uses his Bat-boomerang rather than his fists, and his Bat-Grappling-Hook to swing around the screen and leap over large gaps and enemies with relative ease. Finally, Batman comes equipped with a limited amount of test tubes that can be thrown to the ground and explode in a flash of blinding light, damaging all enemies on the screen. Batman Returns consists of seven large levels (called 'scenes') and is single-player only.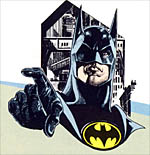 Batman Returns was released for various video game systems at the time - Master System (Sega, 1989), Game Gear (Sega, 1992), Lynx (Atari, 1992), PC Computers (GameTek, 1992), Megadrive and Sega CD (Sega, 1993) and NES (Konami, 1993). However, the Super Famicom/Super Nintendo version tested here is arguably the finest. Beside, the various versions were apparently developed by different third party companies, and they don't really share much in common - Konami did create the NES version though (curiously only released in the US and Europe), and published the Amiga and PC DOS games (although they outsourced these computer ports to other developers).
Teaser text from the American version:
STOP THE ANIMAL CONTROL PROBLEM IN GOTHAM CITY BEFORE IT GETS TOO WILD !
One oversized bird and one slinky cat are out to take control of this urban jungle. Only you, as Batman, possess the power to stop the sinister plots of The Penguin and Catwoman! Become the Dark Knight as you live out the silver screen adventure in 7 terminally captivating stages. Five levels of difficulty include the Maniac Mode for the most brutal challenge. With a haunting CD quality music track and incredible 3-D simulation you will feel the wrath of the Red Triangle Circus Gang and a slew of demented enemies including the Tattooed Strongman, Roller Clown and Organ Grinder. Luckily, Batman has never been more huge and more powerful encased in amazing animation and armed with relentless attack moves. Hear the bone crushing sound effects with every blow. Psyche out the psychos with your trusty Batarang and an intricate assortment of kicks, punches, body slams and skull crackers before they terrorize a holiday street festival. Rescue the kidnapped Ice Princess and face Catwoman, but don't be fooled by her purrs as this destructo-feline blows up Shrecks Department Store and flips, kicks and cartwheels to defeat you. Shriek through high-speed Batmobile chase scenes, slinging Batdiscs to help fend off the fiends. Free the neighborhood kids held hostage in The Penguin's wicked circus train. Finally catch up with that cold-blooded bird brain in his horrific Arctic World hideout guarded by missile toting penguin commandos. And beware of The Penguin's exploding umbrella. The Bat-Signal is blazing. Use your power to save this gothic urban gauntlet from the predators of the innocent!
Game Staff (Copied from the end credits) :



STAFF

Director
Yoichi Yoshimoto

Planners
Yoichi Yoshimoto
Etsunobu Ebisu
Toshinori Shimono
Shigeki Morihira


Programmers
Etsunobu Ebisu
Toshinori Shimono
Shigeki Morihara

Designers
Yoichi Yoshimoto
Tae Yabu
Tetsuya Sato
Takeshi Fujimoto
Koichi Ogawa


Sound & Music
Jun Funahashi
Harumi Ueko
Kazuhiko Uehara

Manual by
Mari Sato

Coordinator
Ichiro Ueda


Licensing Manager
Judy Steele

Special Thanks to
Sachiyo Sagoi
Shigeharu Umezaki

Produced by
Team Yoshimoto Entertainment

Presented by
Konami


O
M
A
K
E



Click on picture to enlarge
LK



Add your Pov here !



P
O
V
s


Games based on a popular movie franchises are rarely good and usually feel rushed and very cheap - they are the ones to steer clear of. But as you all know, Konami is not 'any game developer' and, I have to admit, Batman Returns is a gem and a really fun beat'm up. The graphics are excellent with very large sprites on screen, all incredibly well animated, and the game endows players with a dark and surreal atmosphere that capture the true essence of Tim Burton's classic - all the visited eras are beautiful designed with rich and detailed environments. But, most of all, it is in the gameplay department that the game really shines - controls are simple, effective and flawless (the game is on the difficult side though!). Beside, Batman's attacks are not limited to punches and kicks (the grabs are excellent!) and the stages have interesting twists to them (like various platform/action sections sprinkled here and there). The only down points are the weak cutscenes that mainly feature footage directly taken from the movie (but they do not affect the rest of the game in any ways), and the lack of a two-player mode... All in all, Batman Returns is a finely crafted game and one of the best beat'm up available for the system (despite its really really steep difficulty level), and one of the best Batman game from the 1990s in my opinion.