ALIENS VS PREDATOR
( Alien VS Predator )
| | | | |
| --- | --- | --- | --- |
| | | | |
エイリアンVS.プレデター ©1992 Twentieth Century Fox Film Corporation
©1993 IGS Corp.
Sublicensed from Activision
Release: 1993-01-08 (¥9800)
Cartridge SHVC-AP
Fighting Game




Released in America as
ALIEN VS PREDATOR
( SNS-AP-USA )


Released in Europe as
ALIEN VS PREDATOR
( SNSP-AP-XXX )
Aliens VR Predator is a side scrolling fighting game developed by Jorudan Co. and published by IGS (sub-licensed by Activision). The action takes place in 2493 and colonists on the distant planet Vega 4 accidentally unearthed weird dormant alien eggs while digging a new subway tunnel. As expected, Xenomorph aliens have now taken over the colony in New Shanghai City and humans, overwhelmed by the sudden threat, decide to send a distress signal to Earth. Little do they know that Predators, on-board their cloaked ship, intercepted it and decided to also investigate the situation and turn the attack into worthy trophies for their collection! Players take control of a Predator armed with lethal punches and kick. The hunter can also charge up his famous shoulder cannon to unleash all kind of devastating attacks (although it uses some of his precious health). Aliens along the way also drop all kind of limited power-ups, such as extra-health, throwing Blade-Disks, Javelin-Spears or the option to use camouflage abilities. Aliens VR Predator consists of six stages and although the game is single-player only, it also features a limited two-player versus mode (sadly removed from the international release).

There are some interesting and really odd differences between the Japanese and international releases. First of all, the name of the game was surprisingly changed from Aliens VS Predator to Alien VS Predator. But most interestingly, the Predator sprite was changed and the orange/green palette used in the Japanese version was changed to a brown/blue palette, arguably more faithful to the original Predator color scheme (upper-right picture). Additionally, the Predator's walking cycle was completely changed and looks less menacing in the international release. Other odd changes include the Javelin-Spears sprite, the Alien eggs as well as some of the Xenomorphs. The third stage was also entirely re-designed. There are tons of other small differences - for instance, you can dash in the Japanese version (just press a direction twice) but this option was removed in the international version and the player apparently always moves at dash speed. The Javelin-Spears and Blade-Disks can only be thrown once in the Japanese version, whereas each one of them can be thrown six times in the international release, and the Camouflage seems to last a lot longer in the Japanese version. The Shoulder Cannon also doesn't consume any health in the international release, but it seems that attacks inflict a lot less damage overall. Finally, the Japanese version features a limited but fun VS Game Mode (lower-right picture) where two players can fight each other (one as the Predator, the other as a Xenomorph). This option was surprisingly completely removed from the international version...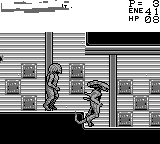 Another game worth mentioning is Alien VS Predator (aka Alien Vs. Predator : The Last of His Clan) for the Nintendo Game Boy (picture on the left). It was developed by ASK Kodansha and published by Activision in 1993. Although the International version of the game shares the same cover art than the international Super Nintendo version tested here, it is an entirely different game and is fairly average overall. Surprisingly, the Japanese version is surprisingly hard to find and really expensive these days!
Teaser text from the American version:
The Cosmic Clash of the Century
You're a Predator warrior in the 25th century - an awesome monster with an ugly face, brute strength and very cool weapons. Trained to fight with all that Predator technology has to offer - destroy or be destroyed! You've come to New Shanghai, a city on the planet Vega 4, to hunt humans, but instead you find Aliens - powerful, double-jawed beasts bent on annihilating life. You're outnumbered, but not outsmarted - the hunt is on. Alien drones, warriors, chest-busters and face-huggers stand in your way. Use your lasers, blades and special weapons of destruction to win honor for your deeds. Destroy the Guardian Aliens to advance to the next level, then follow your primal instinct to reach the ultimate prey... the Alien Queen!
Game Staff (Copied from end credits) :



ALIENS VS PREDATOR GAME STAFF

Design Team
M. Asakawa
Y. Furusawa

Program Team
F. Sugiura
Y. Tejima
M. Asakawa

Graphic Team
H. Yabusaki
Y. Kikuchi
K. Igarashi
N. Kimishima
K. Nakanayashi
M. Ishida
T. Wada
Y. Arai


Sound Team
S. Tenpei
Mr. Ogura

THANK YOU FOR PLAYING
THE END

Game Staff (Copied from the American version's end credits) :



ALIEN VS. PREDATOR GAME STAFF

Design Team
M. Asakawa
Y. Furusawa

Program Team
F. Sugiura
Y. Tejima
M. Asakawa

Graphic Team
H. Yabusaki
Y. Kikuchi
K. Igarashi
N. Kimishima
Dr. Banana
M. Ishida
T. Wada
Y. Arai


Sound Team
S. Tenpei
Mr. Ogura

ACTIVISION STAFF

Producer
Tom Sloper

Test
Kelly Rogers
Chris Campbell

Special Thanks
Bill Swartz

THE END


O
M
A
K
E



Click on picture to enlarge
S
E
C
R
E
T
S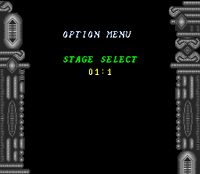 Stage Select Screen:
Go to the Config Menu (Option Menu) screen, then press and hold A, X, Left Shoulder and Right Shoulder buttons on the second player controller. Then press Start on the first player controller. This will activate the Stage Select screen (picture on the right). Press Up or Down to select a different stage. This cheat works for both Japanese and International versions of the game.
LK



Add your Pov here !



P
O
V
s


The first time I heard about this game, I thought that it was a port of Capcom's excellent arcade game initially released in 1994. But, if you think about it, the timeline didn't really add up - this game was actually released in 1993, a year prior to the arcade game... Sadly, Aliens VS Predator is not related to Capcom's incredible arcade game and is nowhere near it's level of excellence! The game does look good for sure, with detailed (and impressive!) graphics, awesome character design and more than correct animation cycles! Nothing wrong here! But the gameplay is appalling... controls are really sluggish and unresponsive, and the shoulder cannon (the meat of the game!) is a pain to use! Secondary weapons are also a joke and don't help you much. Bosses are on the lazy side too - some of the early ones feature random attacks that are hard to dodge, and later ones are just terrible with endless waves of meaningless attacks. Later stages are also just mind dumbing boredom and feature incredibly lazy layout design. Did the developers just run out of time and filled up the blanks with anything they had at hand? It looks like it and most stages are just bland, monotonous and feature the same enemies with not much variation. Many players ask which version is the best ... well... the International version feels more balanced and the Japanese version features an exclusive two-player versus mode - but they are both fairly average to be honest... All in all, Aliens VS Predator is a game that is still very sought after for all the things it could be, but definitively isn't...