AQUTALLION
( Tecmo Secret Of The Stars )
| | | | |
| --- | --- | --- | --- |
| | | | |
アクタリオン
©Tecmo Soft Products Ltd. 1993
Release: 1993-11-05 (¥8900)
Cartridge SHVC-AQ
Role Playing Game




Released in America as
TECMO SECRET OF THE STARS
( SNS-AQ-USA )
Aqutallion (aka Secret of the Stars in America) is a little known Role Playing Game by Tecmo. The game tells the story of Ray, a young and adventurous teenager who lives with his mother on a tiny island. Years ago, Ray's father was mysteriously killed and her mother raised the poor boy after the tragedy. One day, our hero discovers that something terrible is about to happen. An evil demon called Homncruse is poised to take over the World and only Ray and his friends can do something about it. He sets out on a journey to find five companions and the guardians who will eventually help him in his quest. The most interesting feature of the game is how the player controls two teams of heroes - the Aqutallions and the Kustera. Each party has special abilities and needs to be used in conjunction with one another for the most benefit. Aqutallion also cleverly mixes fantasy and technology and villains often rely on machines to fulfill their evil intentions. Beyond that, Aqutallion is a traditional Role Playing Game - our heroes travel the world, visit towns, villages, dungeons and gather clues. Combats are turned-based and are randomly triggered throughout the game, and their sole purpose is to gain experience points and to level up. Magic has also its place in the game and the player can combine spells to trigger more powerful combo-attacks.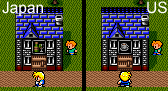 There are various differences between the Japanese and American versions of the game. The most obvious are the expected censorship upon anything related to alcohol. For instance, the sign outside bars shows a glass and a bottle of liquor in the Japanese version whereas it was turned into a cup of coffee in the American version (picture on the left).
Game Staff (Copied from the American version's end credits) :



Translator
Keisuke Kuboki

Message Help
H. Nakajima
H. Tabata

ORIGINAL STAFF

Planning
T. Kurakata
K. Ueda
K. Takamiya
M. Tsuboko

Programming
H. Sato
S. Sekiguchi
K. Kojima

C.G
H. Kon
A. Yajima
M. Takamatsu
K. Sato
T. Hamai
H. Miyajima

Sound Effect
C. Okayasu

Manual Staff
M. Karibe
K. Niwayama


G
O
O
D
I
E
S



Japanese Phonecard

O
M
A
K
E



Click on picture to enlarge
LK



Add your Pov here !



P
O
V
s


Aqutallion is not at the pinnacle of what the Super Famicom can do. There are some nicely drawn enemies but the game doesn't get anywhere near other Role Playing Games for the system and graphics look horribly dated. Sprites are tiny, not really detailed and some seem to be reused for different characters in the game! On another hand the game offers some really original moments - such as the two teams of heroes that can be played in conjunction with one another. However, Aqutallion gets really challenging, experience points are hard to collect and a lot of training is needed to progress further into the game. Combats are frustratingly frequent and repetitive which quickly becomes annoying, but, thankfully, the game's designers cleverly added an auto-battle option (which, sadly, tends to often kill your heroes...). Overall, Aqutallion is average but not as bad as some players picture it. I would only recommended it to anyone who has already been through all the best RPGs for the system (such as the Final Fantasy or Breath Of Fire series) and who is looking for something different to quench his thirst.