AKUMAJŌ DRACULA
( Super Castlevania IV )
| | | | |
| --- | --- | --- | --- |
| | | | |
悪魔城ドラキュラ
©Konami 1991
Release: 1991-10-31 (¥8880)
Cartridge SHVC-AD
Action / Platform / Adventure




Released in America as
SUPER CASTLEVANIA IV
( SNS-AD-USA )

Released in Europe as
SUPER CASTLEVANIA IV
( SNSP-AD-XXX )
Akumajō Dracula (aka Super Castlevania IV in the west) is an action game by Konami. The evil Dracula has returned from the dead and he intends to wreak his revenge upon all Transylvania. Once again Simon, a warrior from the Belmont family, and his vampire killer leather whip have been chosen to defeat the beast and his army of minions. The whip's mobility in this episode has been drastically enhanced - it can move in any direction and swings at will around our vampire slayer. This feature can be used to damage hard-to-reach enemies but also to pick up bonuses. Simon can whip candles scattered around the game to free special bonuses - some of them upgrade his whip (from weak leather to strong iron chains) whereas others grant him a secondary weapon (Axes, Cross, Daggers, Holy Water etc...). These weapons only come in limited quantities though and power hearts must be collected to make them last longer. Pieces of meat can also be found (usually hidden inside walls) to help Simon to get back in shape before the final blow is delivered.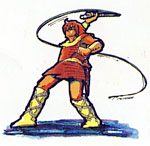 Akumajō Dracula first appeared for the Famicom and MSX systems in 1986 and was renamed Castlevania for the rest of the world (Notice that the MSX version was also known as Vampire Killer in Europe). An arcade game based on this title was even released by Konami in 1988 and was called Haunted Castle in America. A sequel followed in 1987 as Dracula II: Noroi no Fuuin and exclusively for the Famicom System. Akumajō Densetsu, the third episode, followed in 1989 and once again for the Famicom System (It is also known in the west as Castlevania III: Dracula's Curse). Akumajō Dracula released in 1991 for the Super Famicom can be considered as the fourth episode in the series and was therefore named Super Castlevania IV in the west. A curious opus was only released for the PC Engine system in 1993 - Akumajō Dracula X: Chi no Rondo is often considered as one of the last "old style" Castlevania game by many players. Akumajō Dracula XX released for the Super Famicom in 1995 reused a lot of ingredients from the PC Engine version but also omitted a lot. This Super Famicom version, unlike the PC Engine, was available in the west as Castlevania Dracula X. Later, in 1998, Konami released the first, and only, Castlevania title for the Sega Saturn : Akumajō Dracula X: Gekka no Yasōkyoku (Dracula X). The same year, the first 3D installment in the series was released for the Nintendo 64 and called Akumajō Dracula Mokushiroku (Castlevania in the west) and will be followed by a sequel Akumajō Dracula Mokushiroku Gaiden: Legend of Cornell (Castlevania: Legacy of Darkness in the west). Sony's Playstation also receives two Castlevania games but they followed the foot-steps of their 2D predecessors : the beautiful Akumajō Dracula X: Gekka no Yasōkyoku (Castlevania: Symphony of the Night, 1997) and the more classic Akumajō Nendaiki: Akumajō Dracula (Castlevania Chronicles, 2001). From that point on, Castlevania fell into the 3D realm and was mainly available for the Playstation 2 system : Castlevania (Castlevania Lament of Innocence, 2003) and Akumajō Dracula Yami no Juin (Castlevania Curse of Darkness, 2005). However, it is nice to notice that a Nintendo DS version was released the same year as Akumajō Dracula Sōgetsu no Jūjika (Castlevania Dawn of Sorrow, 2005). Castlevania is a successful franchise and is still going strong today. Many more titles obviously exists - here are a few : Boku Dracula-Kun (Famicom, 1990), Dracula Densetsu (Game Boy, 1991). Dracula Densetsu II (GameBoy, 1991), Akumajō Dracula Dark Night Prelude (GameBoy, 1997), Akumajō Dracula Circle of the Moon (GameBoy Advance, 2001), Classic NES Series Castlevania (GameBoyAdvance, 2004), Akumajō Dracula Gallery of Labyrinth (Nintendo DS, 2006), Akumajō Dracula Ubawareta Kokuin (Nintendo DS, 2008), Castlevania Lords of Shadow (Playstation 3, 2010) and Castlevania Harmony of Despair (Playstation Store, 2011).
Teaser text from the American version:
The GRAVEST CASTLEVANIA ADVENTURE BREAKS NEW GROUND... AND BURIES YOU IN IT.
A century of Transylvanian tranquility is about to come to a shocking end. Once again the mortifying screams of helpless villagers shake the ground as they huddle against new nightmarish horrors unleashed by the Duke of darkness, Count Dracula. And this time he has a tombstone with your name on it, Simon Belmont. You must descend into Castle of the Undead and its gruesome grounds, accompanied by the most chilling sound effects to ever tingle your spine. Inside, a freshly dug 11 level maze features the treacherous Terrace of Terror, the dangerous Rotating Dungeon, the Sunken Ruins of Lost Spirits, torture chambers and creature filled caves. Use your whip like a grapping hook and swing past hundreds of traps and a host of ghost freaks, living corpses and hidden goblins. All while dodging or destroying the unpredictable spitting lizards, carnivorous coffins, and more. Find the concealed weapons needed to defeat everything from eerie phantoms to haunted furniture. Then prepare to find yourself face-to-thing with hideous torments like the Tongue Lasher, the Darkest Knight, the Bone-Afide Horseman and the Granite Crusher. When your nerves get shot, use your password and take a breather. But forge on, Simon Belmont, because if you thought Dracula was down for the count, he's only begun to fight!
Game Staff (Copied from the American version end credits) :



Main Programmer
Jun Furano

Player Programmer
Yaipon

Enemy Programmer
Great K Nitta
Ete Pow Konoz
Jun Furano
Yaipon

Main Designer
Nyankun Hara

VRAM Designer
Nyankun Hara
S. Kushibuchi

Object Designer
Pechi
S. Kushibuchi
Nyankun Hara

Sound Designer
Masanori Oodachi
Souji Taro
Super Voice
Akkun

Total Director
Jun Furano

Producer
Mr Kitaue

Special thanks
Konami Kurokotai

Presented By
KONAMI


G
O
O
D
I
E
S



Japanese Guidebook


Japanese Guidebook

O
M
A
K
E






Click on picture to enlarge
LK



Add your Pov here !



P
O
V
s


Simon Belmont is back. As expected with most of the early Castlevania games, stages are cleverly structured and some of them are beautifully designed and show Konami's excellent craftsmanship. The double-sided fence right after Dracula's castle main entrance is the first reminder of what to expect later in the game. Some of the end-of-level bosses in particular are jaw dropping. Sadly things are not as bright as they may look at first glance... Some stages could have looked a lot better - there is often this awful feeling of the same handful of sprites being tiled up again and again in the background. The game is also very linear which is a disappointment for fans of the series. Simon's journey will only take him along one path and this dramatically hurts replayability and depth to the game - one of Castlevania's most important feature in my opinion. All in all, Konami put together an excellent classic that fans of the Akumajō Drakula series will most probably appreciate despite its short lifespan and very linear gameplay.