| | | | |
| --- | --- | --- | --- |
| | | | |
アクトレイザー
©1990 Quintet/Enix
Release: 1990-12-16 (¥8000)
Cartridge SHVC-AR
Simulation / Action game




Released in America as
ACTRAISER
( SNS-AR-USA )


Released in Europe as
ACTRAISER
( SNSP-AR-XXX )
Actraiser is an action/simulation game developped by Quintet and published by Enix. Satan is back and has amassed a new army of monsters and demons. After conquering the gods in war, Satan divided the world into six demonic provinces, each one ruled by a demon lord. The game starts as a cute winged cherub flies down from the sky and calls for help - he sends the player on a quest to save the six fallen regions and their lost cities, and to finally overthrow Satan and his minions. The core of Actraiser is partly inspired by Bullfrog's "god wannabe" Populous, but Quintet managed here to pull off a really effective marriage of action and simulation. Each one of the visited provinces begins with a side-scrolling action stage (called 'Act') where the player controls an armored knight avatar. The objective of this phase is to defeat the local beasts so humans can start to inhabit the region. The simulation phase then kicks in and our deity's mission is to guide the development of a small human settlement, by telling them where to expend their town or by removing obstacles from the land (such as trees or rocks). Although creepy monster lairs are dotted around the surrounding hills and keep generating all kind of foes, the cute cherub can assist the player and strike them with his bow and arrows. As the population grows, the villagers find special items, magic artifacts and even make discoveries - the first being the invaluable ability to build bridges. Soon, they become strong enough to seal all the monsters' lairs and peacefully live out their lives... consequently leaving the player free to explore and rescue another province.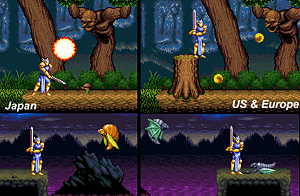 There are significant differences between the original Japanese game and the American and European versions. First of all, the original Japanese antagonist of the game is Satan (魔王 サタン) and the player essentially helps God (or plays as God) to restore peace in the world. All this religious context was naturally removed from the American and European versions - Satan became Tanzra ("the Evil One") and the player is referenced as The Master. Surprisingly, various sections from the action phases have also been modified - parts (yet rare) of the layout were changed (as pictured on the right with the tree-man and the added log) and several enemies feature completely different designs (As pictured on the right with the winged creatures from the second world). The game has also gone through a few musical changes and some stages feature new and original music tracks. Finally, and not the least important, the difficulty level went down a notch and the Japanese version is overall much more difficult.
Tomoyoshi Miyazaki from Quintet mentioned in an interview that Actraiser was originally supposed to be a RPG! It was 70% completed and was presumed to tell the story of a whole planet life cycle - but they decided to abandon the idea and to create a strategy/building game instead. They mentioned that the original idea ended up forming the basis of the excellent Terranigma!
Nintendo America released an arcade game version of the Super Nintendo system in 1991 which included Actraiser (among other games) - this version apparently only features the action stages (this may explains the action mode available in the original game). Additionally, a three-volume Actraiser comic book was released in Japan (see the Omake section).
A sequel to Actraiser was released in 1993 for the Super Famicom. Actraiser 2: Chinmoku e no Seisen is however very different than its predecessor and entirely features action stages. Quintet's staff mentioned in an interview that the game was entirely designed for the western market and that it was customary to crank up the difficulty level for such release. The Japanese version was apparently tuned up for the Japanese market and is supposedly easier (although they mentioned in the same interview that the game was still hard overall).
Teaser text from the American version:
This sensational game combines pulse-stopping action sequences with an intelligent Simulation Mode, allowing the player to forge a new civilization. Finally.... experience a game that fully utilizes the advanced capabilities of the Super NES. Restore peace and order your people's world ! - Long ago, you and your people built a peaceful land. Since then, your world has been taken over and inhabited by the evil Tazura and his Guardians. Your once-tranquil land has become a breeding ground for monsters. Injured, your have retreated to your Sky Palace and have fallen into a deep sleep. Now, many years have passed and your have recovered from your injuries and slumber. Your must punish Tanzra and restore the world to your people or lose their faith forever. Action mode - Breathe life into the statue modeled after your likeness to cleanse the land and defeat the monsters who have conquered. Simulation mode - Help your people develop a new land from that which has been purified and build towns with your powers.
Game Staff (Copied from the Japanese game manual) :



THE STAFF OF
ACTRAISER

Scenario
Tomoyoshi Miyazaki

Programmer
Masaya Hashimoto
Yuki Imai

Graphic Designer
Ayano Koshiro
Masahiko Takai
Akishi Imai
Takashi Shichijyō

Music Composer
Yūzō Koshiro

Assistant Producer
Shigeki Maruyama

Director
Masaya Hashimoto

Producer
Yasuyuki Sone

Publisher
Yasuhiro Fukushima

Game Staff (Copied from the American version end credits) :



THE STAFF OF
ACTRAISER

Scenario
Tomoyoshi Miyazaki

Programmer
Masaya Hashimoto

Graphic Designer
Ayano Koshiro
Masahiko Takai
Koji Yokota
Takashi Shichijyō

Music Composer
Yūzō Koshiro

Enix Staff
Takao Kawaguchi
Keizō Mochizuki
Takashi Yoneda
Yūchi Kikumoto
Kouji Mitsumori
Kenjirō Kano
Tetsurō Shimoda
Yoshie Fujimori
Jyunji Yagi
Keiko Itō
Hideki Tamamoto
Miwako Matsumoto
Keiko Taga
Yasuko Sekiguchi
Shigeki Maruyama
Eiichi Hirasawa
Mitsuhiko Endō
Shiji Futami

Enix America Staff
Kenji Honda
Paul Bowler
Cherie Hasson

Special Thanks
Hirotomo Morisada
Nobuyoshi Yoshii
Hironobu Teshima
Katsuhiko Shibata
Mitsuru Ishizaki
Masaya Nomoto
Sōichi Tazawa
Makoto Goya
Reiko Takebayashi
Tatsuo Hashimoto

Director
Masaya Hashimoto

Producer
Yasuyuki Sone

Publisher
Yasuhiro Fukushima

Actraiser
Copyright
©1990 Quintet
©1990 Yūzō Koshiro
©1990 Enix
Actraiser
Copyright ©1991
Enix Corporation
Quintet
Based upon Actraiser
Licensed by
Nintendo


G
O
O
D
I
E
S



Japanese Guidebook


Japanese Soundtrack


Japanese Soundtrack


Japanese Phonecard

O
M
A
K
E



Click on picture to enlarge
LK



Add your Pov here !



P
O
V
s


Actraiser is a delightful game and it doesn't fail to impress. It is reminiscent of the good old days of addictive, fun and smart gameplay. It cleverly welds together two different genres and, despite being not as complex as other heavy weights such as Populous or Civilization, Quintet's virtuosity still brings the right amount of ingredients together, and definitely takes the genre to new grounds. The action phases, even if not groundbreaking, are well above average and the simulation phases are fun and really addictive. Finally, the brilliant soundtrack composed by Yūkō Koshiro (Ys, Sorcerian) will stick to your mind for weeks, if not years to come. A definite masterpiece.