| | | | |
| --- | --- | --- | --- |
| | | | |
神武伝承
1989 © Big club
© Wolf team
Release : 1989-06-28 (¥6700)
HuCard (4 Mbits) BG01003
Shooter / 3D

Jinmu Denshō (also known as Jinmu Denshō Yaksa) is an action game by Wolf Team. The action takes place during the Sengoku Jidai era, period of chaos and civil war in Japan. A god demon is threatening to overcome the world and Lori, a lone samurai, embarks on a treacherous journey through monster filled lands. Jinmu Denshō heavily borrows from Sega's classic Space Harrier and the action is seen from behind's Lori as he runs into the screen. However, here, the player is also allowed to stop and even run backwards, giving him a chance to avoid enemy fire or to collect items he may have missed (although this option is not available in all stages). Additionally, although Lori has to obey the laws of gravity and stay on the ground, he comes with the ability to jump (or hi-jump) and to climb on floating platforms in order to reach special items and enemies. He also comes equipped with a very limited short-range sword but statues scattered around each stage release projectile weapons, such as shurikens or balls of energy - alas, these upgrades slowly disappear as Lori receives damage. Jinmu Denshō is single-player only and consists of seven stages (a passwords systems allows the player to save his progress).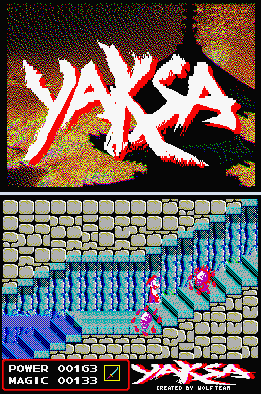 Jinmu Denshō is actually loosely based on Yaksa, a Japanese action RPG/Strategy game released by Wolf Team for the NEC PC-8801, NEC PC-9801, Fujitsu FM77 and MSX 2 (picture on the left) in 1987 - this probably explains why Jinmu Denshō is often referenced as Jinmu Denshō Yaksa. It is worth mentioning that Wolf Team apparently originally started as a development team at Telenet Japan, and they contributed work on the first Final Zone and, most importantly, the first Mugen Senshi Valis (aka Valis The Fantasm Soldier) game. Wolf Team became independent in 1987 and Yaksa was the first game under their new brand name. However, instead of porting Yaksa to the PC Engine (or at least porting the side-scrolling action scenes which bear a fair resemblance with the ones found in Valis), Wolf Team went a whole different route and created instead a 3D shooter set in a similar world and universe and starring Lori, one of the playable characters from the original PC game.
Game Staff (Copied from the end credits) :



-STAFF-

Program
F. Fukaya
T. Kawaguchi

Music
M. Uno
Goblin Sound
Benjamin. Hebi

Graphic
K. Nakajima
A. Sekine

Original Writer
M. Akishino

Producer
Eiko. Iida


O
M
A
K
E



Click on picture to enlarge
S
E
C
R
E
T
S

Level Passwords:

Level 1 : CGUEA-UQQBBW
Level 2 : BKUEA-SYRAA4
Level 3 : 5OUEA-XASFBU
Level 4 : USUEA-XTQDB2
Level 5 : 1WUEA-WVZGBU
Level 6 : X0UEA-YSWBAK
Level 6 (Best weapon): AKISH-INOSAN
Level 7 : 14UEA-UTRDAM

Level 1 (2nd loop): KG2EA-AHVGAS
Level 2 (2nd loop): GK2EA-EISICY
Level 3 (2nd loop): EO2EA-DCWEBS
Level 4 (2nd loop): QS2EA-CDTIAC
Level 5 (2nd loop): RW2EA-CCYHAK
Level 6 (2nd loop): 101BA-BCQIAM
Level 7 (2nd loop): Q42EA-ABSBEG


LK



Add your Pov here !



P
O
V
s


Jinmu Denshō is a disaster. Granted, Wolf Team really tried to innovate here and although they borrowed a lot from Sega's classic Space Harrier, they did bring some original ideas to the table, such as the ability to run backwards or to jump onto floating platforms. The mystical Japanese theme is also fairly unique and features all kind of Yōkai demons. The graphics are rather good and although the animation can be a bit choppy, enemies and especially bosses can be quite impressive. All of this sounds fun in theory but playing the game soon reveals its fatal flaws - controls are messy, the platform elements are horribly implemented (and some stage entirely rely on tedious and frustrating platform action), Lori's default sword is useless and later stages feature random warps and other unfair hazards. All in all, I feel that Jinmu Denshō suffers from a broken gameplay that makes it incredibly frustrating and not fun to play - it is a shame because the game looks good and the theme is definitively unique... a missed opportunity.