| | | | |
| --- | --- | --- | --- |
| | | | |
ビックリマンワールド
©1987 Hudson Soft / vol.2
©LAD NAS
Release : 1987-10-30 (¥4500)
HuCard (2 Mbits) HC62002
Adventure/Action game


Bikkuriman World is an action/adventure game by Hudson Soft. The game is known in the west as Wonder Boy in Monsterland and is supposed to be the second episode of the Wonder Boy series. However, Hudson Soft slightly modified the original game and made it fit their Bikkuriman World franchise (read the info section). The player takes control of a young warrior on a journey to rescue his beloved girlfriend. One of the key element of the original game was to offer a clever mix of platform/action and Role Playing elements. At its core, Bikkuriman World is a side scrolling action game featuring a vitality bar that automatically decreases unless our hero eats fruits and vegetables. Our hero starts his journey with his underwear and his first task is to find a short sword (interestingly called 'Gradius') and a tiny shield. Not the best weapon to bash with, but enough to take down the small snakes and mushrooms wandering around the first area. Defeated enemies often drop coins that can later be used in shops to purchase new equipment. A handy magic potion can be picked up and used to refill the precious health bar but only one can be carried at the same time. Our warrior can also use magic spells and throw tornadoes, lightings and fireballs at his enemies. The game counts numerous areas with small villages, dungeons, caves and mean bosses waiting at the end of each one of them.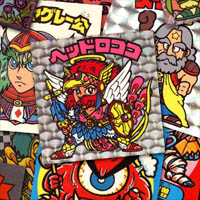 Because of the Bikkuriman World franchise, Hudson Soft greatly modified the original game to fit the various characters of the Japanese animation series. Bikkuriman is a franchise with an interesting story though. Everything seems to have started from sealed chocolate candies sold in Japan by Lotte Co. Ltd in 1977. Bikkuriman translates as 'Surprise man', and each candy came with an illustrated card. These cards became very popular in Japan, some even say it was a huge social phenomenon. Special types and editions of these cards are hard to find and, even today, can fetch high prices on Japanese auction sites.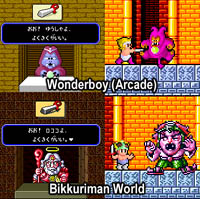 Bikkuriman became so popular that comic books were later published and an animation series was even first aired in 1987. We understand now why Hudson Soft decided to use Bikkuriman to endorse their conversion. There may have been legal issues to consider (The Master System version of Wonder Boy came out in 1987), but this Bikkuriman franchise was a excellent choice. And as far as I know, this PC Engine game was the first Bikkuriman game ever made. As mentioned earlier, Hudson Soft slightly modified the original graphics. First of all the hero character now wears a horny helmet, then shopkeepers have been changed and now look like traditional Bikkuriman characters. Finally, bosses are also different.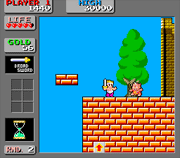 Wonder Boy in Monster Land was originally an arcade game released by Sega in 1987, sequel to the popular Wonder Boy (1986). However both games do not share much in common and the 'Monster Land' (also known as 'Monster World') series is more a spin-off than a real sequel. However, I won't go too much into detail about this and will focus on the game at hand. It is interesting to see how many games of the time borrowed the side scrolling action/RPG elements of Zelda II (Famicom 1987) and even brought Role Playing elements to the arcades with games such as Cadash in 1989. Wonder Boy in Monster Land became hugely popular and was converted for several home systems such as Sega's Master System (1987), Amstrad CPC (1989), Commodore 64 (1989), ZX Spectrum (1989), Amiga (1989) and Atari ST (1989).

G
O
O
D
I
E
S



Japanese Guidebook

O
M
A
K
E



Click on picture to enlarge
LK



Add your Pov here !



P
O
V
s


Bikkuriman World (aka Wonder Boy in Monster Land) is the first of the Monster Land series and most of the features that made the Wonderboy games so popular are already reunited here. Hudson Soft changed some graphics here and there (as they did with Wonderboy V) but they kept the original game's mechanics and gameplay intact - beautiful, pure and simple. However, it has aged a lot to my taste. Graphics are colorful but look way simpler than later episodes of the series. Then the game is hard - they didn't get the balance quite right and this first opus can be way too difficult in places (this is true with any conversion of the game). The fact that you have only two lives, no continues, an always-decreasing life bar and can carry only one health potion doesn't help. All in all, we have here a milestone (often forgotten) of video game history. However, I would recommend instead later episodes in the series, and especially Monster Land III (aka Adventure Island), the masterpiece which brought the series to the highest levels.