TERRA CRESTA II MANDORĀ NO GYAKUSHŪ
| | | | |
| --- | --- | --- | --- |
| | | | |
テラクレスタII マンドラーの逆襲
©1992 Nihon Bussan Co., Ltd.
Release : 1992-11-27 (¥6900)
HuCard (4 Mbits) NB92006
Shooter / Vectical


Terra Cresta II is a vertical shooter by Nitchibutsu, exclusive PC Engine sequel of the arcade game Terra Cresta originally released in 1985. The Mandorā empire is back and out for revenge. The Terra Cresta organization decides to deploy its latest interceptor fighter to counter the invasion. Like its predecessor, Terra Cresta II features a fairly unique weapon system - power canisters release four different modules (numbered from 2 to 5) that can be attached to the ship to enhance its fire-power. Each module comes with its own firing capabilities - (2) offers a strong front laser , (3) rear shots, (4) a piercing laser and (5) a rear shield. Additionally, formation items can be collected and stored to release a powerful formation attack - in this mode, all the modules spread around the ship for a short amount of time and dramatically increase its attack power (the formation can be configured at the beginning of the game). Collecting more than three formation items also release a devastative swarm of small phoenixes instantly melting down enemies with deadly grace. Finally, the ship has the incredible ability to turn into an invincible fire bird for a short time, allowing a great deal of damage to be delivered in close quarters. Terra Cresta II consists of twelve levels and is single player only. It also features a two and five minutes score attack modes.

Game Staff (Copied from the end credits) :



STAFF

Director
Hiroaki Kawamoto

Designer
Kyoko Nakagawa
Takeshi Ashida
Ryo Yamashita
Taiji Nagayama
Susumu Ueda

Sound Creator
Akihiro Akamatu
Sachiko Oita

Programmer
Masahiko Nagasawa
Yoshiyuki Takahashi
Jun Kikuchi

Adviser
Hiromu Yamamoto
Kazuo Komai
Masaru Oka

Special Thanks
Kotobuki
Kenji Yoshida


O
M
A
K
E



Click on picture to enlarge
S
E
C
R
E
T
S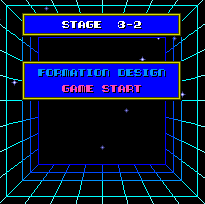 Stage Select:
On the Formation Design screen, hold II and press Run ten times. If entered correctly, you will now be able to select the stage you want to start from by pressing Left and Right (picture on the left).

Full weapons and Formations:
Pause at any time during the game and press Up, Down, Left, Right, Up, Down, Left, Right, Up, Down, Left, Right, II, I and Run. Your ship should now have all weapons at full power (make sure the autofire is turned off when you enter this code).
LK



Add your Pov here !



P
O
V
s


As you probably know, this exclusive PC Engine sequel to Nichibutsu's 1985 classic is incredibly rare and costs a bomb - but is it any good? Well, it does capture some of the gameplay elements that made Terra Cresta so unique in the first place - the modular ship adds some strategic flair to the game and certainly helped it stand apart from its peers back in 1985. The option to edit the ship's formation is also a welcome feature (although it is borrowed from the Famicom/NES port from 1986) and I really dig the excellent soundtrack and the two score-attack modes. Levels are somehow varied but they overall feel really repetitive (there are twelve of them after all) and the enemy formations are equally monotonous - this is unfortunately the game's biggest weakness. There are some nice surprises though, such as the 'Time Split' stage at the end of the game which brings fans of the original classic down memory lane (although I personally think it should have been featured at the beginning of the game rather than the very end!). All in all, Terra Cresta II was released in 1992 and it looks kind of simple compared to other gems released that year, such as Soldier Blade or Gate of Thunder. But the game is fairly decent and fans of the original arcade game will really appreciate this sequel, as long as its hefty price tag can tip the balance.