| | | | |
| --- | --- | --- | --- |
| | | | |
達人
©Taito Corp. 1992
Licensed from Toaplan Co.Ltd
Release : 1992-07-24 (¥7200)
HuCard (4 Mbits) TP04022
Shooter / Vertical

Tatsujin is a vertical shooter by Taito and conversion of Toaplan arcade game originally released in 1988. The evil Gidans are about to invade the Borogo system, their armada of giant asteroids are approaching and they have to be stopped. The player must infiltrate and destroy no less than five large enemy facilities and take down swarms of alien ships and all kind of ground units. The space fighter comes equipped with a default Vulcan gun (Power shots) and two more weapons are available for the taking - the blue lock-on lasers (Thunder Laser) and green blasts of energy (Tatsujin Beam). The only way to increase the active weapon's firepower is to collect Power Boosters special flying pods leave behind. Although five boosters are necessary to trigger a power-up upgrade and boost up the strength of the current weapon, special red flashing power icons bring it up to maximum power in no time. Each weapon can be powered up to three times for maximum collateral damage and smart bombs in the shape of monstrous skull-faced energy blasts can be unleashed to kill most enemies on screen. Finally, speed boosters are strategically placed throughout the game to help the player dodge enemy fire more efficiently.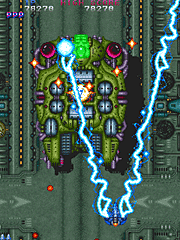 Tatsujin (Aka 'Truxton' in the west) came out in the arcades in 1988 (picture on the left). The name "Tatsujin" means "expert" in Japanese and warns players of the ordeals waiting for them. Although published by Taito, the game was originally developed by the prolific Japanese company Toaplan. The company, which is now sadly defunct, was responsible for making some of the most popular shooters in the 80s/90s. Their catalog included hit titles such as Kyūkyoku Tiger (aka Twin Cobra), Zero Wing, HellFire or Hishou Zame (aka Flying Shark). Tatsujin was later ported for home systems such as the Megadrive (1989) and PC Engine (1992). A sequel called Tatsujin Ō (aka Truxton II) was released in 1992 and the only home port is the sought-after Fujitsu FM-Town version developed by Ving in 1993.
Game Staff (Copied from the end credits) :



STAFF

Produced By
Shoji Takahashi

Programmed By
Toyofumi Kunihiro

Graphics By
Tsutomu Takase
Jiroharu Ushiku

Sound By
Shotaro

Supervisor
Koji Yamazaki

Bug Checker
Suit

Special Thanks To
Ikasama Naokin
Mr. Oota
Mickey Shunkoh

PRESENTED BY
TAITO


O
M
A
K
E



Click on picture to enlarge
S
E
C
R
E
T
S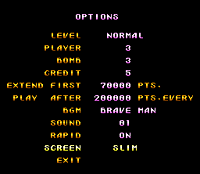 The option screen is available by holding select and by pressing run on the title screen.

Two hidden options are available in the game. You have to score 7100 to access them. This is rather easy, start the game and destroy every enemies and pick up all powerups - you should score a perfect 7100 within a few seconds, right after the first wave of small ships. When done, reset the game by pressing run and select together and do the following on the title screen:

Extended Option Screen - hold select and press run
Lives, bombs, credits and 'slim screen' mode.

See the ending - hold left and press run


LK



Add your Pov here !



P
O
V
s


I have always had a sort of fascination for Tatsujin and its amazingly detailed graphics and gorgeous mechanical designs. This version is surprisingly close to the original arcade game and graphics are what really make it shine amongst others. But, and there is a big but here... its name translates as 'expert' in Japanese and this is a clue as to why some things are not always fair in life. Tatsujin is unfairly hard on you and downright frustrating. Some enemies simply won't die no matter what you throw at them and their only purpose in life seems to make yours more miserable and to suck dry your stock of ships and mental health. I am usually very patient with games but this one is just ridiculous... when sweat starts dripping down your controller and when unfair frustration hits you like a wet fish, then you know that it is time to stop damning the shooter gods for they inhumanity and to pull the plug. Tatsujin frankly deserves more than three stars but its brutal difficulty level (tougher than the arcade game I think) makes it lose its appeal. As a side note, it is possible to unlock a screen 'slim' mode that makes the game, I feel, easier to play (see the Secrets section).