TAKAHASHI MEIJIN NO BŌKENJIMA
( New Adventure Island )
| | | | |
| --- | --- | --- | --- |
| | | | |
©1992 Hudson Soft
vol.49
Release : 1992-06-26 (¥6500)
HuCard (4 Mbits) HC92055
Action / Platform game




Released in America as
NEW ADVENTURE ISLAND
( TGX040080 )
Takahashi Meijin no Bōken Jima (aka New Adventure Island) is a fun side-scrolling action game by Hudson Soft. The game seems to follow the adventures of Takahashi Meijin no Daibouken Jima released in 1992 for the Super Famicom. Takahashi Meijin (aka Master Higgins in the west) is about to spend some well deserved time with his (just wed) wife. But things didn't really go according to plans and an evil bad guy has decided to kidnap his beloved Tina and six children from the local island. Takahashi embarks again on a journey to save not only his wife and six children, but also his hometown. Takahashi Meijin no Bouken Jima is a fast and intense side-action game. Takahashi can run, jump and sometimes use a skateboard to whirl through a stage. But players must always keep an eye on Takahashi's energy bar hence his life always hangs on a thread. His energy is continuously flowing away from him and he must pick fruits and vegetables to stay alive. Giant eggs are spreaded, and sometimes hidden, along the way and Takahashi can crack them opened to release new weapons and other items such as the boomerang, the spear, the healthy bottle of milk or the evil Eggplant which will drain him dry. The game counts six islands (each with four stages) and Takahashi will express his gratitude by doing a little and always different dance at the end of each one of them.


I'm not sure exactly what happened with the original license of Wonder Boy by Escape (aka Westone), but here are the facts as I can piece them together. Wonder Boy was first released in the arcades in 1986 and Sega purchased the rights of the game and characters. They then converted it for their console systems of the time such as the Master System and SG1000. However, Escape and Hudson Soft later reached an agreement and teamed up to release a conversion of Wonder Boy for Nintendo's Famicom. However, some of the rights were own by Sega. So the companies worked around the problem and Hudson Soft redesigned the main character. Surprisingly, they designed him based on Toshiyuki Takahashi, first made famous by the company for his ability to tap a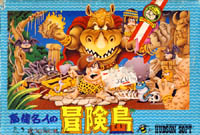 controller button up to 16 times a second ! Takahashi Meijin no Bouken Jima (aka Adventure Island in the west) finally came out in 1986 for the Famicom system (pictured on the right) and was a great success selling a million copies ! The Takahashi Meijin series had four episodes on the Famicom and Takahashi Meijin no Bouken Jima IV was also the last official game released for the system ! Two episodes came out for the Game Boy and Super Famicom. The game was also part of Hudson Selection series for the Game Cube (Hudson Selection Volume 4 : Takahashi Meijin no Bouken Shima was released in 2003).
Teaser text from the American version:
The adventure begins on peaceful Adventure Island. Today Master Higgins weds Tina, the new "Miss Island". Everyone is assembled at the church to celebrate their wedding when, suddenly, the evil Baron Bronsky appears. He wants to marry Tina himself. The evil baron carries Tina off, along with six island children. To reach his castle and rescue Tina, Master Higgins must first rescue the six children, each of whom is hidden on a separate island. You are Master Higgins. Will you be able to save her ?
Game Staff (Copied from the end credits) :



ADVENTURE ISLAND STAFF

Program Design
777 Tomohiude 777

Character Design
Ojarin

Visual Design
Isi=Koro

Character Design
Guppy

Background
Yossy

Music Composer
Nobi

Producer
Ura Desu

FIN

Presented By
Hudson Soft


O
M
A
K
E



Click on picture to enlarge
LK



Add your Pov here !



P
O
V
s


Takahashi Meijin no Bōkenjima is a fast and intense action game brought to you by the happy folks from Hudson Soft. The game is smooth and plays like a dream. Takahashi is always responsive and you will often surprise yourself and survive more than one desperate situation. The game also has a nice learning curve and only gets crazy difficult in later stages. I only wished stages, and especially bosses, were more varied. The first bosses (sorry to spoil them) are virtually the same sprites with a different head and slightly different attacks. All in all, Takahashi Meijin no Bōkenjima is a fun and cute game you'll find yourself coming back again, and again.