STREET FIGHTER II' - CHAMPION EDITION
STREET FIGHTER II Dash - CHAMPION EDITION

| | | | |
| --- | --- | --- | --- |
| | | | |
(c)CAPCOM 1991,1992,1993
Licensed to NEC Home Electronics, Ltd.
Release : 1993-6-12 (¥9800)
HuCard (20 Mbits) HE93002
Fighting game


Here is Street Fighter II for the PC Engine system. The game was produced on a whooping 20Mbits cartrige, making it the largest HuCard game ever created. For any player out there who's never heard about the Street Fighter series , here is a short introduction : Fighters from all over the world are competing in a secret tournament organised by Major Bison. But most of them are also there to stop him and his evil plans. This version includes all the classic characters from the ultra-famous fighting game, plus four playable bosses and a few extra moves (This is where the dash in the game's title makes all the difference). Because the original PC Engine control paddle only offers two action buttons, Nec released special controllers with six buttons and called the Avenue Pad 6. Without those, the game is still (somehow) playable : the Run button is used for low attacks, and Select used to switch from punch to Kick.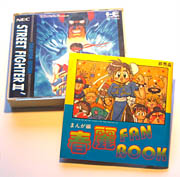 Street Fighter II' Champion edition originally came with a small leaflet featuring Chun Li. This Fan Book includes a seven pages manga and various tips and moves for the game. It also features two large illustrations of Chun Li, the first one by Akemi Takada and the second by Kazuko Tadano. This Fan Book, it is believed, was only included with the first print of the game and therefore can be hard to find. Street Fighter II' is also one of the only HuCard game to some with a spine card.
Everything started in 1987, when Capcom released the first Street Fighter game in the arcades. Even then, players could already control two of the most famous video game fighters of all times : Ryu and Ken. This title was converted to the PC Engine system in 1988 and curiously renamed Fighting Street. But the title that really revolutionized the fighting genre was Street Fighter II released in 1991. Many Special Editions appeared in the arcades, some by Capcom itselft, some not. Street Fighter II was a huge success and got converted for many home systems and computers, the most famous being the Super Famicom Street Fighter II (1992), Street Fighter II Turbo (1993) and Megadrive Super Street Fighter II versions. I won't list here all the titles that later came out, it just wouldn't fit. Probably fifteen arcade games followed, from Street Fighter Alpha to Street Figher EX (a polygonal-3D attempt) and Street Fighter III. Without forgetting the home console market with even more titles, like the excellent Marvel Super Heroes vs. Street Fighter (Saturn, 1998 & Playstation, 1999). X-Men vs. Street Fighter (Saturn 1997). Finally, tons of other games related to the Street Fighter franchise and characters are also available, here are a few : Steet Fighter 2010 (Famicom, 1990), Super Puzzle Fighter II (Saturn. 1996), Pocket Fighter (Saturn, 1998). The game was even tuned into a movie in 1994, featuring Jean-Claude Van Damme,Raul Julia and Kylie Minogue, and a special video game was even produced in 1995 and displaying digitised actors from the movie. All in all, Street Fighter is a milestone in video game history.

O
M
A
K
E






Click on picture to enlarge
LK



Add your Pov here !



P
O
V
s


This conversion is amazing... it is the kind of game that makes you doubt, doubt about the PC Engine system, was it really a 8 bit system released back in 1987 ? So, how does it hold compared to the excellent Super Famicom and Megadrive versions ?... It just shines ! This game is pure pleasure to play, animations and controls are smooth (only if you own a Pad 6 though, I found playing with traditional controllers just impossible). Obviously, backgrounds are a bit more static than with other versions and the music is not as good as the Super Famicom conversion. But this game is nevertheless impressive with a total of twelve selectable fighters. A wonderful achievement. I personally recommend it, even if the Super Famicom is now much easier to find, and cheaper. I still wonder why this version was released on HuCard though (and not CDRom), especially when Fighting Street had already been released for the CDRom system back in 1988. Go figure.