| | | | |
| --- | --- | --- | --- |
| | | | |
スペースハリアー
©Sega 1986
©NEC Avenue 1988
Release : 1988-12-09 (¥6700)
HuCard (4 Mbits) H67G1002
Shooter / 3D




Released in America as
SPACE HARRIER
( TGX040025 )
Space Harrier is a 3D/forward shooter developed by Dempa and published by Nec Avenue, and conversion of Sega's popular arcade game originally released in 1985. The peaceful world of Dragon Land is under attack by swarms of evil creatures. A fighter with extraordinary powers decides to challenge the invaders, and to save the doomed planet and its inhabitants. Space Harrier features eighteen levels and a fairly simple gameplay mechanics - the players takes control of a warrior armed with a large laser-cannon who can run on the ground or fly across the screen. However, the game is played from a 3D perspective and the player must dodge trees, pillars and enemy bullets while flying at considerable speeds through the strange landscapes of Dragon Land. Space Harrier relies on split second reflexes, and although obstacles can be destroyed in the first stage, most of them can't be later in the game, and the player must constantly move around the screen while shooting at countless enemies in order to stay alive. Two bonus levels are also scattered throughout the game, in which the player rides a large floating dragon and must smash into elements of the background in order to score as many points as possible.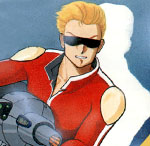 It should come as no surprise that this PC Engine conversion of Space Harrier shows various differences with the original and blazing fast arcade game (the advance of Sega's Super Scaler technology and the analog control stick were definitely a challenge to emulate). The most obvious difference is the checkerboard pattern that was replaced here by horizontal lines. Then sprites are far smaller than the arcade, but it was most certainly the optimal trade off to create a game that runs surprisingly close to arcade speed. As a side note, this conversion was programed by the Japanese company Dempa which was also responsible for porting the Fujitsu FM-7, Nec PC-8801, Sharp X1 and Sharp X68000 versions of Space Harrier. Finally, Space Harrier was technically the first 4 Mbits Hucard game ever released, and is apparently the only Hucard game not compatible with the SuperGrafx system (there is however a mode switch at the back of the console to turn it back into PC Engine mode).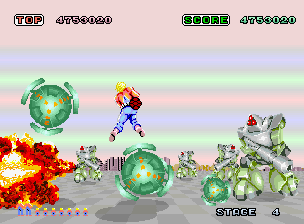 The arcade game Space Harrier was originally released by Sega in 1985 (picture on the right), and was designed by the now popular game designer Yu Suzuki, programmer and producer of other groundbreaking and innovative titles such as Out Run, Virtua Fighter and the Shenmue series. Although the original arcade game was available in a traditional upright standing machine, it also came in a sit-down type cabinet and an incredible full-motion/rolling cockpit. The game was an instant success and was converted/ported to countless home systems: Sega Master System (1986), ZX Spectrum (1986), Amstrad CPC (1986), Sharp MZ-700, Commodore 64 (1987), Fujitsu FM-7 (1987), Sharp X68000 (1987), NEC PC-8801 (1988), Sharp X1 (1988), PC-6001mkII, Amiga (1989), Atari ST (1989), Famicom (1989), PC (1989), Sega Game Gear (1991), Sega 32X (1994), Sega Saturn (1996), Playstation 2 (2003) and so forth... Other versions of the game, including sequels, were also available for various systems - Space Harrier 2 was released for the Sega Megadrive (1988), Commodore 64 (1989), Atari ST (1990), Amiga (1990) and ZX Spectrum (1990). Another interesting version of the game is Space Harrier 3D released for the Sega Master System in 1988 - in addition of featuring an entirely new (and exclusive) game, it also offers the only stereoscopic 3D version of Space Harrier. Finally, in 2001, Sega released a 3D arcade shooter called Planet Harriers - it was designed as a two player cabinet and used 3D polygonal graphics.
Teaser text from the American version:
The arcade hit SPACE HARRIER comes home on TurboGrafx-16! Evil forces have invaded Dragon Land. You, as the fighting Space Harrier must battle and drive out the hostiles hordes... armed only with an Autolock Energy Launcher and your wits. Devaste the enemy and save Dragon Land. This arcade classic provides 18 different levels of challenge and shooting thrills. Are your skills up to it ?
Game Staff (Copied from the end credits) :



Main Programmer
T. Kurebayashi

Music Driver
Perfect Senoko

Music Editor
Nazo1 Ken Ken

Sound Effector
Rom Writer Nasu

Graphic Coding
T. Matsushima
T. Kurebayashi

Test Player
K. Tsuchida
A. Yamashita

Special Thanks To
Daddy Naniwa
T. Tabeta

- SPACE HARRIER -
©SEGA 1986

PC ENGINE
PROGRAMMED BY
DEMPA MICOM SOFT

Game Staff (Copied from the game's manual) :



Executive Producer
Shigenobu Nanbu (Nec Avenue)

Producer
Daddy Naniwa (Dempa)
Toshio Tabeta (Nec Avenue)

Programer
T. Kurebayashi

Graphics
T. Matsushima
T.Kurebayashi

Music
Nazo-1 Ken Ken
Rom Writer Nase
X-Register Seno

Arrange
Dempa

Special Thanks to
Noriyuki Watanabe
Yurihito Too
Hiroshi Fukuda

©SEGA 1986
©NEC Avenue 1988


G
O
O
D
I
E
S



Japanese FM Radio

O
M
A
K
E



Click on picture to enlarge
LK



Add your Pov here !



P
O
V
s


I've always been a huge fan of Space Harrier. Beyond the groundbreaking graphics and jaw-dropping 3D animation (which still hold to this day) lies a fascinating and robust game design. Enemies and background elements are really creative, from one-eyed mammoths to mech-robots and flying dragons. Anyway, so what about this PC Engine conversion ? Well, I think this port is excellent. Of course the game is not as fast as the arcade, of course sprites are not as large and of course the animation is not as smooth... but this conversion is blazing fast and managed to capture the feel and greatness of the arcade. Controls are perfectly responsive, which is pretty impressive for a digital controller (the original arcade game used an analog stick) - and it is also possible to switch from a "normal" to "reverse" mode! All in all, despite being very repetitive (this was also the case for the arcade game), this port of Space Harrier is excellent and very faithful to the arcade game.