| | | | |
| --- | --- | --- | --- |
| | | | |
ソンソンII
©NEC Avenue 1989
licensed by CAPCOM
Release : 1989-01-27 (¥5400)
Hucard (2 Mbits) H54G1003
Action / Platform game

Son Son 2 is a side scrolling platform game by Capcom, and sequel of the arcade game Son Son originally released in 1984. Son Son, a courageous monkey boy, is on a mission to deliver his close friends (Sanzo the monk, Hakkai the pig and Sagojo the kappa) held captive by a strange and enigmatic shadowy figure. He must travel through seven different worlds and fight an army of monsters, demons and other evil spirits with the help of his trusted magic staff. The goal of each level is rather simple - Son Son must use his platforming and exploration skills to find a key and reach the door that leads to the area's boss (or new sections later in the game), and he has to do all of this hastily or a red demon will appear and throw deadly lightning bolts at him. Additionally, Son Son can collect all kind of fruits and vegetables along the way that act as money - Zennies, as they are called, are mainly used in stores to purchase various items - such as health, magic potions, magic lamps (extra continues), power gloves (destroy breakable walls) - or to simply upgrade the magic staff. The almighty weapon is at the core of the gameplay and must be leveled up throughout the game - there are a total of six different staffs with progressively increasing power and reach. Aside from stores, and in the platform game tradition, a myriad of items are also available to collect throughout the game, from hearts (health), scrolls (magic), skulls (lose 100 zennies) to special abilities such as the flying cloud (used during boss battles) or Capcom's familiar special items such as the Yashichi windmill (increases health and magic) or the Pow icons (kill all enemies on screen and turn them into fruits). Magic also plays an important role in the game and Son Son can cast all kind spells, such as the average Magic Peach attack, the protective Shield, the explosive Bombs, the ability to Freeze Time or the powerful all-target Thunder Bolt (see the secrets section below to learn how to use magic). Finally, points that Son Son gain throughout the game apparently act as experience points, and increase his maximum health and magic as the game progresses.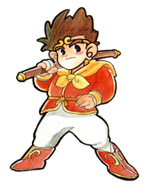 The original and first Son Son arcade game was originally released in 1984. However, this prequel is very different than Son Son 2 - each level is made out of six continuous platforms and the screen scrolls automatically. Son Son (and Ton Ton the pig in two-player mode) jump from one platform to another, kill enemies and collect fruits for points. This first episode was converted to the Famicom (1986) and later included in Capcom Generation 3 (Playstation and Sega Saturn, 1998), Capcom Classics Collection vol.1 (Playstation 2 and XBox, 2005) and in Capcom Classics Collection (aka Capcom Classics Collection Reloaded for the Playstation Portable, 2006). The sequel Son Son 2 (version tested here) was released exclusively for the PC Engine system. As a side note, Son Son is still a recurring character in the Capcom universe - he made several minor cameo appearances (along with Ton Ton the pig) in other Capcom titles (such as the Super Puzzle Fighter series) and his grand-daughter appears as a playable fighter in Marvel vs. Capcom 2 (arcade, 2000).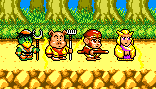 The Son Son series was actually based on a 16th century popular and classic Chinese novel called the Journey to the West, which tells the epic story of the monk Xuanzang (aka Tang Seng), and his long journey to retrieve Buddhist texts from India. He meets supernatural characters along the way, such as Sun Wu Kong (aka The Monkey King or Son Gokū in Japanese), a powerful and arrogant humanoid creature with enormous strength, the head of a monkey and a magic expanding staff. He is also capable of transforming into a human (despite his inability to disguise his tail). The legend is now extremely popular (even in the west), and inspired countless works, such as Akira Toriyama's manga series Dragon Ball or Taito's arcade game Gokuraku Chuka Taisen. Interestingly, another character called Zhu Bajie, a half-man half-pig creature, also escorts Xuanzang on his journey - this particular creature can also be found in Dragon Ball (as Oolong) or in Son Son (Ton Ton the pig was the second playable character in the original arcade game).
Game Staff (Copied from the end credits) :



Planner
Masaya Higashitani
Yoshiki Okamoto

Object Design
Susumu Ueda
Takashi Shouno

Scroll Design
Naoe Nonomura
Yuki Kyoutani
Yukiyo Kuramoto
Miki Mikami

Sound
Yoshihiro Sakaguchi
Manami Gotoh

Special Thanks
Akira Yasuda

Programmer
Masayuki Akahori
Yoshito Itoh

THE END

Presented by
NEC Avenue

Game Staff (Copied from the manual) :



Executive Producer
Norihiko Hamada (Capcom)
Shigenobu Nanbu (NEC Avenue)

Producer
Masaya Higashitani (Capcom)
Yoshiki Okamoto

Director
Toshio Tabeta (NEC Avenue)
Kouji Matsuda


Programmer
Masayuki Akahori (Capcom)
Yoshito Itoh

Object Design
Susumu Ueda
Takashi Shouno


Scroll Design
Naoe Nonomura
Yuki Kyoutani
Yukiyo Kuramoto
Miki Mikami

Sound
Yoshihiro Sakaguchi
Manami Gotoh

Special Thanks to
Akira Yasuda


O
M
A
K
E



Click on picture to enlarge
S
E
C
R
E
T
S

Magic Spells:
Using magic spells in Son Son 2 is not really all that obvious. You must acquire them first (they are usually available to buy in stores), then, during the game, press Run to pause the action. Now, press left or right to select a spell (they should be visible in the Magic Staff window). Although spells such as the shield are automatically casted when you unpause the game, others need to be activated by pressing I and II simultaneously.

Hidden magic mantle:
A special jacket with special protective abilities is hidden within the game. To find it, you must first buy a bun

from a kappa in stage 3 for 500 Zenny. Then you must find a pig in stage 4 who will exchange the bun for a cucumber

. Then take the cucumber to stage 7, and find a kappa that will exhange it for the magic mantle

.
Staffs:
You have to upgrade the staff if you want to have a chance to complete the game. Here is where to find them.

First staff - default weapon, equipped at the start of the game

Second 'blade' staff


Available to purchase from a pig in stage 2 for 2000 Zenny, or in stage 3, from a pig again, for 2000 Zenny.

Third 'arrow' staff


Available to purchase in a store (girl) in stage 3 for 3000 Zenny, or in a store (girl) in stage 4 for 3000 Zenny

Fourth 'trident' staff


Hidden inside a wall in stage 4 (wall at the end of a purple lake, next to a moving platform).

Fifth 'axe' staff


Available to purchase in a store in stage 5 (kappa) for 5000 Zenny, or in a store in stage 6 for 7000 Zenny.

Sixth 'fire' staff


Hidden inside a wall in stage 7 (inside the castle in a narror corridor above a large brown Sutegon monster).

LK



Add your Pov here !



P
O
V
s


Son Son 2 is an excellent platform game replete with tons of things to collect, little secrets to unlock and a heavy emphasis on exploration. It also features a very nice aesthetic and visuals, excellent level design, tight controls and a very catchy soundtrack. But there is a cruel catch - the difficulty level is brutal and I don't use that word lightly. You start the game with one life and this is all you get to complete the game. When you lose a life, you start back from the beginning of the game... very frustrating... Well, you can acquire more continues along the way, as long as you can afford the hefty price tag they are being sold for. Additionally, you must upgrade your magic staff if you want to get anywhere near completing the game, and they don't come cheap either (in most cases). The high difficulty level completely tarnished the experience for me, and no matter how much I was tempted to give this game the highest score, I just couldn't. All in all, Son Son 2 is definitively an excellent and fun platform game (one of the best for the system), but do be aware of its high difficulty level. Oh, by the way, a slight knowledge of Japanese is required to understand some of the characters in the game, but it's not a deal-breaker and it won't prevent you to enjoy the game.